Maybe Coronavirus is now the new normal, and the world is slowly getting used to the pandemic. Several countries have eased lockdown restrictions allowing people to return to public places while maintaining social distance. The question is – how to adapt eCommerce to Coronavirus situation? While this may seem quite strange to ask during these trying times, the reality is we can't leave it out.
A lot of studies and articles are published online daily with Coronavirus latest news, what this virus is, and how it affects the human being. So, let's not get in there again. Our focus on this article will be on eCommerce.
Since the world came to a halt, many business plans were canceled, along with many personal plans. Marketing assumptions and revenue forecasts upended almost overnight!
If we look for a silver-lining of this pandemic, we can say eCommerce businesses seem to be in a good spot for now.
Online shopping increased as people went into panic buying mode. As they couldn't go outside in a crowded place without risking getting infected, they resorted to online services.
Of course, let's not forget that many more businesses are struggling and are expected to struggle post-pandemic.
We'll go through the following topics to help you deal with Coronavirus as an eCommerce business owner.
Trends in eCommerce sales during Coronavirus
Data from ShipBob showed that food sales online have increased rapidly.
Brick-and-mortar stores were in decline in 2020, whereas eCommerce was steadily growing. Now 78% consumers prefer convenience over anything. So, they tend to abandon the cart if the checkout process is lengthy or complex (June 3, 2021).
Similarly, Klaviyo's global data shares the following chart for global order value in 2020 (Jan-Oct), including non-essentials, essentials, and new essentials.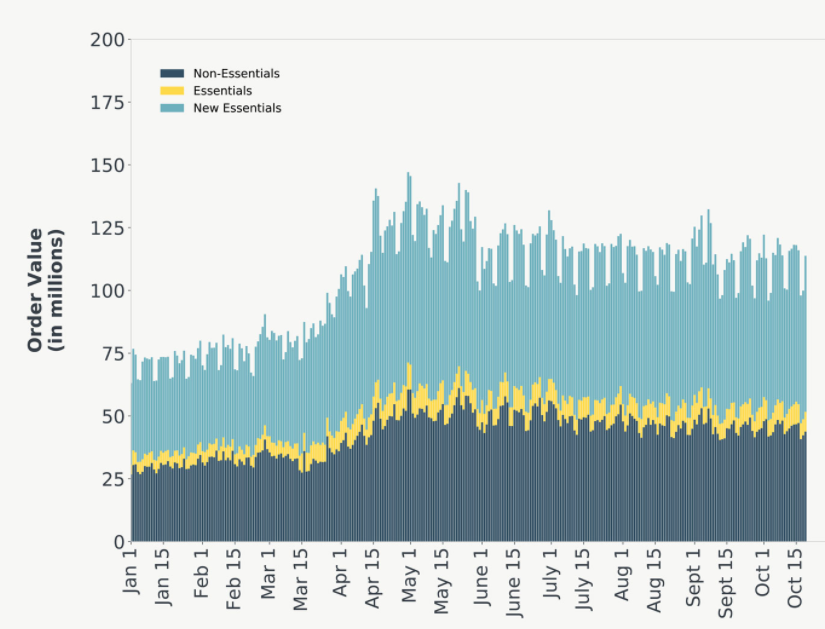 Everyone is cooped inside and looking for ways to stay busy. They are indulging in art, reading, outsourcing, and all the things that make them feel better. "Stay Home, Stay Safe" artworks or lockdown and social distancing topics are top-trends now.
Statista shows retail eCommerce website traffic hitting 22 billion in June 2020 (In the middle of mass outbreak).
Even though people stock-piled food and other necessary products, Tesco anticipates a massive loss between £650 and £925million. This is all coming despite their 30% sales increase in April (the first few weeks of Coronavirus).
On the other hand, European supermarket Aldi started selling online for the first time. They implemented strategies where most vulnerable or at-risk customers can buy groceries online.
No matter where we look at data, eCommerce sales remain 30% higher than in the pre-pandemic times. It's not just the food and medicines sales that are rising, people are buying leisure and outdoor items more now.
Signifyd made a list of some categories that have shown switches (As of May 2021).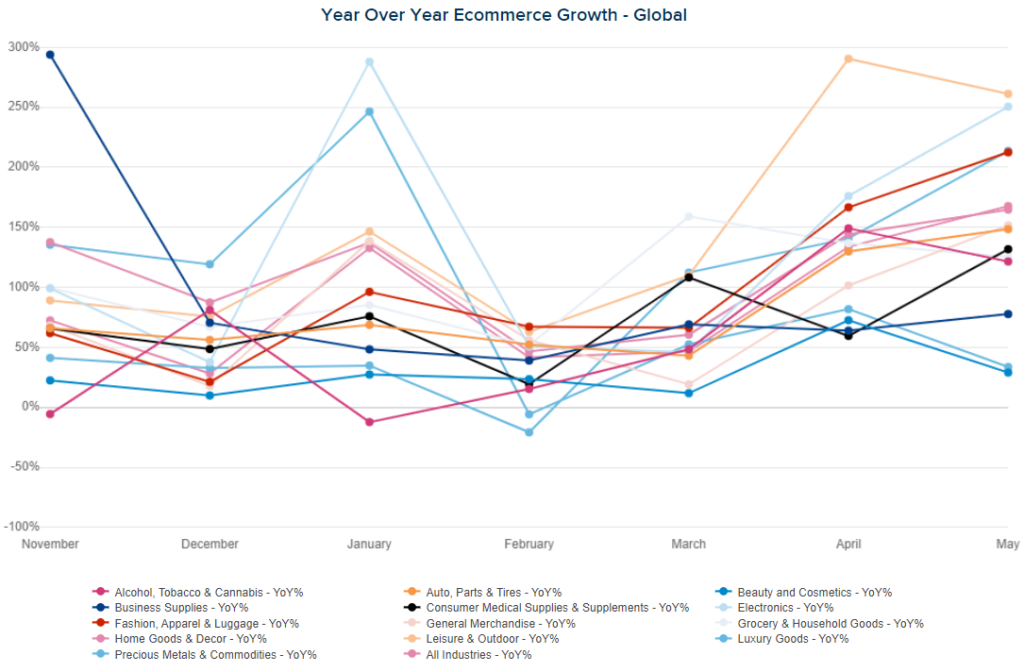 Year over year (only of May)-
Electronics: 250%.
Alcohol and cannabis: 121%
Leisure or outdoor: 261%
Groceries: 125%
Business supplies: 78%
Cosmetics: 29%
Luxury goods are down but still, it's more than the pre-pandemic times. These changes could be for the new shoppers who have never bought online before.
How eCommerce has changed
From all the trends we've seen so far, here's a quick recap on eCommerce changes because of Coronavirus.
Online shopping rush
Social distancing is a must now, and we can't go outside and stand in a long queue in the stores. Avoiding the crowd is the best possible way to prevent more spread. As a result, online shops are recently seeing a huge influx.
During the state of emergency in the US, Listrak showed a 30% revenue in May, and now the recovery phase shows 58%.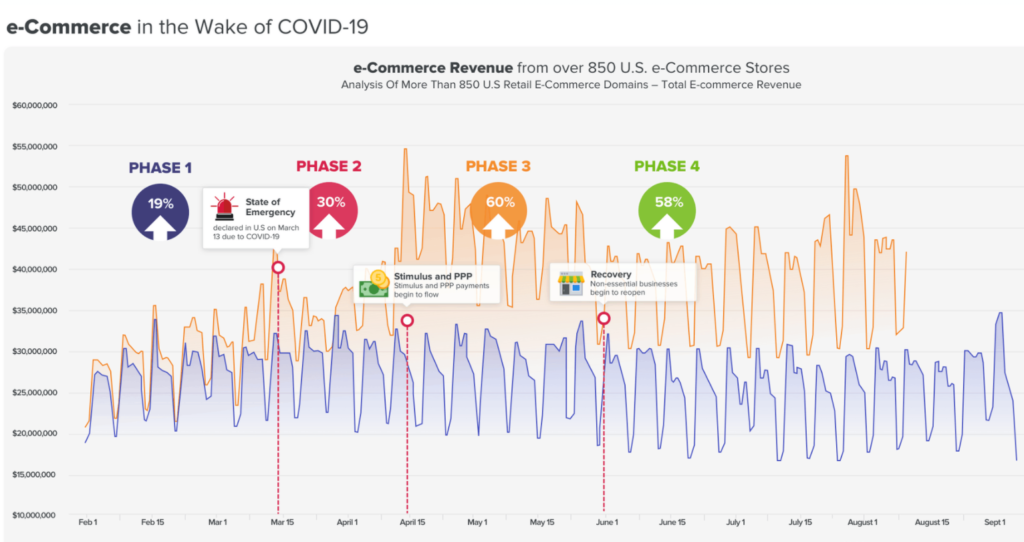 Sales of some products are so high that there might be a shortage soon. At the same time, some non-essential product sellers are on shut-down according to recent enforcement.
Delivery and supply
Speaking of increased sales, we should remind you that higher demand means the public wants higher delivery. It won't be possible if the supply of products can't meet the demand.
While more demand is actually better than the alternative, supply chain disruption is surely a concern. For example, in the earlier days of Coronavirus, China stopped exporting. This resulted in a massive loss in the inventory and deliveries.
China might be recovering fast now, but the impact still has hit many other countries. eCommerce business still has a lot of barriers to overcome.
Order halt
Reformation Women's Clothing brand and Victoria's Secret stopped their activities online due to the outbreak.
The non-essential items like clothing labels are at a halt in the eCommerce marketplace. Order fulfillment may not be available until further notice.
Website and media
A virus really has changed the internet! With all public gatherings called-off, people are grasping onto anything to relieve the stress of being forced to stay inside. The increase in the use of the internet has gone to a point where every website displays a fact or statistic about the pandemic.
Because of social distancing, people are seeking new ways to stay connected.
The New York Times reported that Americans are suddenly finding themselves annoyed at mobile phones in April.
This was pretty unconventional for this era. People are relying more on video chats and looking for a way to improve themselves from at home. Zoom, Google Classroom, or Hangouts are getting more popular as a means of connecting and learning.
Amazon's FBA shipment
Not prioritizing non-essential product shipments was a big step by Amazon, and it surely was smart. They converted their focus on medical supplies and necessary household products.
FBA is Fulfillment By Amazon, and it includes storage, packaging, and shipping assistance to the product sellers. With this service on hold, third-party sellers of "non-essentials" will be walloped.
Since everyone was stuck at home and the virus was still spreading, handwash and other medicines were at high demand. On March 23, Amazon confirmed their services only for these absolute essentials.
Changes in product demand and supply
Consumer preference can change anytime. The same thing happened because of this pandemic. A rapid change in the product demand added a new lifestyle habit.
Hygiene products, for instance, handwash, soap, medical equipment, home exercise items, and self-care products have been on high demand this year. Online stores changed their product stock according to the demand. So, shops selling crafting supplies in the pre-pandemic world, are now selling surgical masks, gloves, handwash, sanitizers, etc.
How to adapt eCommerce to Coronavirus? – A concise list
Adapting to hardships is not a new thing in the online marketplace. Constantly changing product demands and customer preference has affected the way eCommerce operates previously.
Here we have some ideas on how to adapt eCommerce to Coronavirus.
These tips may help you navigate your eCommerce business through this pandemic. Let's learn more about them.
Updates on supply from the manufacturer
A lot of factors play big roles in times like these. It's not always about demand and supply. You can't shift your business strategies overnight, and it's equally difficult to change the products you sell entirely.
You may notice a huge growth in your online sales, but try to connect with your manufacturers. Ask what the manufacturers are anticipating in the market, surges, or decline. Plan according to the information and stay alert.
Before you jump in and decide on selling soaps instead of electronic stuff that you usually sell, you need to know where the manufacturers stand. Of course, the product demand comes at play here.
If the pandemic increases the number of sales for mobile phones, laptops, headphones, chargers, and air conditioners, etc. and you are all good in the supply part; don't shift to selling something else. People need these just as much as they need medical equipment. You should find out the right spot.
Response efforts
High-profile brands have come forward to help first-responders and frontline workers. They raised funds online with partners, as well as supported local care centers. Some went into the production of PPE, air-purifying respirators.
Discovery Education (Partner with Nike) has a "Made to Play" campaign where they get kids active at home. The Activity Boosters (Balloonball, yoga, Ping Towel Pong, Family Cheer, etc.) are family-friendly and possible to do anywhere indoors!
Many organizations and brands immediately stopped activities in their physical stores to protect their workers and curb the outbreak. Nike put a lock on all the stores across the U.S., Western Europe, Canada, Australia, and New Zealand.
Nike.com continued all services online. They have now shipped 360,000+ units of PPE to healthcare providers.
Alternative suppliers
At the beginning of this Coronavirus pandemic, China was at the most risk. This country is also a big part of the eCommerce world since they are the supplier of many products to other countries.
Because of the lockdown in China, the inventory shortage increased leaving some sellers hanging. Finding an alternative supplier so sudden was nearly impossible.
Have a few options aside so that you can rely on them as suppliers in case your current supplier is unable.
Know customer needs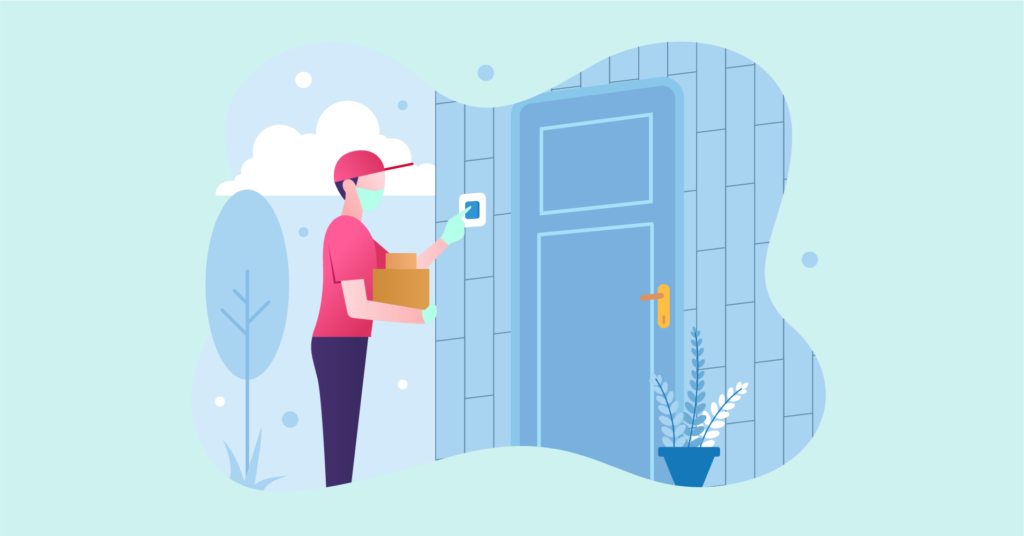 A better understanding of consumer wants and needs may help you overcome the hard times pretty fast. Suppose, you sold groceries solely in a brick-and-mortar store where it's usually crowded. And suddenly a pandemic stops all the gatherings and crowds.
How do you deal with that? Do you stop selling entirely or do you take your business to your customers? The answer is the latter one. Evaluate customer needs by analyzing their current situation.
Are customers staying at home?
Do they not have jobs because of the crisis?
How to serve front-line workers?
What products do they need?
You can try these even if you are already running online. Get to know your customers and act how they need you to. Some online brands have also added "Hand sanitizer" in their lines because they find customers (or dispensaries) need it the most.
As customers are staying home, maximize their user-experience on your eCommerce website.
Reach as many audiences as possible
Shift your focus on customers sitting at home. One of the many challenges of this pandemic is spending the time inside. It gets frustrating after a few days, and customers might need you to reach out. Likewise, you can get more audience during this time because online stores are the only way to shop without any human contact.
Son Of A Sailor online store took the situation as an opportunity and created a whole new category – "Boredom Busters"!
People sitting at home are now expressing themselves through art. So, this site went all-in for it. They don't just sell art supplies. You will find puzzles, card games, books, and board games too.
Also, take the restaurant business as an example. A restaurant that once was crowded and going on full swing, is now empty. But the show must go on, right? This is why they are revamping their pick-up and delivery services so that customers can order online. It's mutually beneficial because both parties are meeting their utility.
Loyalty program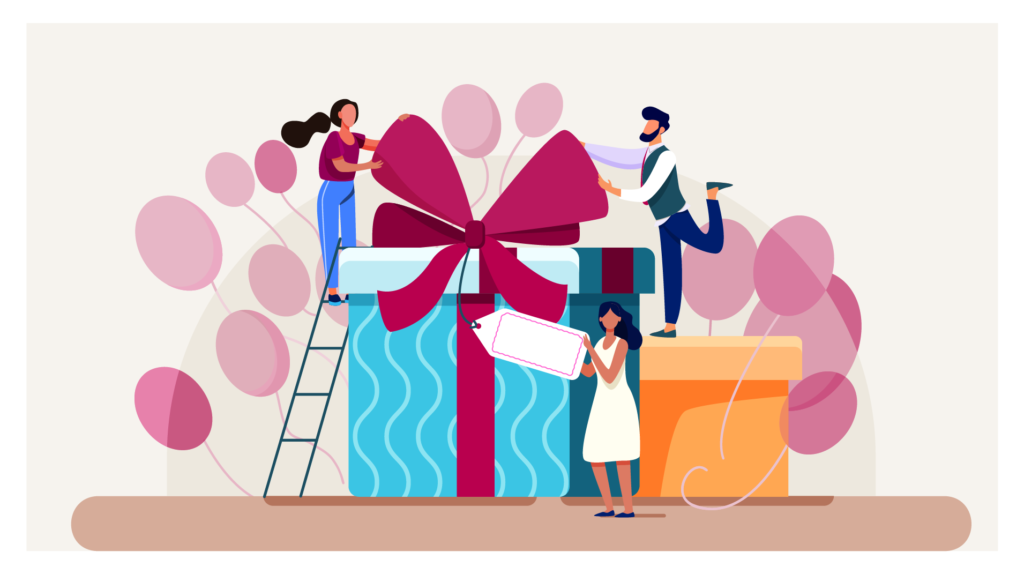 A pandemic is when your customers need you the most. So, you should be giving them your utmost attention. Online retailers gain a maximum of their profit from the existing buyers than the new ones. Crisis periods are no different. It's, in fact, the best time to encourage customer loyalty.
Customers at-home buy online more than ever, and you need to recapture their interest in your products by rewarding them. Ensure an effective loyalty or rewards program to retain customers and motivate them to make repeat purchases.
Use data-driven programs to reward the top shoppers and the ones with the highest points in the VIP tier. Keep re-engaging them by adding more perks. You can also go for discounts on specific items for COVID-19.
Upgrade website and ensure safety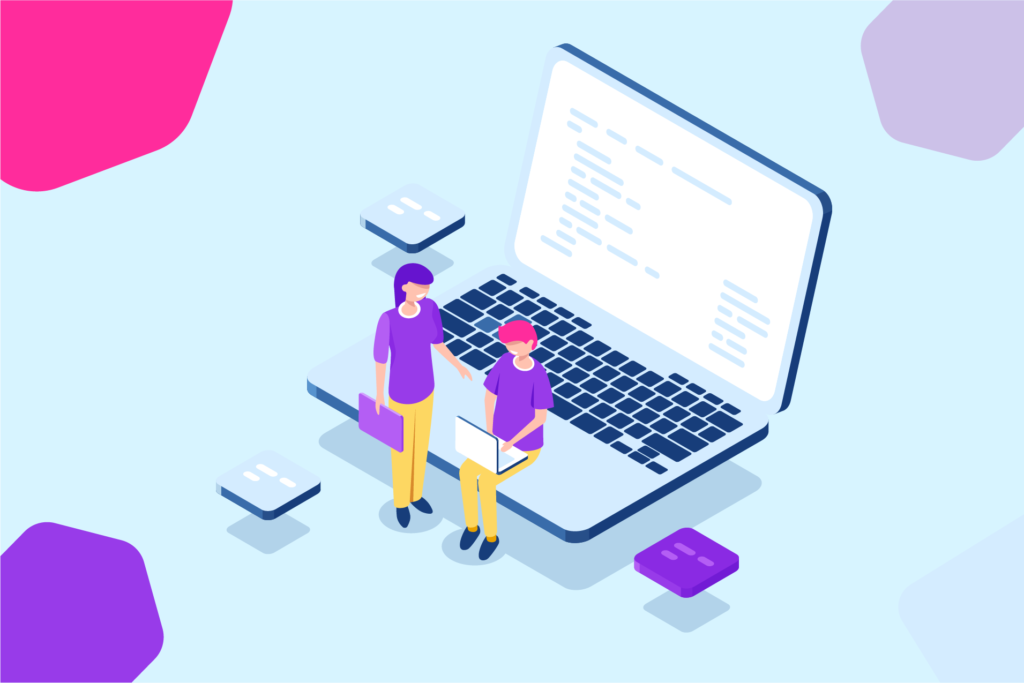 All the online sites are hands-on to keep everyone updated on the current Coronavirus situation. You can try not to be too obvious about it because it's stressful for some people.
Simply add an FAQ section where customers can look for the info they want to know about. Or add a live chat box to share information. Some websites also go beyond to check up on their customers. So, you can add a "quick survey" option to learn whether the customers are feeling well or not. A mood-booster, like a "Spin to Win" feature right on the homepage can also help.
Keeping customers updated on where your service stands is another great way. Pandemics are the times when people get easily frustrated and the rising death toll doesn't help. Try to update every detail on your product page so that customers know what they can expect. They should know if you are out-of-stock for a product or available to deliver on time.
You want your workers and consumers to be safe during the pandemic. So, make sure your workers are protected. Make sure they maintain social distancing among themselves, double-check the packaging for any safety issue, respect every step of the safety protocol. Be liable for customer safety.
Pay-Per-Click ads (PPC)
Be smart about this technique. Adjust the price by studying the data of how many clicks are gaining your traffic and conversion.
If you sell any item that can help people stuck at home (especially items to entertain or teach kids), consider PPC. This process depends on demand. Sure, people are doing more Google searches now than ever, but unless the PPC ad helps you, you might want to save some money.
Stay in touch
Prepare your customer support team to answer any COVID-19 related question, shipment delay, product stock, and safety regarding the package.
Listrak collected data from the US when the state of emergency went into action. The studies found out that retailers started sending more emails, but customer engagement was the same as in pre-pandemic times.
You can't expect people to stay online all the time to shop. So, sending too many emails trying to get more sales is absurd. Especially when the world is suffering. People are spending more time at home, and many of them are actually using it as quality time to focus on family bonds and self-development. Be more considerate and offer incentives to brighten their mood.
Discount at the right time
The crisis isn't only affecting the customers. As an online retailer, you can be affected in some ways too. So, it's not a good idea to throw in huge discounts or sales at this moment. These tricks do help you sell more, but you should care about your profits too.
Adapting to the Coronavirus aftermath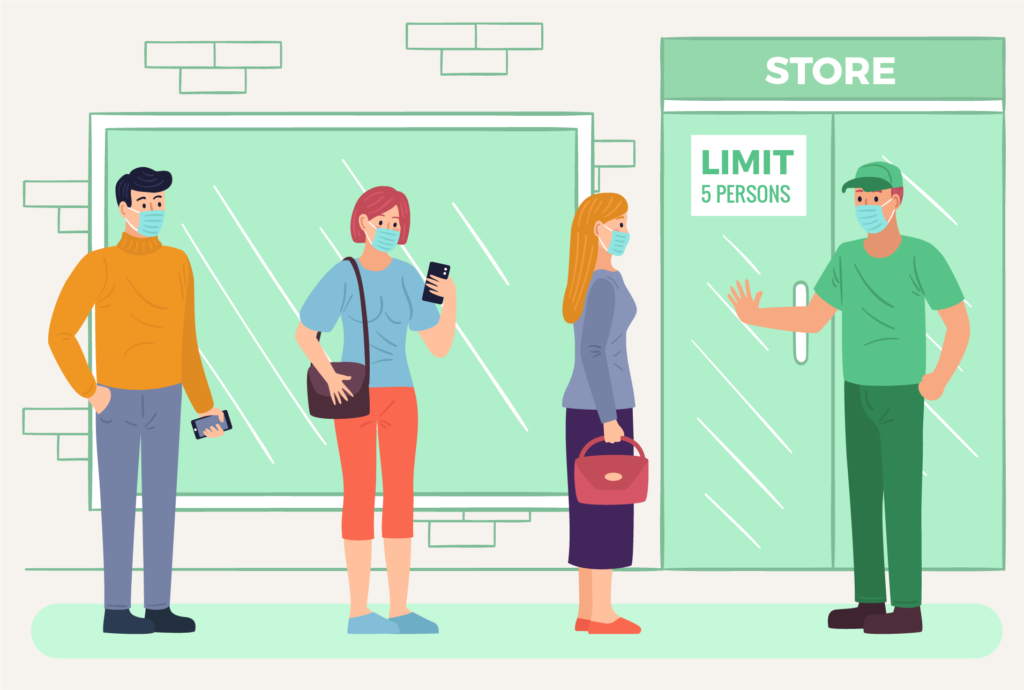 Quick recovery might be challenging for some online shops. Many big changes might have changed the way the eCommerce world will operate in the future. One thing is certain, nothing will ever be the same!
So, what can you do to adapt your eCommerce business to the time after Coronavirus?
Prepare for anything that can come in the future. This pandemic has shown how incompetent we can be when nature strikes back.
Be ahead by constantly upgrading your business strategy, marketing technique, eCommerce platform, and website SEO.
Invest in anything that helps people in crisis. Never forget the front-line workers and the organizations that came forward. They deserve attention and support.
Prevent future panic-buyers from stocking up essentials.
All personal protective equipment (PPE), necessary drugs, sanitizers, or soap may see a receding curve in sales. Nonetheless, keep the prices reasonable and inspire people to practice personal hygiene to prevent any other outbreak.
Check up on your workers' health. Appreciate the remote workers.
Finally, keep customers entertained because they are what you need to go on!
Finishing up
Everything is uncertain right now, and we can't predict what can actually happen. Here we discussed how to adapt eCommerce to Coronavirus. Updates from manufacturers and suppliers, knowing customer needs, customer loyalty programs, website upgrades, discounts, etc. can be arbitrary. But these are all we can try out for now.
Bottom line is, nobody knows the magnitude of the effect of the pandemic on anything. Starting with small but well thought-out adjustments can help everything get back up.
Let's hope this tragedy passes soon with minimal impact on lives and all sectors. Make sure to give us a holler for whatever information you need. We'd like to hear your insights too.
On a final note, check out Impact of COVID-19 on Global Payment Gateways.