Good Bye 2022, Hello 2023!
It's hard to believe this year has flown by like the wind. Already it's January; it's time to look back and re-evaluate everything WPManageNinja has done so far. 2022 was a fruitful year for us. It's been a great year of outstanding growth and development.
2023 will surely bring new challenges and opportunities; I want to reflect on the past year and look forward to what 2023 has in store for us. No matter what the new year throws at us, we are ready to take on whatever challenges come our way.
Now let's dive into a 2022 recap and take you on the journey of an eventful WPManageNinja year!
The goal of WPManageNinja
Before jumping straight to the 2022 recap, I want to re-share WPManageNinja's goal with you. I know, you might read this somewhere else over the years, but I want to take the time to use this opportunity as a reminder to share our core company mission.
WPManageNinja's goal is to serve small businesses around the world, help them build better business on the WordPress ecosystem.
Our mission is to build plugins that solve one problem at a time, save your time and money. Right from the start, WPManageNinja as a company always focused on customers. If you follow our journey throughout the years you'll find out WPManageNinja listens to its users, takes suggestions seriously and acts on the recommendations.
We are truly a customer-centric company, proven by our hard work and user satisfaction rates.
2022 in numbers
Numbers are fun! They help visualize the efforts we put in throughout the year, our continuous development of plugins, our support team's hard work and user's love for our products.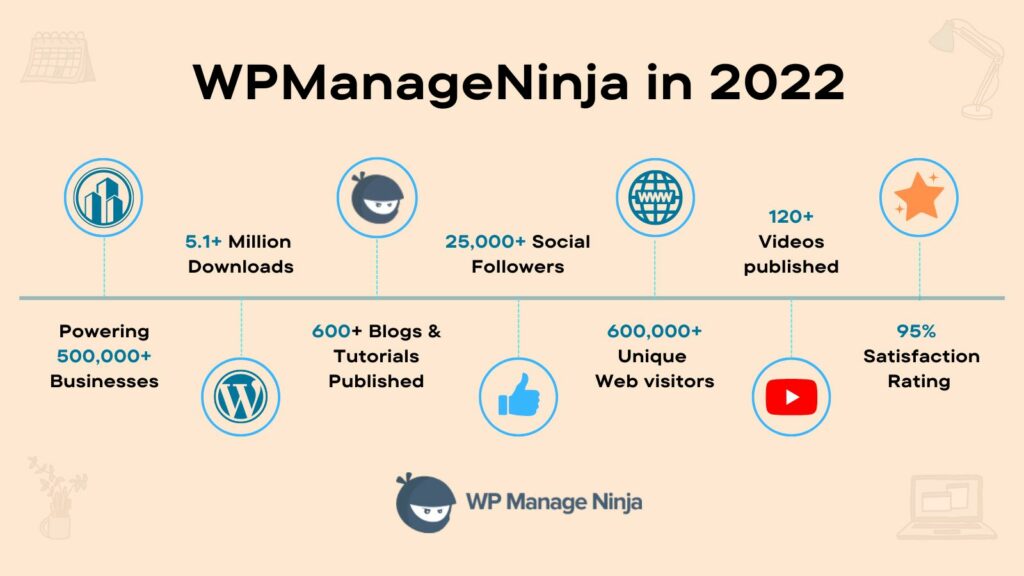 These numbers will give you an idea how WPManageNinja puts its effort to level up small business owners. Here's the numbers..in a nutshell:
We are currently powering 500,000+ businesses worldwide
6 WordPress plugins customers admire
Close to 450,000+ active installations
Over 5.13+ million all time downloads
76 consistent updates released by our developers for 6 products
600,000+ visitors on all brand websites
600+ useful guides, plugin tutorials and helpful blogs published by our content marketing team
120+ interactive helpful videos published by WPManageNinja motion graphics team
25,000+ social followers across Twitter, Facebook & YouTube.
80+ team members empowering 6 teams
3 WordPress meetups arranged and hosted for our local community
Attended 2 WordPress International Wordcamps with the team.
Upgraded our workspace to a 3-storey building, around 8,000 Sq.Ft. space buzzing with the next generation of problem solvers and innovators.
95% customer satisfaction based on overall brand's user reviews
A year of astonishing growth
WPManageNinja's running 6 big WordPress plugins got the biggest growth push in 2022. I am proud to say, every team's hard work paid off. We reached all types of our yearly targets including, active installations and plugin downloads.
Our developers shipped 76+ plugin updates for 6 products throughout the years.
Let's take a look at product-to-product highlights. Each of our product brands shared their individual year long journey on their main domains. For an in-depth report, you can read those years in reviews linked at the end of highlights.
Ninja Tables reborn: a new website, drag and drop table builder, and more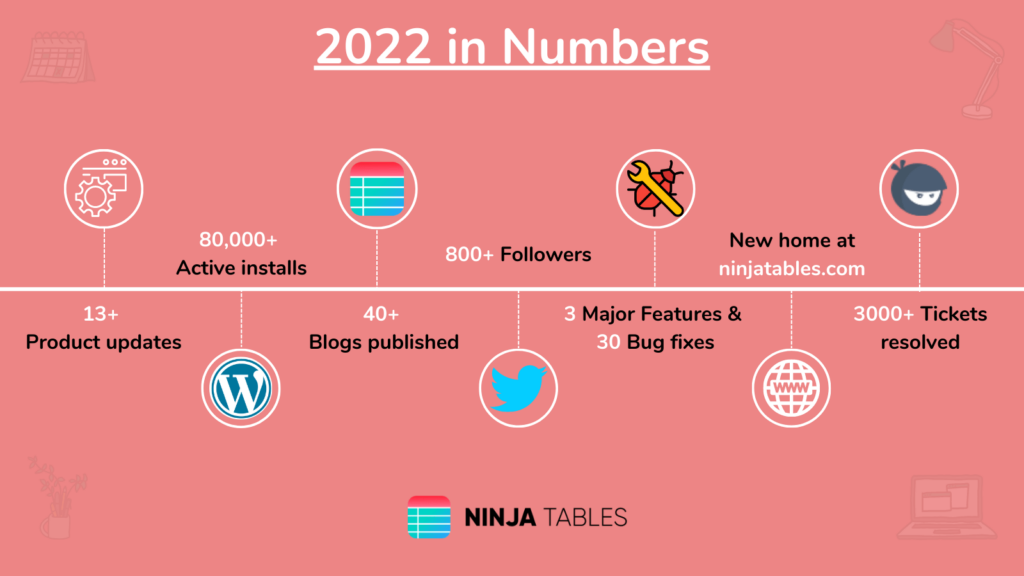 Ninja Tables celebrated milestones, achieved new goals, strengthened our teamwork, and, most importantly, updated the plugin to be better than ever! More importantly Ninja Tables got their own home – ninjatables.com this year!
Ninja Tables was our first product that built the foundation for WPManageNinja's success. We updated Ninja Tables table plugin builder with major features like Drag and Drop table creation options, pre-made templates, and an improved user interface. Creating tables online became a lot easier after this!
Here's how 2022 went for Ninja Tables, in short.
Crossed 80k active installs.
Celebrated 4th anniversary & stepping into 5th in 2023!
Developed a new website with smart design, 42+ rich blogs, and feature details.
"Drag and Drop Table" was a major update alongside many others.
Received lots of love from happy users: 300+ five-star reviews!
Interested in Ninja Tables journey to becoming the best data table builder? Read the full Ninja Tables 2022 year in review here.
Fluent Forms' amazing year: 2.8M downloads and 200K businesses served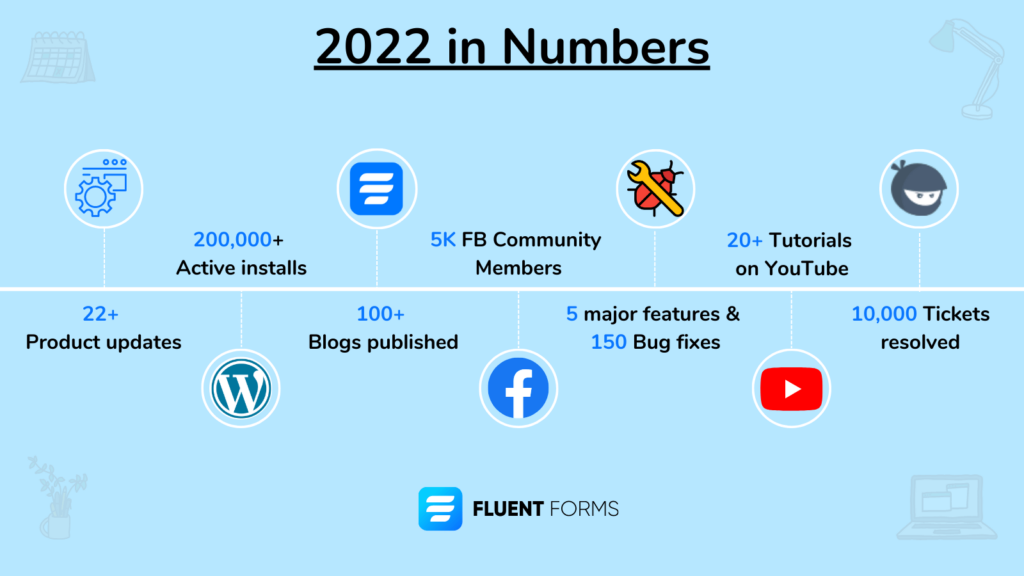 Without any doubt, it was an amazing year for Fluent Forms. It's hard to explain in a few words, but it was remarkable. Fluent Forms' has been downloaded 2.8M times and now helping more than 200K businesses to meet their dreams. We can't thank you enough for your continued support.
Conversational forms were loved by users in 2021, so we developed the best out of it. Now you can customize it and try different layouts using different media. We highly focused on user data security, making Fluent Forms secure for users using CAPTCHA-free user experience.
Let's have a look at the highlights of the year and some special numbers you can't avoid:
10 major updates and enhanced user experience
Unique features like Quiz Module, Inventory Management, CLI Support, and so on
Tons of powerful native integrations like ZohoCRM, Airtable, Cloudflare Turnstile, etc.
90+ blog posts and 23 videos were published to help you reach your goals
Super enhanced security to secure your user data
I am highly stoked about the future of Fluent Forms in 2023! If you want to learn more about the whole journey of this year, give Fluent Forms' year-in-review 2022 a read.
FluentCRM's record-breaking year: powering over 25,000 businesses and winning two awards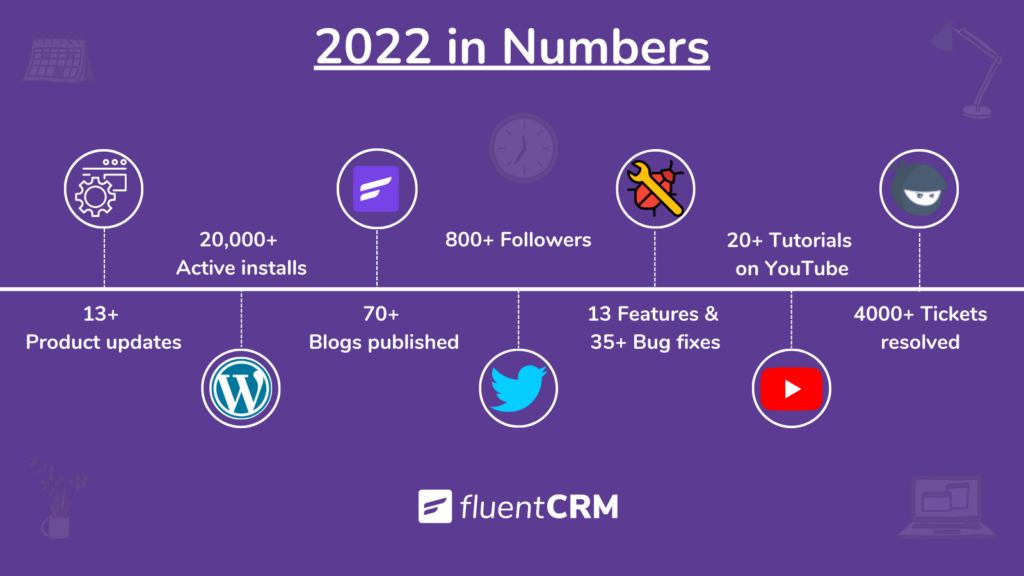 FluentCRM has proven to be a game-changing plugin for the WordPress community this year. The plugin is now more polished and has become more powerful as a marketing automation tool. Along with that, we have been serving user-focused content to FluentCRM users, and the support team solved any issues thrown at them rapidly.
As a result, FluentCRM has become a more stable and performance-focused product that now powers over 25,000+ businesses. Not just that, FluentCRM has been receiving recognition from users and pundits, winning two national and international awards in the process!
FluentSMTP, which is another SMTP product part of FluentCRM, has also grown as one of the top products in our company and is now powering more than 1,00,000+ WordPress sites. Here's a highlight of FluentCRM in 2022:
FluentCRM is now powering over 25,000+ businesses across the world. Now, it's our second-highest revenue-generating product.
We rolled out 13 updates for FluentCRM users this year, 9 of which included unique features
Our marketing team has published 70+ blogs and a dedicated video course for FluentCRM with over 20+ videos
FluentSMTP is now powering 1,00,000+ WordPress sites
FluentCRM has won two more awards this year, The WP Awards by The WP Weekly and BASIS ICT Awards 2022
2022 has been a very successful year for FluentCRM. The plugin has grown massively, and we'll continue the development of the plugin in 2023. Find out the details in its individual year in review.
Fluent Support's breakout year: 4000 businesses powered and rapid growth in 2022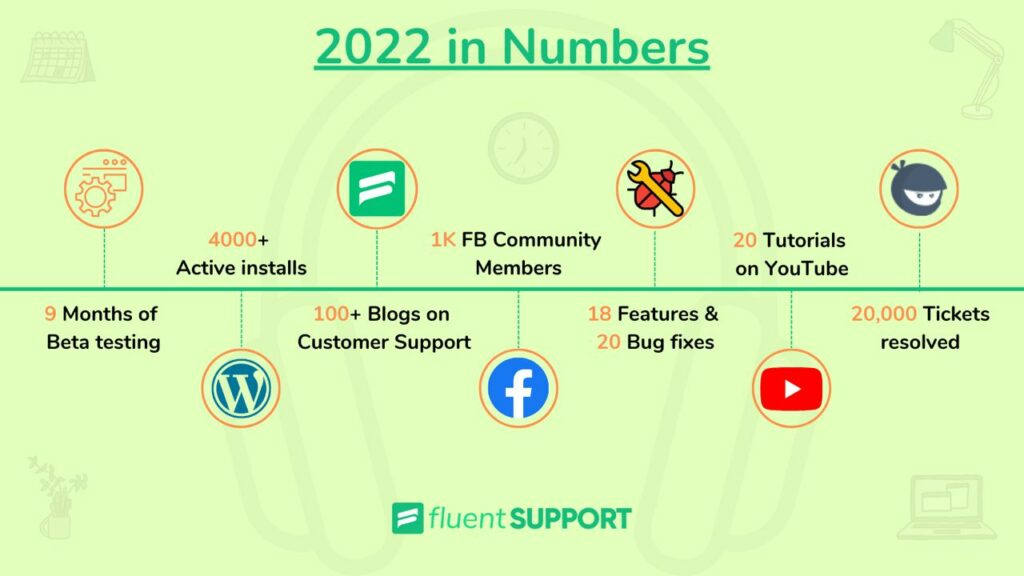 2022 was a year full of ups and downs for Fluent Support. Apart from the regular updates and bug fixes there were some incredible features we implemented to make it even more powerful and robust. Fluent Support got the warmest reception we could've ever expected.
Our users, especially those using FluentCRM and Fluent Forms, simply loved the plugin. In this short amount of time, we became the fastest-growing support desk available on WordPress.
Here's what the 2022 looks like in numbers,
New and more powerful WorkFlows
Ticket migration from popular help desks
Advanced Ticket Filtering
Dedicated agent front-end
6 major updates with 18 more features
Fluent Support is now powering customer support for 4000+ businesses. We thank all our users and teams for making this achievement a reality. Take a look at Fluent Support's 2022 year-in-review to get the bigger picture and more details.
WP Social Ninja's successful year: doubled growth and countless new features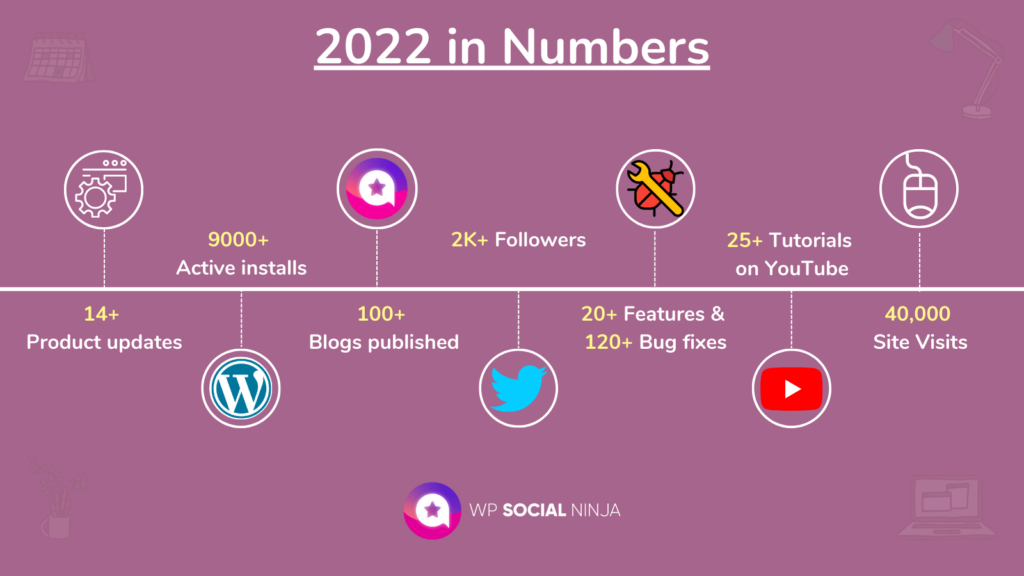 Our flagship social media and notification plugin WP Social Ninja's growth doubled this year! If you give a clear look, you can see in 2022 WP Social Ninja's popularity rose like never before, boasting over 67K+ downloads and 9k+ active installations. Overall, it was a noticeable improvement compared to last year!
WP Social Ninja celebrated their first anniversary on 23rd September. Customers loved the features we shipped and customer support grew significantly. I am sure, the team has new surprises inside their 2023 goody bag for you. Here's some highlights of WP Social Ninja:
We introduced Facebook Feed in January 2022, which continuously improved and evolved.
We also released the Notification Popup feature for our users. Now users can display important notifications or reviews more dynamically by using this supper cool feature.
WP Social Ninja always loves to take suggestions and implement it in their feature list. In 2022, we introduced another glossy feature, Testimonial, to fulfill our customers' wishes.
At the end of the year, we brought another warm feature update for our users: the Shoppable Instagram feed. So now you can entice your users with Instagram shop feeds and boost your sales.
We have introduced countless features like Responsive query, Custom style editor, Manual-Sync, and many more that we couldn't possibly list all here!
I would like to thank all our customers for trusting WP Social Ninja to manage the user's social media marketing. Read the "2022 Year in Review" blog post from the WP Social Ninja business page to learn all about features and accomplishments like award-winning and many more like this.
Paymattic's successful rebrand and feature-packed year: trusted by 3K+ active users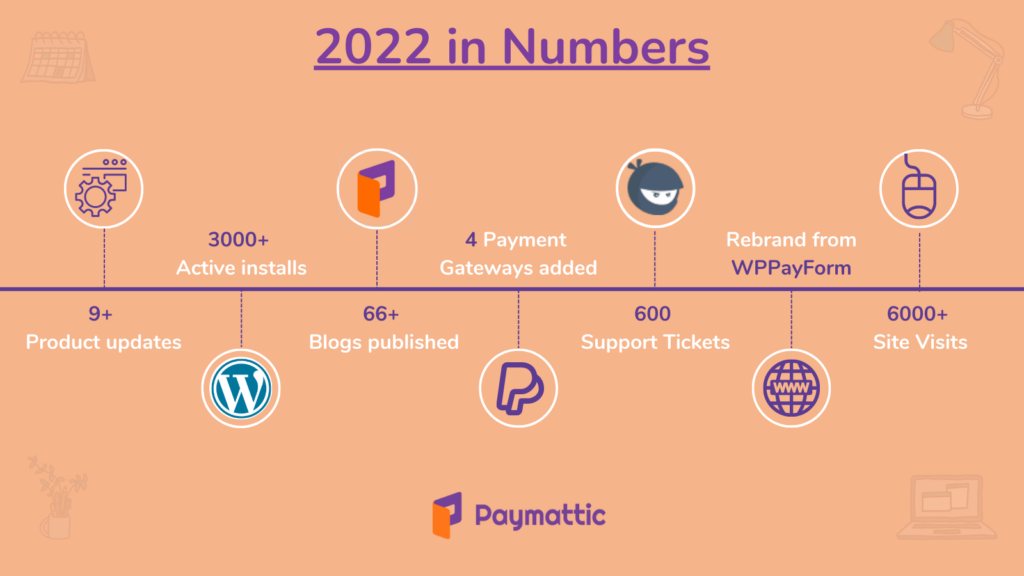 Previously known as WPPayForm rebranded as Paymattic, it surely made for a fabulous comeback of the year. Paymattic has come up with a bunch of surprises this year. It released countless features with a gleaming and smooth UI. All those massive updates transformed Paymattic into a completely different plugin today!
Paymattic is trusted by 3000+ active users. We could not have reached this milestone without you, and we hope you'll continue your journey with Paymattic for years to come. This mindblowing plugin rewrites the future of online payments and fundraising. Here are some major improvements in Paymattic throughout 2022 at a glance:
Rebranding WPPayForm to Paymattic, with more powerful UI and it's own home- paymattic.com
4 payment methods & 9 integrations
WordPress donations
LMS integrations
Advanced Editor
Take a look at the Paymattic year-in-review 2022 blog and know about all the achievements it has unlocked this year.
Thriving customer support team: 18 in-house support heroes and 25,000+ tickets cleared
Users are the sole focus of WPManageNinja. Everything we do revolves around our customers' happiness. WPManageNinja has a thriving customer support team. Our support engineers are the silent hero behind every satisfied customer.
2022 is the year our support team got doubled. As our product category grows it was a necessary step. We are actively investing in our support engineers with tools and functionalities. Mental health is a big turning point for any support engineer. For hours, a support agent has to handle all types of customers. From kind to rude, it takes a lot of energy to provide great customer service these days.
We are aware of this. And we are continuously providing all kinds of benefits and accommodations to our support engineers to tackle their mental health problems. That's the reason our support agents are most proactive and keep breaking all customer support tickets handling records!
Team got bigger with 9 new support engineers, a total 18 in-house support engineers.
We introduced 'Live Chat' support covering peak hours rush
Covered over 5000+ pre-sales support inquiries using live chat
Support team started night shift operation this year supporting more time zones
Support engineers used our flagship WordPress plugin Fluent Support helpdesk to clear 25,000+ customer support tickets for all WPManageNinja products
High-Quality Content Year: 660+ Articles Published and 120+ Videos Produced
WPManageNinja's marketing team had a high-octane year! Our super energetic content team produces high quality contents through all of our brand websites.
Our content writers published over 660+ contents on our 8 different brand websites and viewed by over 600,000+ people.
These content covers how-to guides, in-depth tutorials, premium free guides and articles on niche topics around our plugins.
Our motion graphics team also did a great job, producing informative videos one after another. Here some statistics from our official YouTube channel:
Produced and published over 120+ videos
Got 470,000+ video views in 2022.
Gained 2,000+ new subscribers.
A tremendous job well done by both the content and motion graphics team throughout the year. I believe they are pumped to produce more user-focused content in 2023!
An eventful year for WPManageNinja
2022 was an action-packed year for us! This year, we built, enjoyed, celebrated as a team, family and company. 2022 brought so much joy for me personally. I am grateful for both personal and company-wise achievements. Let's take a look.
AGM turned into a Celebration of joy!
We started this year hosting our AGM on a natural resort with our full team of 65+ members! Everyone was excited for new years, and we could not start it better than enjoying 3 days with every ninja! We also moved to our new office in January.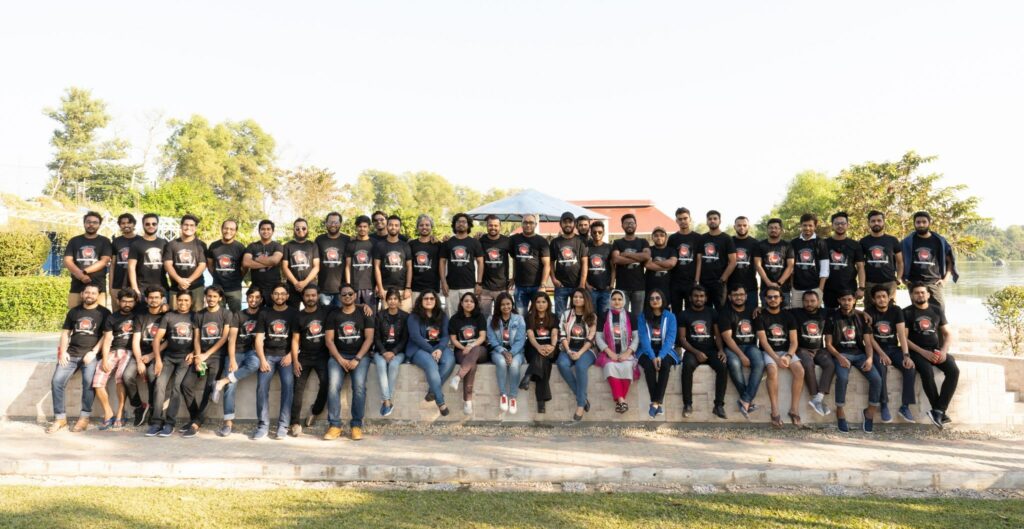 WordPress core contribution
Helping to build the WordPress ecosystem is one of our main goals. We believe in open source whole-heartedly. That's why our developers also started contributing more in WordPress core updates. Starting 2 in WordPress 5.9, 5 of our developers contributed to WordPress 6.0 in 2022.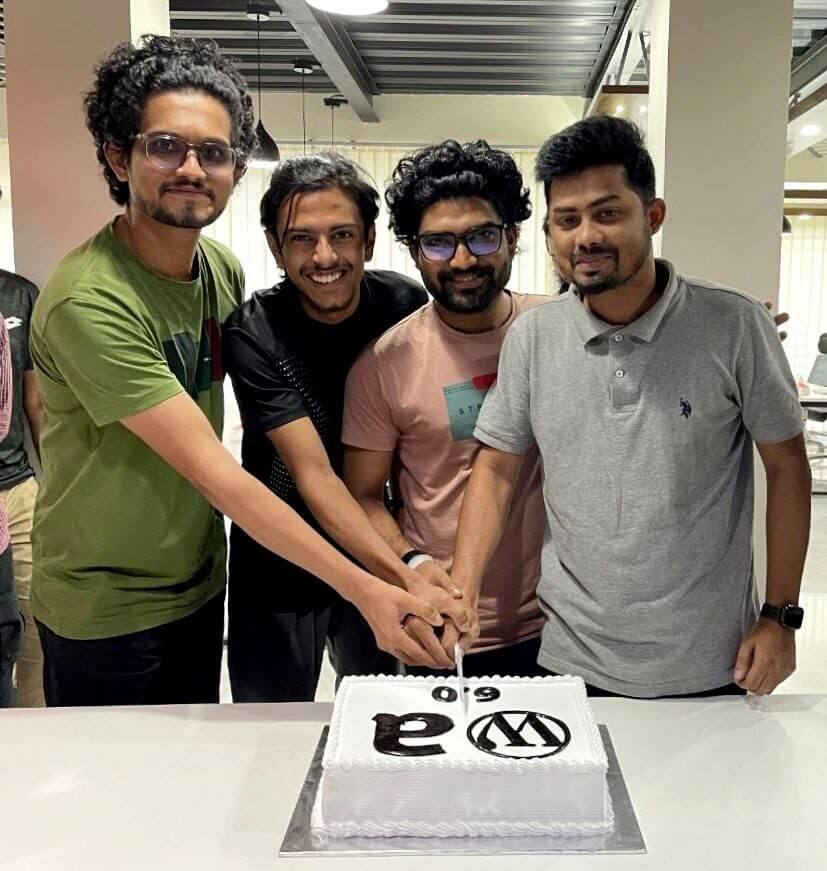 We always encourage our developers to contribute to open source projects whenever possible. It feels great giving back to the community.
Bigger team with 80+ amazing people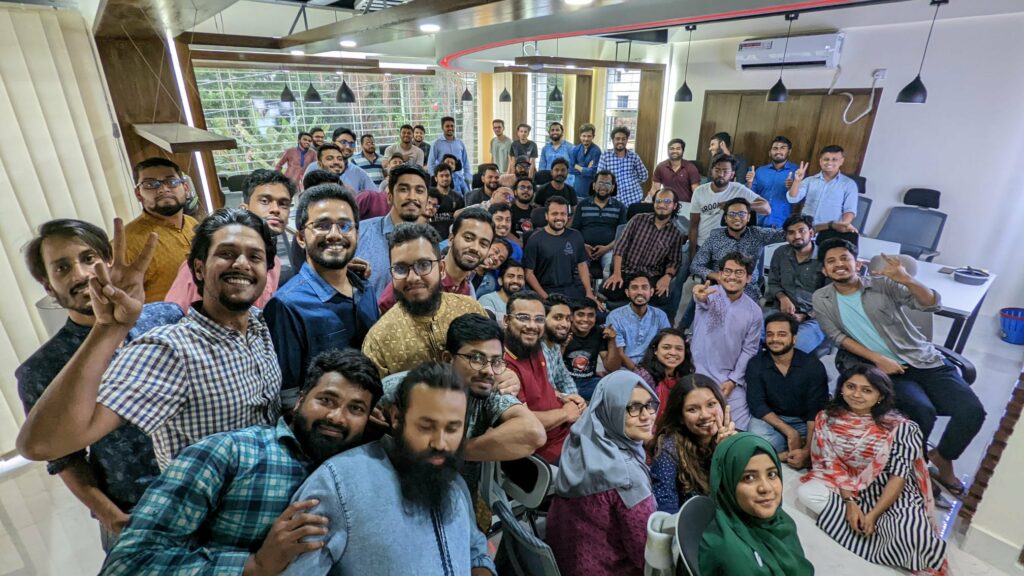 WPManageNinja team got pretty big in 2022. Six years ago, our parent company Authlab started with 4 people. Now we're a big family of 70+ talented individuals. I couldn't be more proud of this team. Empowering my teammates and focusing on their improvements, work-life balance and career growth is a huge priority for me. Here the heroes who are building the future:
Celebrated 6th anniversary
In April, we celebrated our 6th anniversary in our new HQ with our 70+ team members. Six years is a long challenging journey and we still have the energy to continue. We passed another noteworthy year with keeping the year to year growth around 50%+!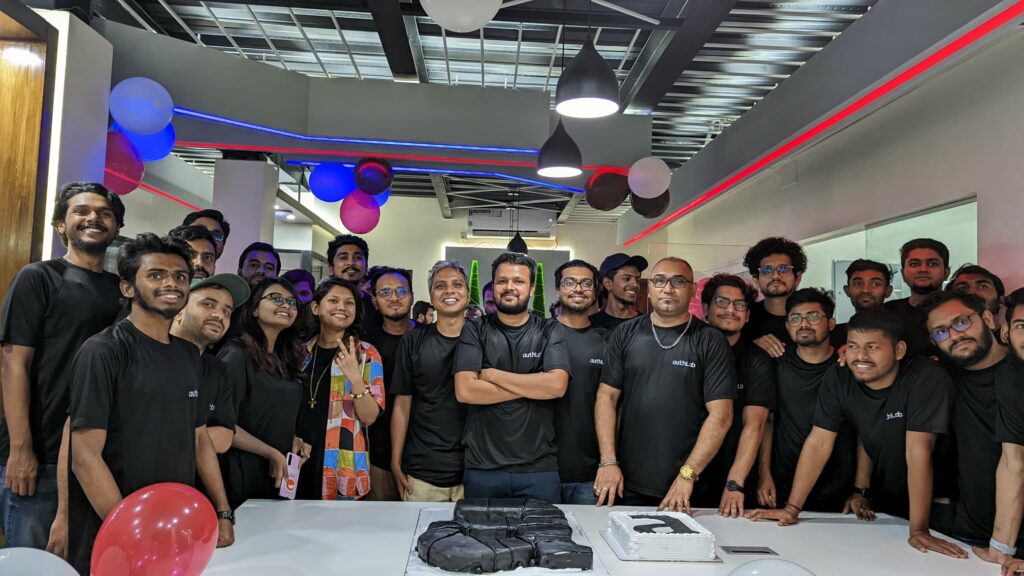 Our goal is to keep solving critical business problems with fun, precision, and love!
Attended 2 WordCamps & met incredible WordPressians!
This year, I had the opportunity to meet some of our customers at WordCamp Europe. It's a magical feeling to listen to their stories in-person of how our products changed their lives and business. I am overwhelmed by their feelings about our products and WPManageNinja.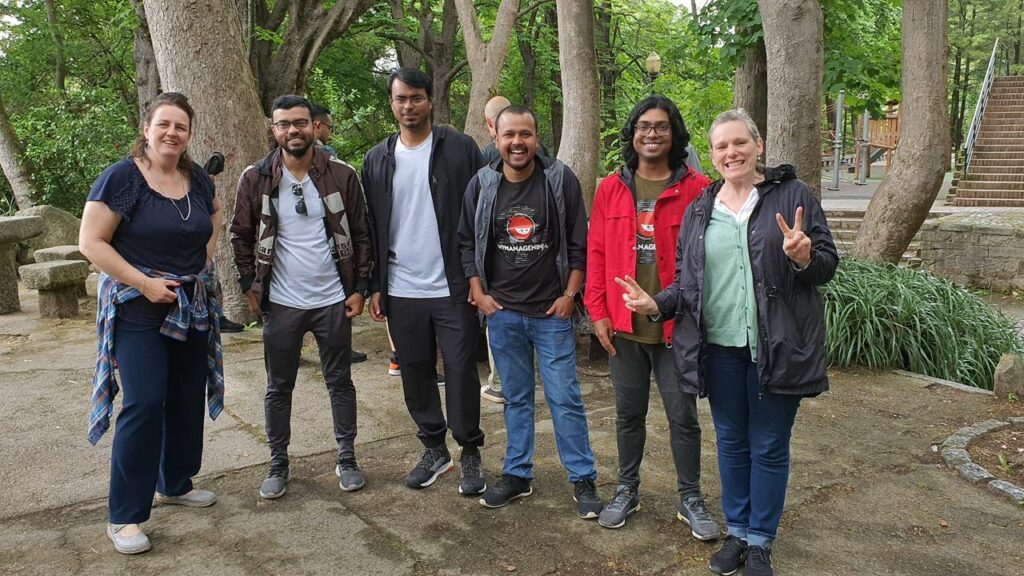 Attending WordCamp Europe is a dream come true moment. The experience is unforgettable! I met so many of our customers, well-wishers and to be in the middle of die-hard WordPress enthusiasts is another level of happiness!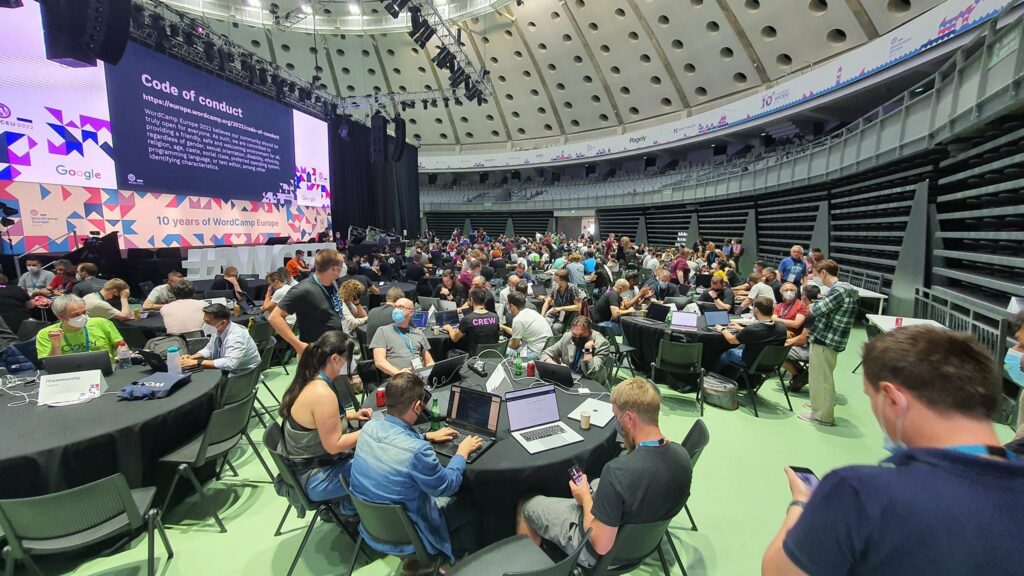 We attended WordCamp Kathmandu 2022 too. It was refreshing to meet lot's of Bangladeshi WordPress enthusiasts in Nepal.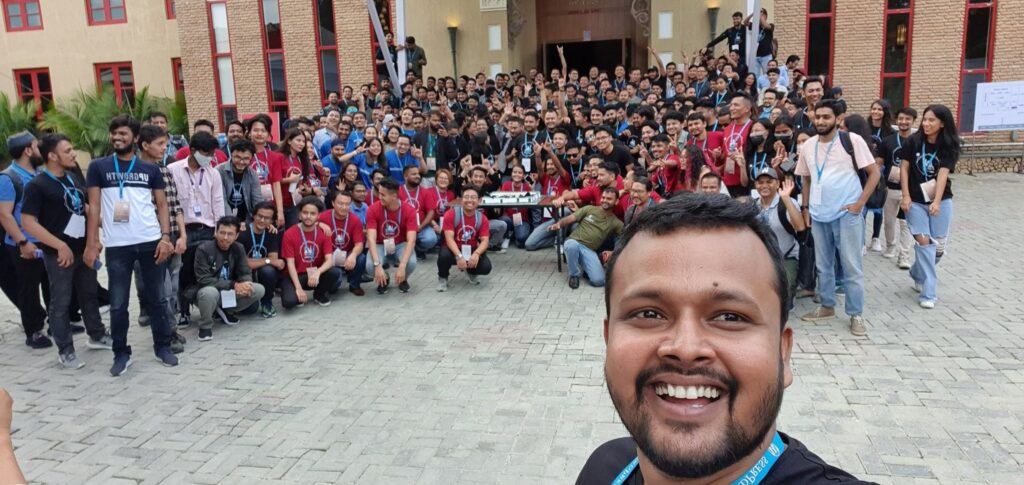 Social responsibility
Although, 2022 was a great year for WPManageNinja, it was not great for our city. Sylhet saw a massive flood event this year, lots of families affected and half the city was under water. Even our office floor was flooded. As a company, we always try to fulfill our social responsibilities and take action. Our team managed to prepare relief for 100+ affected families in the remote villages. Our many team members and their families also got affected in this event and our team tried their best to help improve their situations as well.
First international retreat
2020-2021, covid affected our social life badly. 2022 is the year we try to get more engaged in our new office. We hosted our first international office retreat at Meghalaya India, which was planned in 2020. Arranging a tour like this with 45 people (35 missed due visa+other issues) is hard but our team managed it effortlessly. Proud of this team!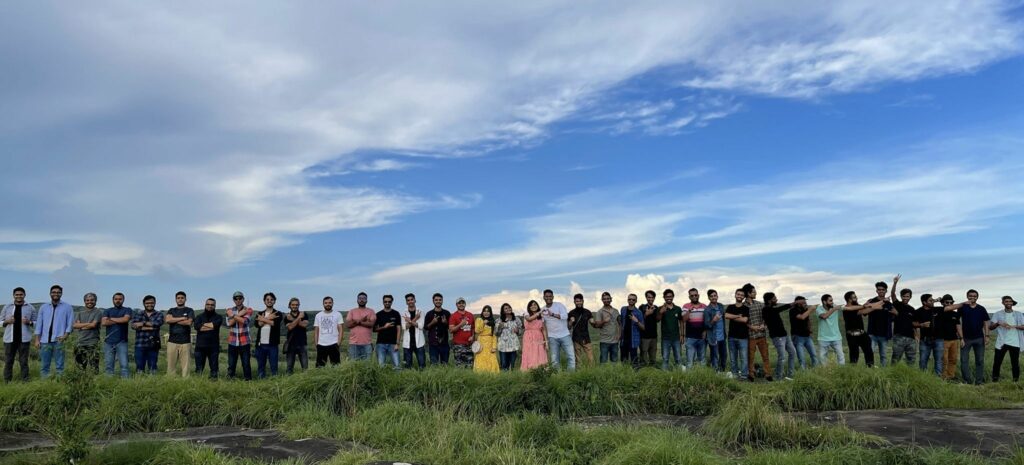 It was momentous with all these happy faces. I hope to explore more places with this amazing team.
Hosted WordPress meetups
In 2022, I wanted to give back to our local WordPress community by sharing knowledge. This year, we hosted 3 WordPress meetups.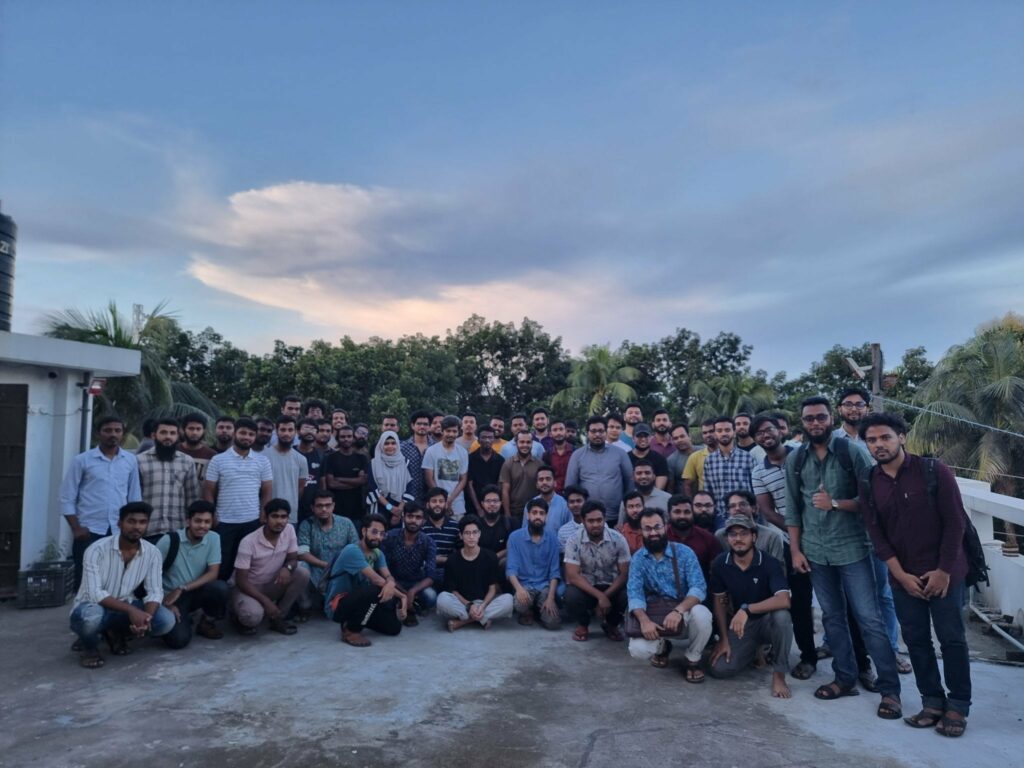 Our first WordPress meetup from Sylhet chapter was attended by 80+ people. I believe it is one of the biggest WordPress meetups. The 2nd & 3rd meetup was also a hit. We plan to host more meetups in 2023.
Won 3 awards
The biggest joy this year gave me was when FluentCRM won the BASIS National ICT Awards-2022 in the Marketing Software category. We became the CHAMPION!!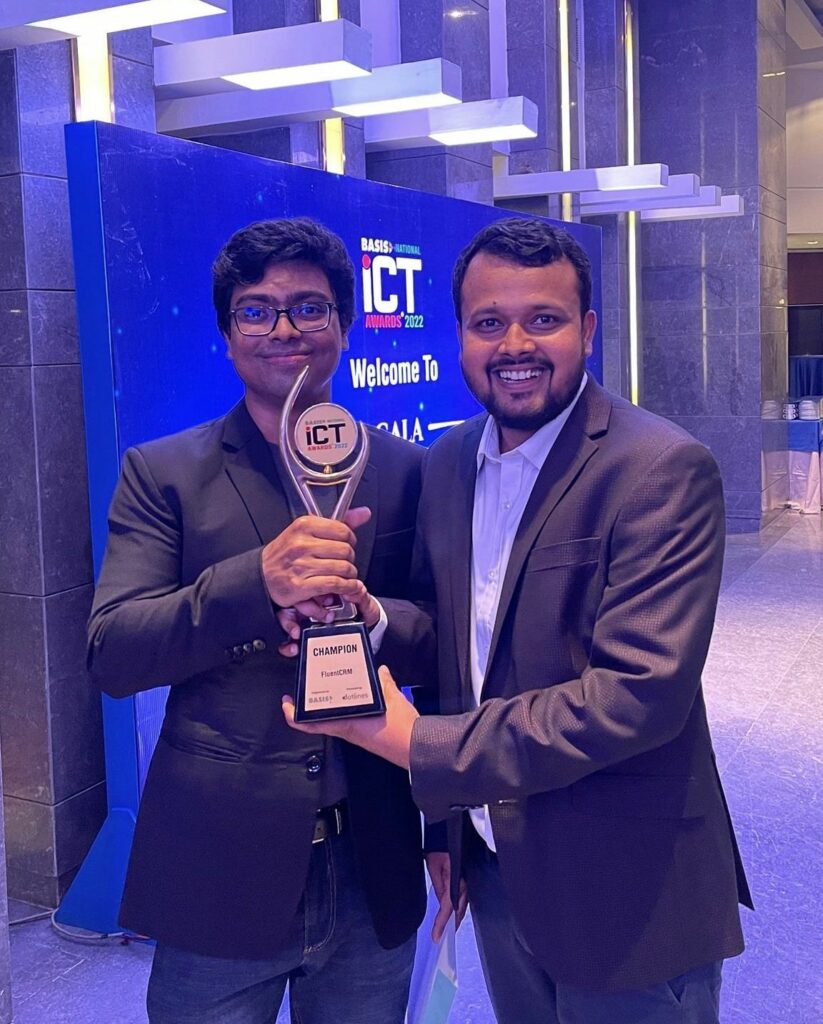 Our parent company Auth Lab, was also honored with the prestigious "Nurul Kadir Award". Nurul Kadir was a freedom fighter and a highly respected entrepreneur who revolutionized our garment industry. Receiving this award from Sabur Khan sir is a great recognition for Auth Lab and the team and it is an encouragement to continue working hard and striving for success.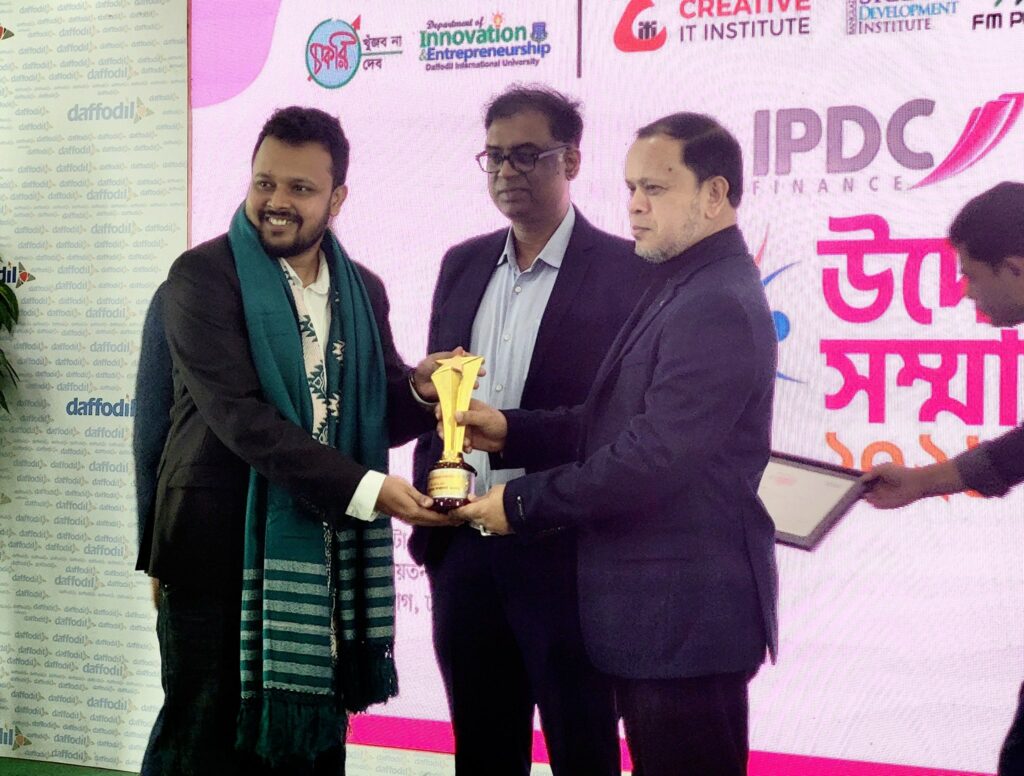 These awards are the recognition our hard work deserved. I couldn't be more grateful to the teams working on each and every product at WPManageNinja. We thrive to build sustainable solutions for small and medium businesses. That's our real inspiration.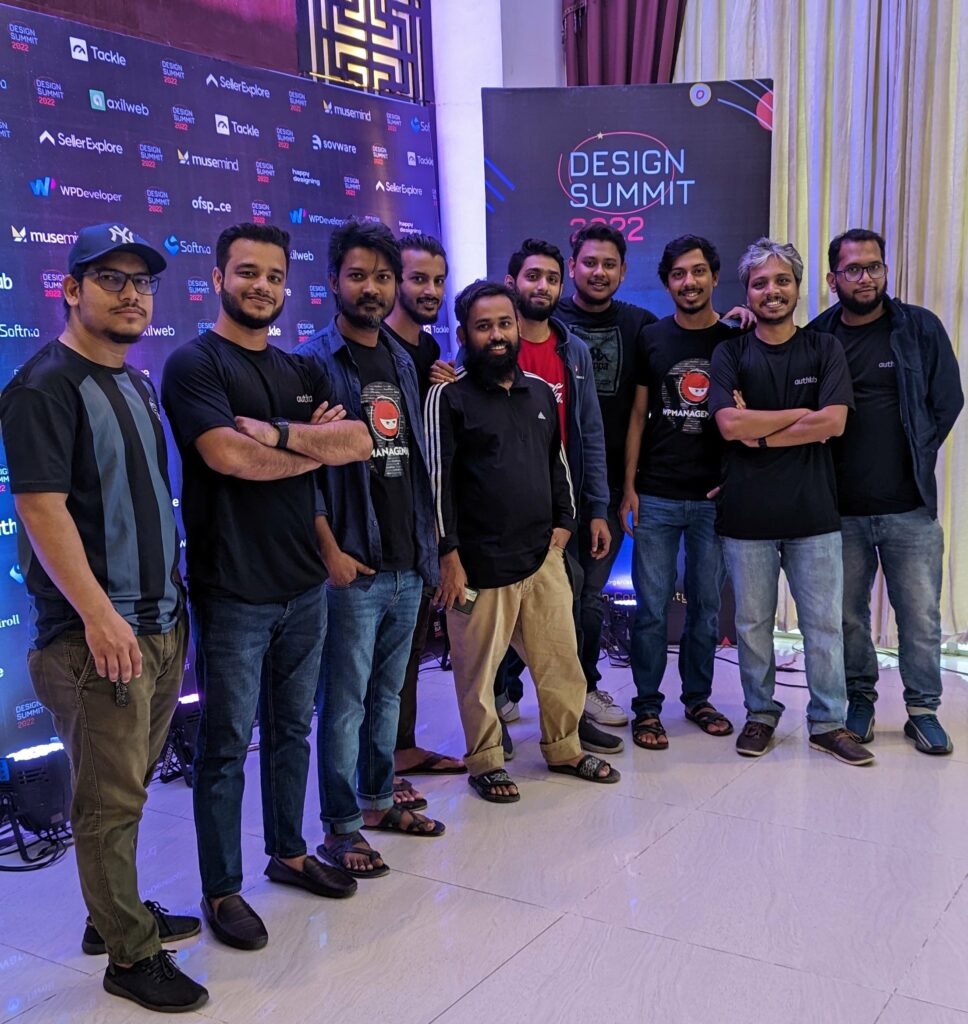 Our parent company AuthLab sponsored "Design Summit 2022", one of the biggest design summits of the country. Over 1000+ UX & UI designers joined the summit event. We plan to sponsor more events to contribute in the community this year.
Getting users' love and appreciation from time to time gives me the boost to build more hard-hitting solutions. It's not easy to build and maintain products, but when users show you love everything is worthwhile. That's what I felt when 4 of our products received the People's Choice Award from The WP Weekly Awards in 3 categories! FluentCRM and WP Social Ninja got the champion title in the Marketing & Niche plugins category.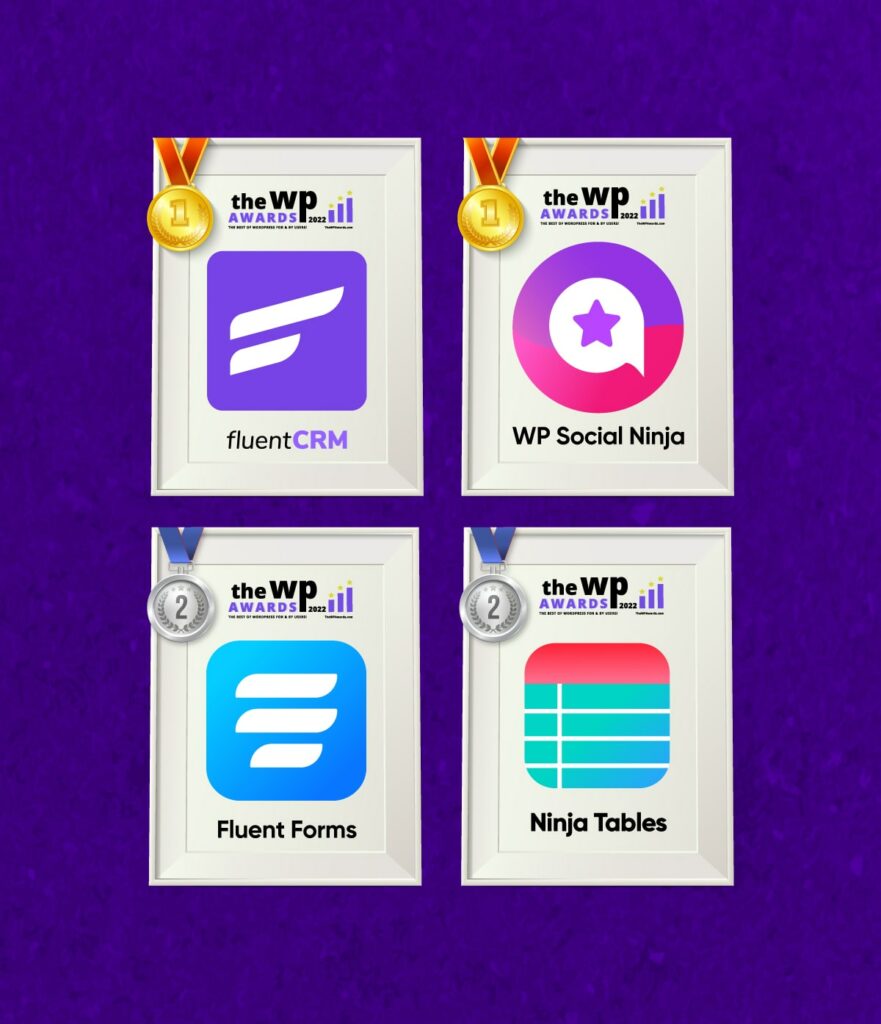 The amount of love and support the WordPress community showed us is unbelievable. I could not ask you for more! I whole-heartedly thank our users who trusted us all these years and are still supporting our journey. We would not be here without you!
Vision for 2023: User-Focused Features, Team Empowerment, and Superior Security Solutions
I am super excited for what 2023 holds for WPManageNinja. We have lots of ideas to implement and serious projects are in the works behind the scenes. Our team is getting bigger and our products are hitting remarkable targets.
I am happy to see users are loving our products and using it to lift their business. I want to focus more on users in 2023, here are some of the key area we are looking to work more:
Take users' suggestions more seriously like before and implement more of them in our product roadmaps.
Invest more in our teams, empowering them to become the best version of themselves and help them to balance work-life.
Release awesome features for our products and make them superior to their category.
Help customers protect their WordPress site with more security. We recently released a small WordPress security plugin "FluentAuth". Our goal is to develop it in a superior WordPress security plugin that will help WordPress users to secure their websites without breaking a sweat.
We are testing a video service called "Fluent Message". It's a small project that focuses on making small business communication faster and more efficient. You can send and receive audio, video and screen recordings without making video call to your customers. It's still in beta phase but you can use it for customer onboarding, agency and teamwork. The goal of Fluent Message is to give businesses more facetime with customers but fewer live calls.
Make each team more self-sufficient and independent, like a startup in an incubator.
Striving to make an impact
Every happy customer is a recognition of our hard work. Our real inspiration for the team at WPManageNinja is the desire to impact business owners' lives positively. I am proud of the energetic team we built over the years. They are the main reason behind our success. Our goal is to continue to help small and medium businesses worldwide by solving their everyday business problems and saving them money.
WPManageNinja still has a long way to go, but I believe with our dedication and commitment to our customers, we are well on our way to making a difference in the WordPress community.