Artificial intelligence (AI) is the most cultivated topic in recent times. But, this is not just a topic or a momentary hype that will go away. It's evolving, and if you're doing anything online – be it personal or commercial – you should enjoy the benefits of AI.
Even in WordPress, AI is evolving with its great power. There are WordPress AI plugins that can get your tasks done more efficiently. We are going to discuss some of the top WordPress plugins that come with AI power and you can do a lot more inside your WP dashboard.
Many of the plugins use API of the popular AI tools like OpenAI, DALL-E, Stable Diffusion, Google's various services, and others. Some plugins are backed by a powerful online tool that manages connections to WordPress via a plugin.
Let's get into details and find out which plugin can be helpful for your business.
Best WordPress AI plugins
With the right WordPress AI plugins, you can accomplish a lot of tasks faster and you can invest your spare time on additional projects.
AI Engine – ChatGPT in WordPress
If you want to experience ChatGPT in your WordPress dashboard, AI Engine can give you that. First of all, you can add a ChatGPT chatbot to generate unique and engaging content. Moreover, This AI plugin can assist you in many ways to maintain your website.
The tool is helpful in generating ideas for your next content and accomplishing an AI-optimized article faster. You can do everything you want inside your dashboard: draft a post, write a product description, and create images.
Furthermore, the AI Copilot is also powerful for other tasks. For instance, you can utilize other tools for translation, SEO, and more. Since the tool uses the ChatGPT API, you need an OpenAI account to establish a connection with the AI Engine.
Pricing
AI Engine Pro has a list of pricing models that start from $49/year.
AI Power for Content, Image, and Form Generation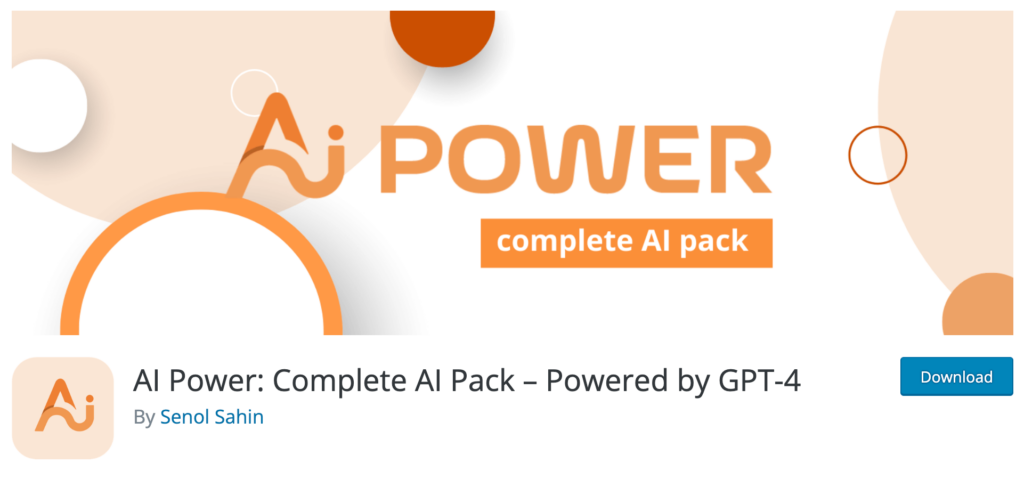 Next to the AI Engine, AI Power is another popular WordPress AI plugin with many great features and integrations. If you already know about DALL-E, Stable Diffusion, ChatGPT, Pinecone vector DB, PromptBase, and similar AI-powered solutions, AI Engine will make you happy. This plugin has many integrations inside it.
Additionally, you can leverage the power of AI writer to create product descriptions, titles, tags, and other facilities for WooCommerce stores. It also supports Yoast, Rank Math, and similar SEO plugins to generate SEO-friendly titles and meta descriptions.
You can also generate images from Pexels, text-to-speech with Google or ElevenLabs, tweets via the Twitter bot, and speech-to-post from Whisper. The possibilities are endless. Want to create a form? Prompt via the AI Forms. Want to improve search functionality? Use the Semantic Search option.
Pricing
AI Power has various license types, such as monthly, yearly, and lifetime. With the monthly plan, you need to pay $7 for the pro package. With $219, you can buy a lifetime license.
GetGenie – Content and AI Assistant
If you're looking for a powerful AI content writer in WordPress, GetGenie comes with 37+ templates for content creation and in-built keyword research and analysis ability. However, you can use many other SEO features, such as competitor analysis, unique SEO title suggestions, on-page SEO scores, and more.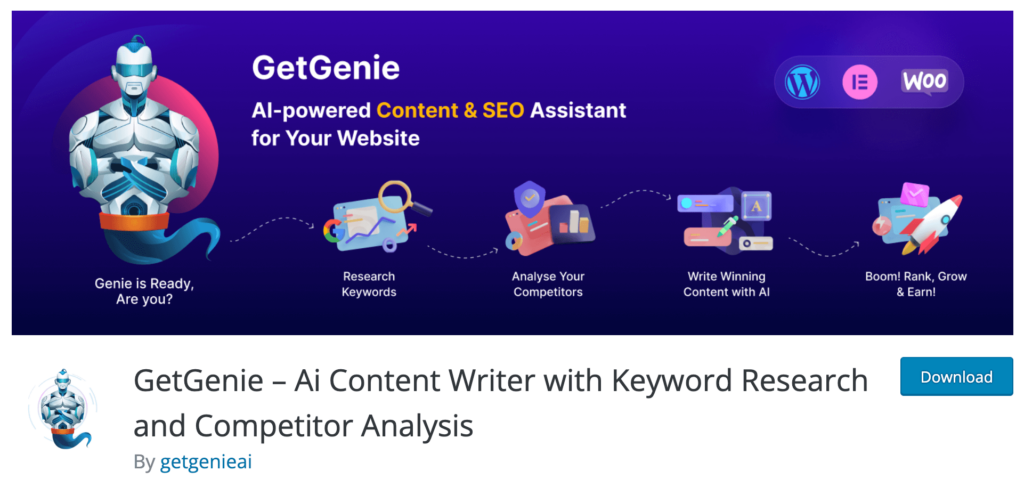 GetGenie is so much more than an AI content writer. Multilanguage features, microblogging idea generation, chatbot for live chat, and other innovative features make the tool insanely great in the WordPress industry.
The templates in GetGenie are categorized into various options. For WooCommerce, you'll find options to create short and long product descriptions, title generation, etc. For copywriting templates, they offer AIDA, BAB, PAS, and more. You can choose the one suitable for your content style.
Pricing
Let me explain to you how their pricing model works. With the free plan, you can write 25k words per month with 10 credits for keyword analysis. If you upgrade to the Pro package that costs $13.3/mo, you can generate 60k words per month and have 40 credits for keyword analysis. Other packages have different benefits with multiple pricing points.
Rank Math – SEO with AI
Rank Math is a popular and powerful SEO plugin that makes your on-optimization easy and smooth. To create SEO-friendly content, Rank Math brings Content AI that's their solution to today's most hyped AI assistance. The main goal of this tool is to help content creators so that they can create high-quality articles.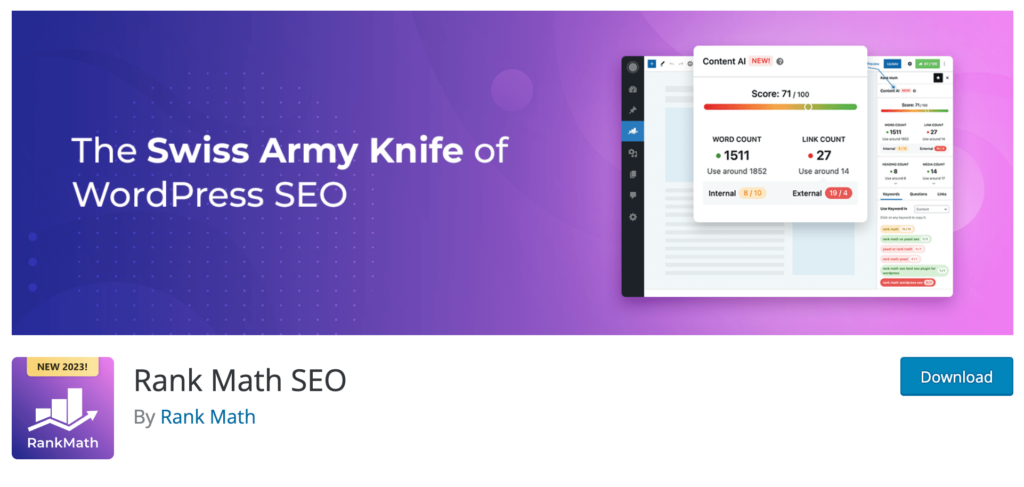 Once you put your intended keywords, the Content AI will suggest you a list of long-tail keywords. From there, you can pick the right keyword and optimize your article that way. Next, utilize the smart link suggestions for external linking and check the count for words, links, headings, etc. provided by the Content AI.
Pricing
With $59/year (renews at $69 + taxes), you can use Rank Math for unlimited personal websites. With the basic plan, you'll get 15 AI credits free. You can always buy more credits at $19/year for 50 credits, and $99 for 450 credits.
Tidio – Customer Service Tool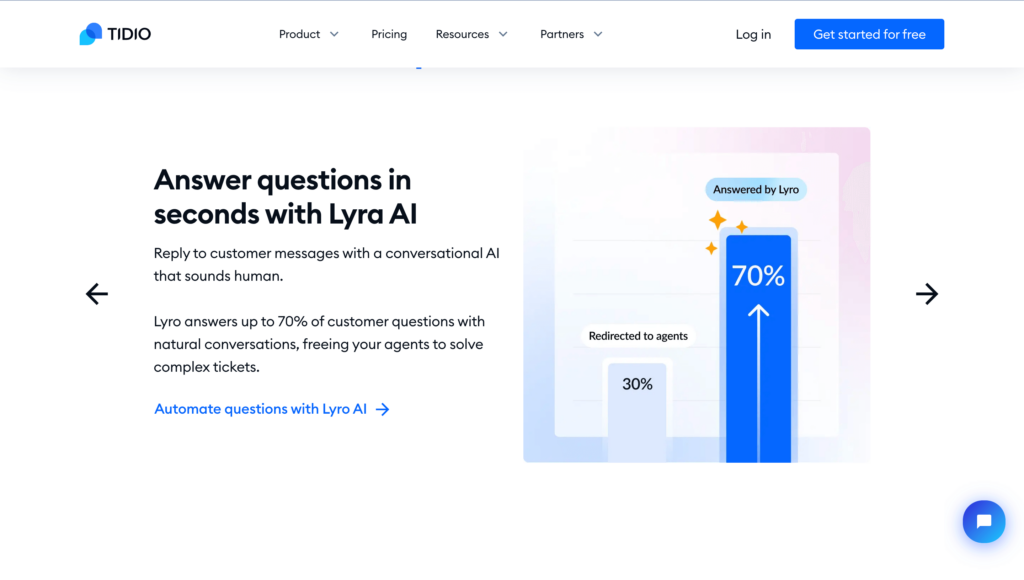 Tidio is an all-in-one AI plugin that helps you streamline your support system. From managing the email ticketing system to offering AI live chat, the plugin can save you time and let you be worry-free about your support. Many third-party integrations like Mailchimp, Sendinblue, Hubspot, and Google Analytics are available to go further.
By the way, Tidio is a SAAS-based platform and has a deep integration with WordPress. Their popularity can be measured by the active installs on the WP repo, which is over 100K. Tidio offers Lyro AI, a chatbot designed to answer customer's questions based on Natural Language Processing (NLP).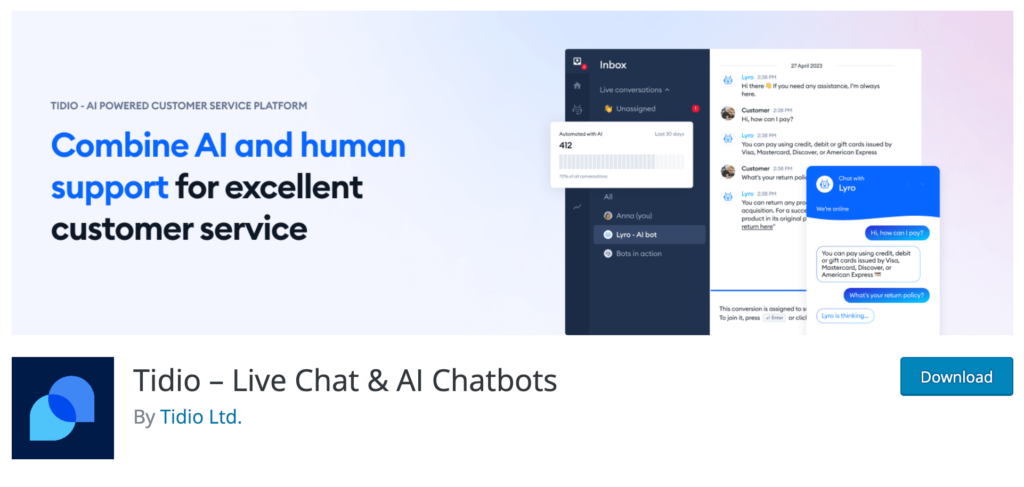 In addition, Tidio will allow you to use 35+ pre-made chatbot templates to make your communication easier and more beneficial. It will help you to generate leads, introduce custom greetings, and reduce cart abandonment. Moreover, it can recommend related products and offer discounts to customers to boost conversions.
Pricing
Tidio has a wide range of pricing options. Besides the free plan, you can opt for other packages from $29/mo. Before choosing one package, make sure you have selected the right one that can fulfill your purpose.
Elementor AI – No-code Web Creation Tool
Elementor is extremely popular in WordPress for building websites without struggling with coding. Now, this no-code solution has reached one step further with its AI-powered website creation tool. You can create custom HTML and CSS using the AI, and this feature is helpful for people who are not strong in coding.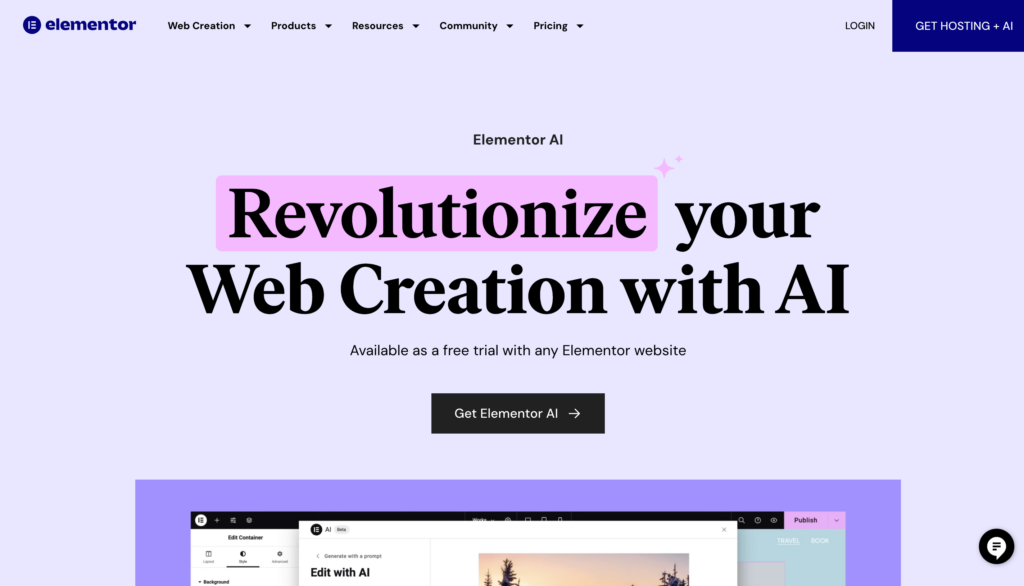 Well, Elementor AI is not limited to creating code snippets. You can create and optimize your website content by expansion, grammar check, and trimming. If your business needs to appear in multiple languages, Elementor AI will help you translate in 20+ languages.
Another feature that attracts my mind is that Elementor AI provides suggestions based on the Elementor module you use. So, the suggested prompts for a block and a header block won't be the same. That's how you can create a great piece of content tailored for your visitors.
Pricing
To use Elementor AI, you have Elementor installed on your website. You can try it for free, first. But you have to buy the license that costs $2.99 USD/mo with 18k credits. That price is on top of the main price of the Elementor subscription.
Voicer – Text-to-Speech Plugin for WordPress
Can you use text-to-speech inside your WordPress dashboard? The answer is YES. Voicer, a fantastic WordPress AI plugin made it possible with the combination of machine learning and artificial intelligence. What happens after enabling Voicer is, that your website visitors can hear text whenever they highlight any portion of your article.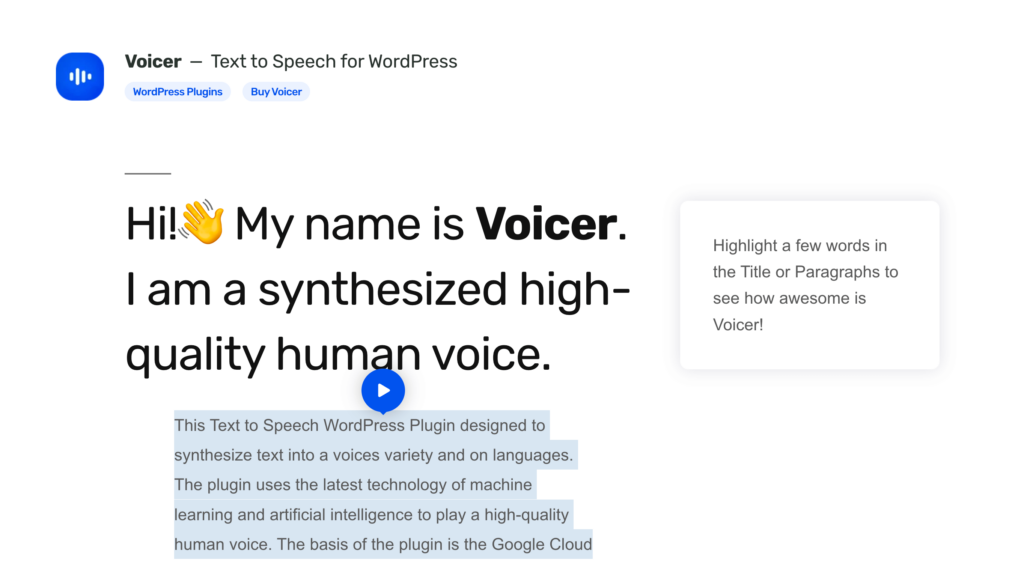 It offers high-quality human voices to make the listening less robotic. Another benefit is, that this simple feature can improve the accessibility of your site. People with vision problems can easily interact with your content.
There's no constraint if you want to make your site available in many languages. Voicer has 170+ voices along with 30+ different languages. Voicer also supports WPML and RTL which makes the multilingual option more accurate.
Pricing
Voicer is available on the Codecanyon platform, and you can buy it for $20.
In the end
All in all, bringing AI to your WordPress install is a good thing. We hope you'll check out some of the AI plugins we've suggested as you go through this list. Most of them have free versions that you can safely use to play with AI on your WordPress website today. And if you need more help from AI, check out our ultimate list of AI tools to help boost your productivity.
All things considered, having AI-powered solutions within your WordPress site is a blessing. You'll have definitely some added benefits to save your time and energy, and get more things done at the same time.
I suggest you go through the list and check out each. You can install the free version from the plugin repository, and play around before making a purchase decision. But remember, AI is here to stay and the sooner you adjust to the trend, the better for your business.