The Fluent Forms plugin has always been there for its users. For those who are looking for a fast & lightweight form builder plugin to deal with different types of online forms without facing any hassle, Fluent Forms will be a perfect fit. And we just made it more powerful and faster than ever!
We are delighted to inform you that the latest version of Fluent Forms Pro has been released. Fluent Forms Pro 3.0.0 brings with it tons of features that will make your online form building capacity more extensive than it already is.
So let's get straight into it.
What's New?
There are tons of features and functionalities of Fluent Forms out there and the people behind the plugin are constantly working in order to make it more friendly to its users.
Loading Faster Than Ever!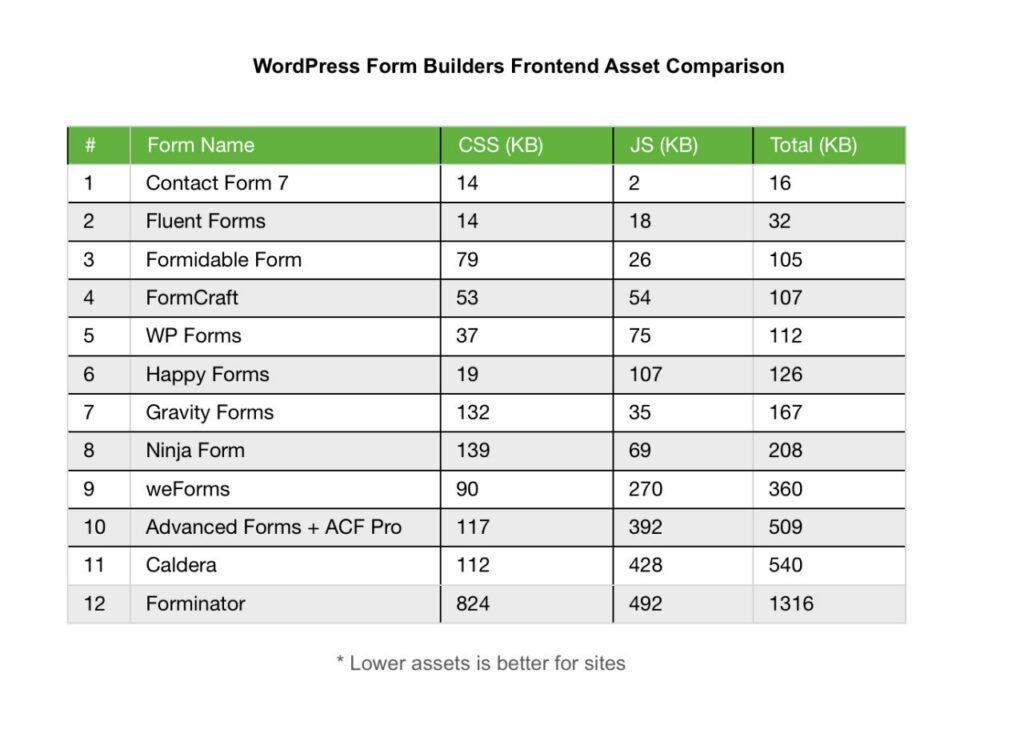 Fluent Forms Pro is the fastest form builder plugin in WordPress. Among the most advanced form builder plugin, Fluent Forms is the most loading fast quality form builder plugin for WordPress users. The developers of the plugin aimed to make the plugin the most lightweight so that users can load data in no time.
The plugin only takes 32 kb to cover all the features of a quality form builder plugin. Take a look at the following stat:
Our team is constantly working to improve our products in the best possible way. In addition, we always try to give our best to provide the best experiences ever to our users.
In this continuation, we also make an improvement to the table loading time and make it faster for users than ever before. Even in the case of a large amount of form submission, you can easily manage all those data in a fast-loading way.
WP Fluent Forms Pro 3.0.0
The fastest and most advanced WordPress Form Builder with tons of CRM integrations
In addition to the previous features, there has been a major update of the Fluent Forms that is entitled Fluent Forms Pro 3.0.0 that compiles a number of great features and functionalities. Let's take a look at the latest amazing features of Fluent Forms Pro:
Now, let's have a look at the details of these amazing features.
Brand-new Form Editor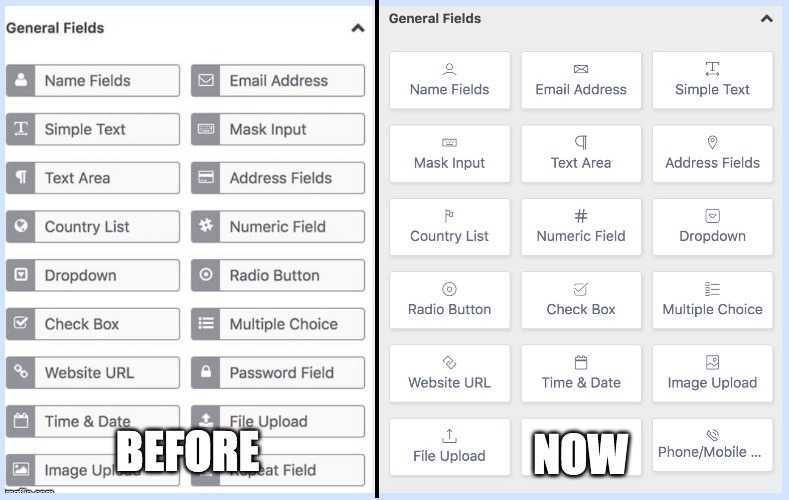 With the latest version of Fluent Forms Pro, a newly designed form builder editor has been implemented. Now, you will see the input field with three columns panel, but previously it was a two columns panel.
This change is aimed to make sure a more competent visual outfit so that all the input field buttons will be better visible and can easily distinguish from each other.
Moreover, there is also a bit of change in the editor section. Previously, it was a yellowish background sign for the selected item in the form editor. Likewise, the input field button, the above change in the text editor, is made up for a better visual appeal that enhances the appearance of the selected field.
60+ Pre-built form templates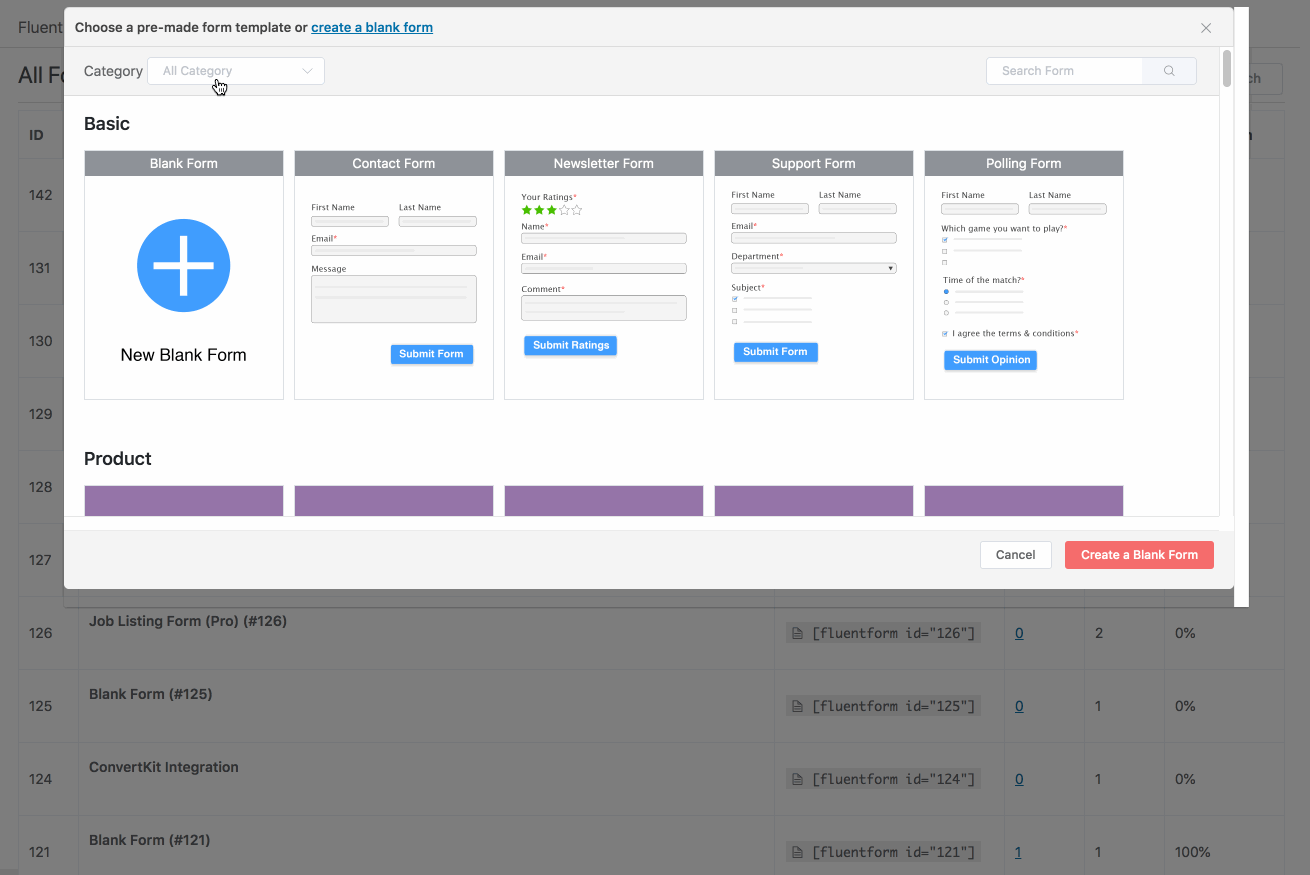 Now using Fluent Forms 3.0.0, you will get your hands on 60+ pre-built templates. We took the pain out of form creation and did the hard work for you so that you can get a head start with data collection. To make it happen, you need to click on the Add a New Form button. Then you will see that a popup will appear with all the pre-built form templates.
All the templates are placed here based on the category and can be used by using a single click and most importantly, you can customize them right away.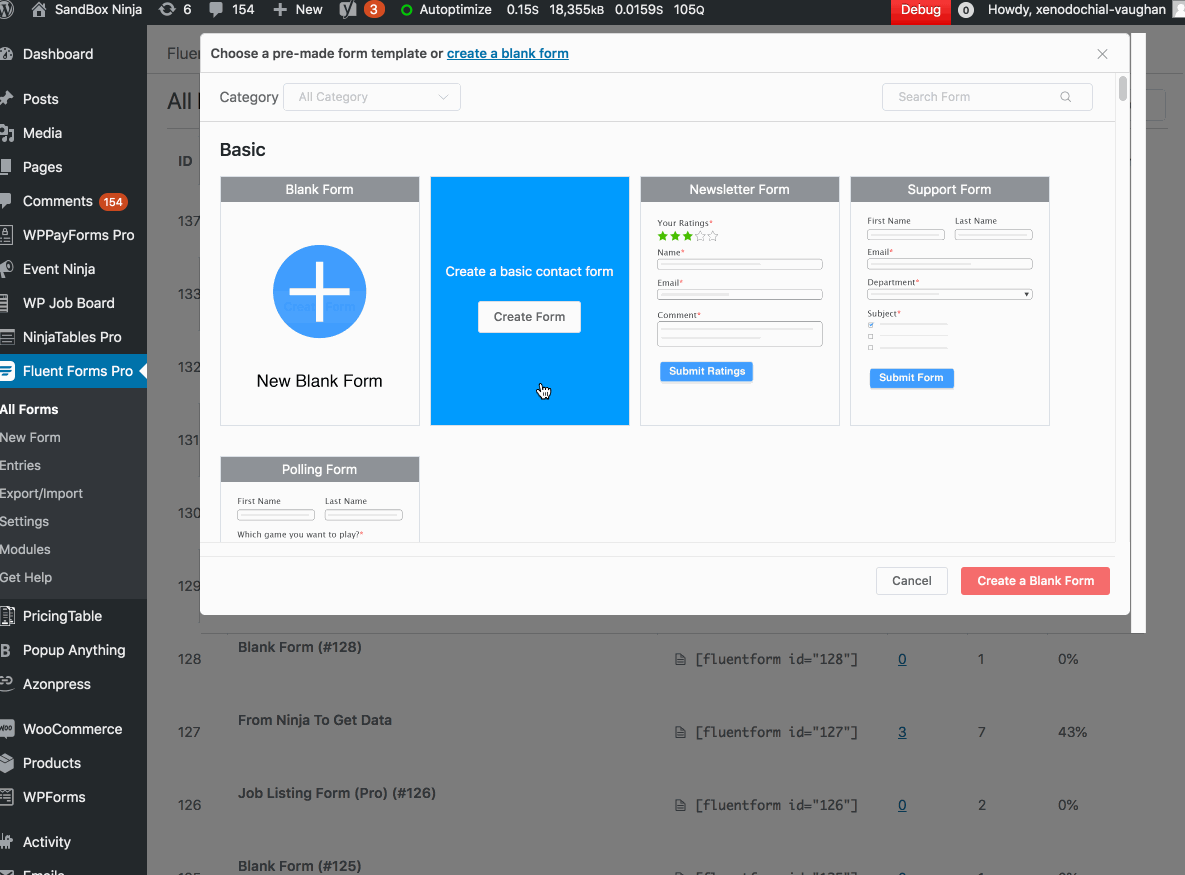 Moreover, you will get all the possible details about prebuilt form templates by visiting the demo website of the Fluent Forms website.
Visual Data Reporting and Analysis Tool with Chart and Analysis Tool with Chart ?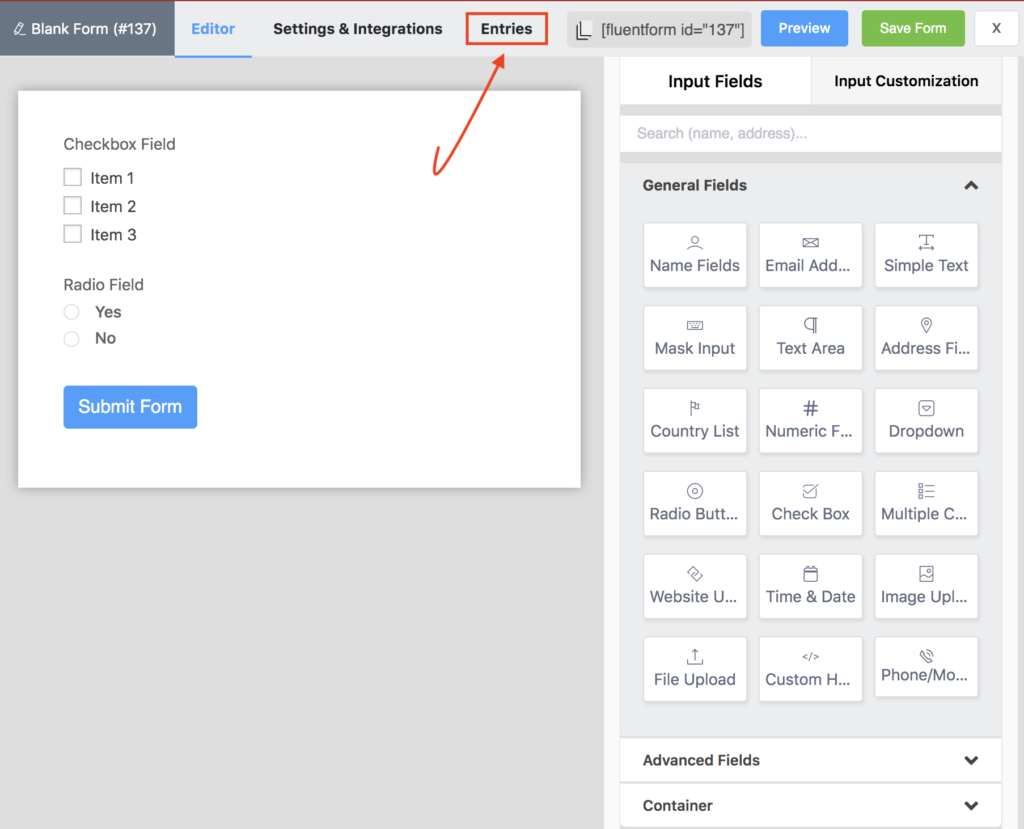 This is another interesting feature that allows you to add and show data charts into your online forms. Sometimes you might need to take feedback about the habits of your users through on-page surveys and polls. The most important factor is that along with the text & numerical format, now, you will be able to view all the results with a visual presentation.
The visual approach here shows you can generate different kinds of charts and graphs using this amazing tool. To make this happen, you need to go to the respective form from the plugin's dashboard.

Next, on the Entries page, click on the View Visual Report button on the top right corner of the page.
Once you click on the View Visual Report button, you will see a visual data chart based on the user's input using your online form.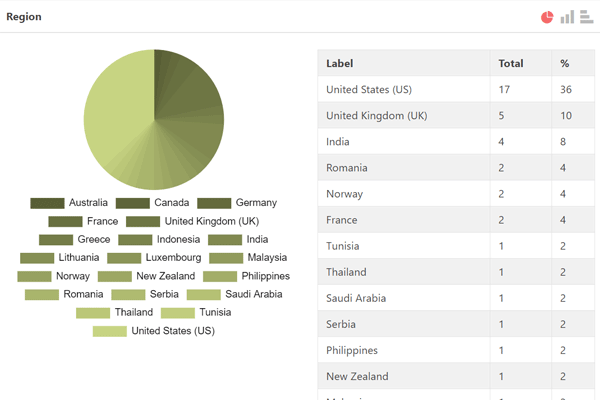 This is a super cool feature to measure your campaigns according to the user's input. In the latest version of Fluent Forms, you will get that type of feature inbuilt. You don't need to install any additional add-ons or something like that. Moreover, we are planning on rolling out more analytical tools very soon!
3rd-Party Integrations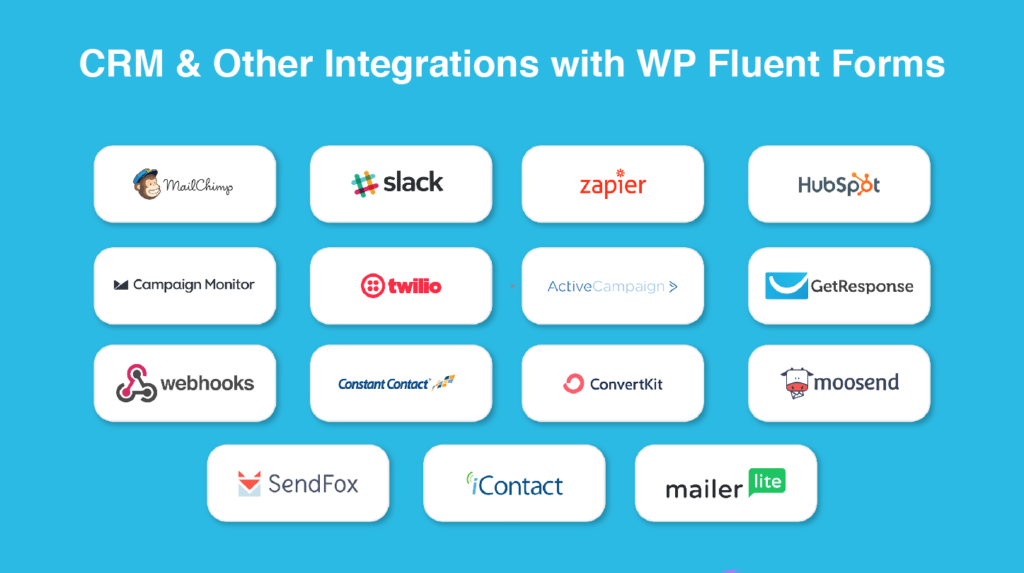 With the latest version of Fluent Forms, we have added a handful of new 3rd party integrations. Now you can easily integrate your online forms with your favorite 3rd-party tools seamlessly.
Here goes a detailed description of how to deploy these integrations to make your life easier with Fluent Forms Pro- Documentation.
Take a quick look at the new third-party integration:
Hubspot
ConstantContact
ConvertKit
MooSend
SendFox
Twilio
MailerLite
Again, to have this feature on your form, you won't have to purchase any extra add-ons.
Calculated Fields with Equations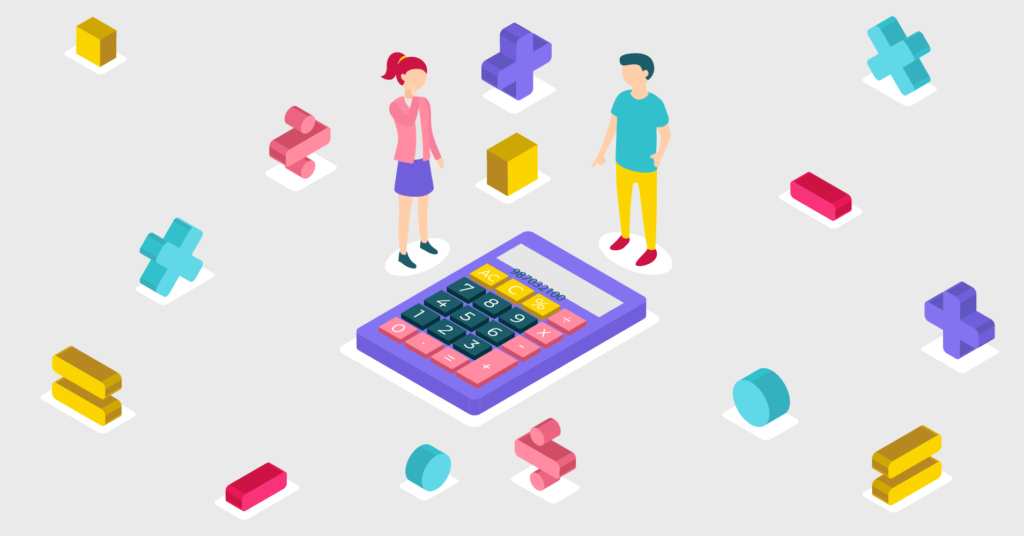 Fluent Forms 3.0.0 comprises an interesting feature that can be used to calculate field data with smart equations. Now, you can calculate multiple field data with a corresponding equation field to figure out a total sum or whatever complex equation you need to satisfy.
To make it happen you need to use the Numeric input field. In the Advanced Options section of the Numeric input field, you will find the Calculated Field Settings option. You need to enable this option by clicking through the checkbox.
Form Submitted Entry Editor
Sometimes you might need to customize the users submitted data and the latest version of Fluent Forms will make this happen for you. Now you can customize the submitted data provided by the users.
To learn more about this amazing feature, head over to the documentation page of the plugin.
SMS Notification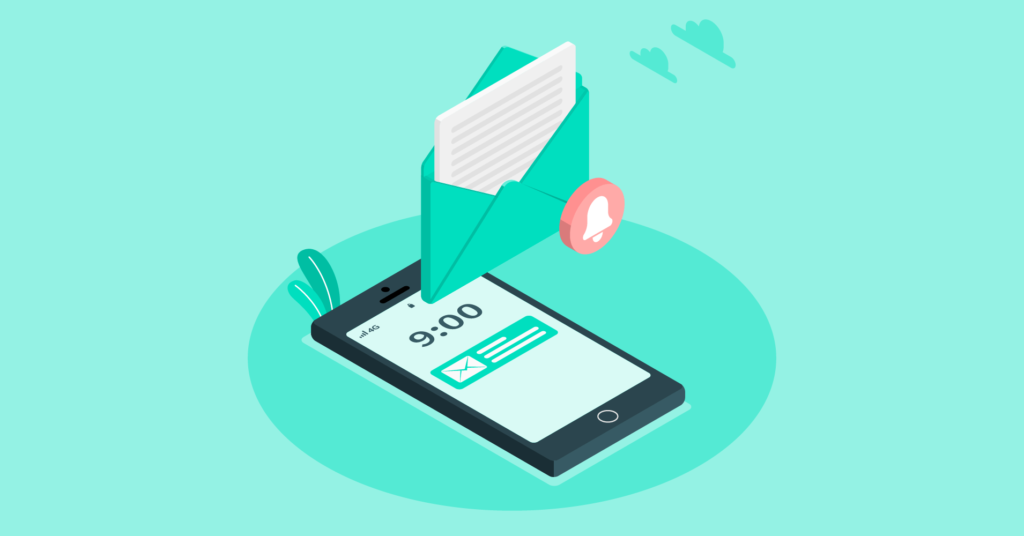 Sometimes it's not enough to have only email notifications enabled on your web forms. For being a critical online form, emails couldn't be the only way to notify people. Because most people tend to ignore emails due to the daily barrage.
In that case, text messages are a more convenient way to notify the people of their form submissions. With the help of text messages, form submission could be evaluated in the best possible way. This is a way more rapid and easy medium to get notified after successful form submissions.
With Fluent Forms 3.0.0, you will have this amazing feature inbuilt. You just need to configure your online forms with your system.
In this case, you need to integrate Twilio with your online form. This is super easy to implement on your forms and you can learn more about the feature by visiting the documentation page of the plugin.
Bonus: Fluent Forms 3.0.0
Recently, the Fluent Forms free version also had an update with a significant number of changes.
Moreover, if you are a pro user of Fluent Forms, by default you will be able to use the Fluent Forms Lite version. That's why you will need to update the free version to keep your form-building quality smooth.
Here's why you should look forward to with 3.0.0:
All new form editor screen with a simple, powerful and clean interface
Built-in Data analysis tool for form submissions.
Email bug fix
Added new DB table for advanced reporting
Submit button styling and customization option
Improve form security
Form Preview re-engineered now. In any theme, it will work fine.
Exporting data issue fixed
Entry status management improvement
File upload issue fixed
Lots of integration added
Global Integration and Module manager.
Tweaks And Bug Fixes
Apart from the above-mentioned features, there is a number of bug fixes and other enhancements in both the free and pro versions. Numerous tweaks have also been made to make your form creation process much more relaxing and effective.
Moreover, the developers of the plugin are constantly working on providing the best user experiences to our users. We have a potential roadmap to skyrocket the performance of Fluent Forms in the future. You can take a close look at our future road map for the plugin on the Trello board.
Don't Wait Up
In the end, we would like to confess that we are especially grateful for the support you guys have given us over the years. Fluent Forms has evolved to be a real force in the arena of WordPress form builder plugins.
All the features mentioned above will be available with the new version of the Fluent Forms release. So do keep an eye on your WordPress plugin directory and the official website of the plugin.
If you are new to Fluent Forms, you can always check out the pricing for your next purchase.
WP Fluent Forms Pro 3.0.0
The fastest and most advanced WordPress Form Builder with tons of CRM integrations