Open source software is developed in a collaborative public manner and its source code will be released under a license in which the copyright holder provides the rights to use, change, or tweak it for any purpose. Hence, the main idea of choosing an open source software is the ease to customize it according to the business needs.
So what is an open source help desk system?
Open Source Help Desk System
If you segregate this term into two parts, you will get a clear idea quickly. A help desk system is a software or tool built with a purpose to serve the customers or end users with assistance, support, and knowledge transfer that is related to the products and services sold by a business.
An open source help desk system's source code can be tweaked according to the requirements of the customers to fit into their business environment. Since open source systems are available to mold according to the business needs, it opens an opportunity for extreme customization from the scratch.
Why is an Open Source Help Desk System Required?
If you choose one ready-to-use help desk system or plugin on your business website, there is a chance that it may not satisfy all your requirements. It may be missing some features that you require, or it may be overpriced as it has a lot of features that you do not require at all.
Building a complete tailor-made help desk system may not be a budget friendly option for your business, based on the size and scope of the business. In such cases, the best option is to choose an open source help desk system and tweak it according to your requirements.
What are the Options for the Best Open Source Help Desk Software?
There are so many open source help desk systems available in the market, both free and premium ones. Each help desk system offers different specifications and unique feature sets. You can choose one from the list which almost suits your needs and alter it to the way you really require it.
In this article, let us discuss 8 open source help desk systems from which you can pick one for your customer support. They are as follows:
Let us go through one by one.
1. Open Source HelpDesk & Customer Support Ticketing System
This open source help desk system is one of the best in the industry because of its excellent customization capabilities and the expert team behind this system. It is a promising ticketing system since it comes from the family of the popular help desk ticketing system plugin for WordPress websites – WSDesk. It inherits all the features available on WSDesk and allows you to integrate on any website platforms such as WordPress, Shopify, Wix, BigCommerce, and so on.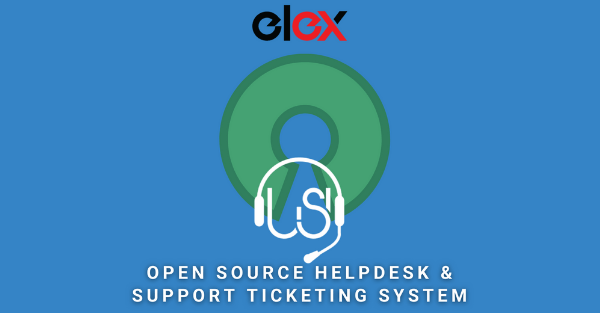 Based on the number of tickets you would require to manage in a day, they offer 3 subscription plans such as Starter, Pro, and Ultimate. All plans allow you to add unlimited agent profiles. And, it is worth saying about their expert team who is ready 24/7 to assist the customers to fix any issues, technical glitches, knowledge base article integrations, third-party integrations, and so on. They also help to migrate from any third-party help desk systems into Open Source HelpDesk & Customer Support Ticketing System without losing a single existing ticket.
Other specifications:
Manageable dashboard for multiple agents.
IMAP and Google OAuth integration to the seamless conversion of emails into tickets.
High data security as there is no third-party integration.
Option to opt for a completely managed hosting plan.
Open for any kind of customization even using complex coding.
Charge for support integration.
Flexible to work as a subdomain of the main website.
Frequent updates on features to ensure it satisfies arising customer requirements.
Available as an out-of-the-box solution with rich features.
2. Freshdesk
Freshdesk is a customer support ticketing solution that is available at different subscription plans starting with a free trial for a limited period of time. Basically, it comes up with a handful of advanced features for agents. The agents can check who all are working on the same ticket they are currently dealing with to avoid the collision. And this system has an option to set reply templates to make the replying faster, and conversion of emails into tickets which are sent by the customers for gathering queries from multiple sources to a single platform.
In addition to that, this help desk system allows prioritizing tickets and setting a working time to make the agents close tickets as soon as possible.
Other specifications:
Option to add internal notes.
Detailed ticket dashboard to check the ticket status and due date.
Features to respond to the customers faster without delays.
3. UVDesk
UVDesk comes up with a number of features and it is flexible for customization. It can be tweaked to fit into any requirements and any profession you are working in. You can seamlessly integrate your social media channels with your help desk system with this software.
In addition to adding agent profiles, you can even add supervisors to monitor the ticket management and overall performance of your agents. This help desk system also helps to convert emails into tickets to not miss a single query from customers.
Other specifications:
Seamless knowledge base integration.
Mobile optimized interface.
Ensures security and avoids data breach issues.
Supports migrations.
Works well on eCommerce websites.
4. Helpspot
Helpspot covers almost all essential features required for a basic help desk ticketing system. It allows you to receive tickets through customer service portals on your website and the mailboxes of your support team. It centralizes the customer support of your company in a single platform.
To track the performance of your agents as well as overall customer support services, this system provides options to track the speed of response to customers' queries during business hours.
Other specifications:
Creates custom views of tickets.
Monitoring and detection of agents working on the same ticket.
Option to create an account for all people working in a customer support team.
5. osTicket
The main advantage of osTicket is that it is completely free to download and integrate with your business website. This works as a single platform that manages tickets from multiple resources such as support forms, emails, and even phone calls. It also collects data from customers when they submit tickets to your help desk system through the custom fields you have displayed.
You can also create custom templates using HTML markups to make your agents' responses faster in a standardized way. This platform is scalable to work with a large number of support team members.
Other specifications:
Frequent updates of features.
Features to avoid multiple agents working on the same ticket.
Option to add internal notes on tickets.
Advanced features for agents to assign and transfer the tickets.
6. Zoho Desk
Zoho Desk allows users to receive tickets from multiple channels to gather them in a single platform and manage the tickets efficiently. And, this system allows you to customize your help desk system according to the structure of your organization. This will help you to have tweaked features that satisfy all your business requirements.
It also integrates the queries you receive through emails as well as chat with the help desk system. You can also integrate your social media platforms with this system.
Other specifications:
AI integrated responses.
Efficient knowledge base integration on customer support.
Allows adding relevant tags on tickets.
Trigger notifications if there is any issue with the tickets.
Mobile optimized interface.
7. RaiseaTicket
RaiseaTicket is a free open source customer help desk system that can be used as an out-of-the-box solution or as a customizable help desk system for assisting your customers. It has a simple and intuitive interface that allows better ticket management. And, it helps to manage the queries received through emails and avoid clutters of queries in mailboxes.
Even though it is a free help desk system, it assigns the tickets to respective agents and allows users to add notes on tickets and tag files for better ticket management. You can seamlessly monitor the performance of agents and the status of tickets to track the activities of your customer support system.
Other specifications:
Social media integration with your help desk system.
Allows creating SLAs for individual customers to ensure a ticket is closed by the agent within a specific time.
Analysis report to monitor workflow.
8. Faveo Helpdesk
Faveo comes up with advanced features such as ticket merging for agents as well as ticket rating. It already has a set of advanced ticket management features to avoid the collision of agents for managing tickets. And its features allow agents to prioritise the customer tickets and work on them as soon as possible.
It has a search option to find the tools and features quickly to help the agents to handle the system easily. And, it allows you to add tags on tickets. It's SLA management is worth mentioning, since it avoids missing any ticket and ensures closing the tickets within a specific time.
Other specifications:
Knowledge base integration.
Canned responses.
Multilingual support.
To sum up,
Here, you have seen the top 8 open source help desk software that are available to integrate with your business website. There are more software available in the market, but these are some of the best picks for ideal customer ticketing management.

Marketing automation for WordPress
Get FluentCRM Now
You can go through their features and specifications and opt for one that matches all your requirements.