Fluent Forms 3.5.5 comes with a bunch of exhilarating features to improve payment integration and other dynamic actions. While you can update the labels instantly, you can calculate values immediately from submitted data, as well. Alongside bug fixing, the new update allows you to enjoy useful options like inline radio buttons.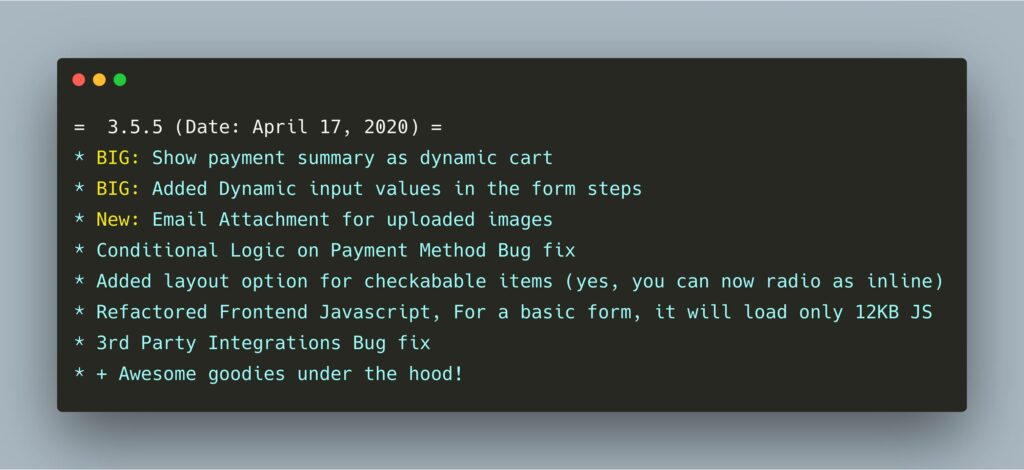 Let's see how the fastest form builder is giving you more reasons to stay with it for long while you can accomplish more things escalate your marketing plans.
Dynamic Payment Summary
The payment option of Fluent Forms is not just for taking payment anymore. It's beyond a simple money collection method. What users can do now is review the payment summary before they are going to click the final purchase button. When they select items from the list, the fields will collect the values automatically.
What's more useful is you can show the price right when people select the items. It will happen instantly, so they have no chance of being dark with how much these things are going to cost me! They can see the sum as soon as they click on a single product/service. Not only that, but you can also show a message with their name and email to ensure everything's alright before the final confirmation.
Dynamic input values in the form steps
This is a highly beneficial feature to engage users with what's happening immediately. Create a multi-step form and show the values dynamically. When users write their names and emails, you can tell them this is your name and this is your email. Further, you can show them the price right away they're choosing a plan.
These are a few examples of how you can take your form to an extended level. By applying the technique, you're simply allowing your users to be sure about what they're typing. If anything goes wrong they can fix it quickly.
Email Attachment for Uploaded Image
Now you can send email notifications with uploaded images. If you have added an image upload option in your forms and people submit the forms with images, you can get a notification with the uploaded photos. All you have to do is check the box from the email notification setting from your form settings.
Repeat Field with Advanced Options
Previously, you can find only text adding option in repeat fields. It's more enriched now with Text, Email, Numeric, and Select Field. Now you can assign every repeat field to a different task and collect more info within a single container. You can update the label, add placeholders, and make it required if you want.
You see, this is a wonderful feature, and you can collect various types of information with these fields. As the Numeric Field allows you to get numbers such as cell number and identification number, so the Select Field is for offering multiple options to pick for. Not to mention that the Text Field is a raw option, meaning it's up to you what to achieve with it: name, place, comment — anything.
Helper Shortcode
Shortcodes are a great way to take your forms to the next level. By adding shortcodes to any page of your website, you can gain the same impact that was already there. Shortcodes reflect the original values which are occurring via the active forms. Say, you want to show the total submission count, then use the following code but replace the form id with your id.
[fluentform_info id="354" info="submission_count"]
Then, you want to show all entries of a form. Use the code below, and the result will appear dynamically.
[fluentform_info id="354″ status="all"]
Let me put you another example. You have arranged an event, and you want to display the seats left to book when people submit a form. Apply the code below. It's simple as that.
[fluentform_info id="354" substract_from= "100" info="submission_count"]
Please follow the documentation for Helper Shortcodes for more details.
Survey Value Calculation
Well, Fluent Forms has no direct fields for surveys, yet you can create a fully efficient survey form using the existing fields. From general input fields like Name and Email address to advanced fields such as Form Step and Net Promoter Score, conducting a survey is as easy as you imagine.
Use radio buttons and add photos to them. Additionally, if you add any or all options from Show and Calc to display the result and the summation altogether. Many of you may have wanted to show the survey result where people can see how other people are reacting. If you enable the Survey Result from settings, users can see the labels and total counts.
Fluent Forms Pro
Try Fluent Forms today and see for yourself!
What's next?
Well, that's not all. We're coming with more powerful features soon. Our dream is to help all the Fluent Forms users so that they can apply this tool to grow their business. Beyond a form builder, our team is working to build Fluent Forms as a full-fledged marketing tool. To know how to get most out of this WordPress form plugin, use our documentation. If you haven't joined our interactive community on Facebook yet, get connected now.