Today is the 5th of April which means we are 6 years old – feels unreal to type this as we have turned into a team of 70+ members in just 6 years!
As a customer-centric company, we are always open to listening to our users. However, we don't share our stories that often. So today, I wanted to share how our journey was down the years, our achievements, and of course, our team that shapes your ideas into reality!
TLDR;
We started our journey 6 years ago with only 4 people in total, and at that time, we did not even have a proper name! We started small to solve business problems, real problems. Over the years we launched tools to target each side of the issues people face running their businesses. Our product lineup is a testament to that motto—just look closely you'll see what I mean. And the heart behind it is you, our customers. We listen to your feedback, understand the problem ourselves, and then solve it with our utmost efficiency. It's not like we are trying to solve all the imaginary problems we personally think you have. It was a long, challenging journey, and we still have the same energy to continue this adventure. We have so many failed stories but let me share some good ones today.
We built some amazing products to actually solve business problems.
We built a world-class team consisting of 80+ members who are young, super energetic, and ready to tackle all the problems they face!
Upgraded our tiny apartment office to our own 3 storey building with around 8,000 SQF space.
Maintaining a super-friendly work environment for every member
Powering 300,000+ businesses through our products.
A big cheers to all of you who supported us throughout these years
Let's keep solving critical business problems with fun, precision, and love!
Backstory
I started as a solo web developer back in 2009. As a developer, I've worked with hundreds of clients and companies, only to end up falling in love with WordPress in 2011. Since then, I always wanted to make a difference in the WordPress industry.
In 2016, I established WPManageNinja as a WordPress development service-based company. While working on a client project in 2017, we created a table plugin with unique functionalities.
That was something the WordPress plugin repository didn't have at that time. So when we decided to release Ninja Tables for everyone, we started making a difference. Since then, we released many popular plugins like Fluent Forms, FluentCRM, WP Social Ninja, and Fluent Support.
What we have achieved so far…
If you know us, you know how much we prioritize customer satisfaction. Today, more than 300k+ businesses are actively using our products. 91% of the reviews that our products have received are 5-star rated!
A highlight of our achievements:
5 User acclaimed WordPress Plugins
300k+ active users
70+ team members
91% five-star reviews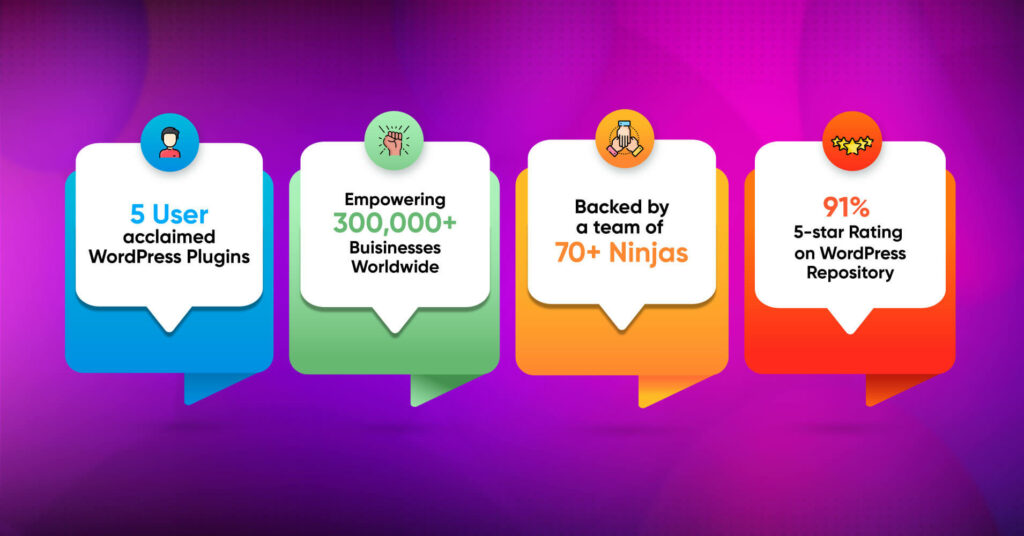 Here are some excellent milestones we have achieved over the years:
The best WordPress form plugin – Fluent Forms
We released Fluent Forms right after launching Ninja Tables. We knew the form plugin market already had some amazing plugins and we had to come up with an extraordinary offer.
Although Fluent Forms wasn't embraced by the community at the beginning, thanks to your suggestions, we've not only been able to turn the table around but also made sure Fluent Forms becomes the best form plugin out there.
And it shows, Fluent Forms became our first product to reach 100K active installations and it's still going strong!
The ultimate CRM plugin – FluentCRM
A year ago, we released a groundbreaking plugin named FluentCRM. By name, you can identify that it is a customer relationship management solution for WordPress. Even if you have a small business, SaaS software for customer relationship management tasks would cost you $500 or more every year. Thanks to FluentCRM, these tasks will only cost you half of what you'd pay.
What's FluentCRM?
It's a plugin that,
Allows you to view all your important business data in one place
Helps you bring all your customers and leads to one place
Segment customers and leads by various data points
Let's you communicate via promotional and triggered emails
Since releasing FluentCRM, we have added countless features and added tons of new functionalities. As a result, FluentCRM has become one of our most popular products and is powering more than 10K+ businesses
Redefining WordPress tables – Ninja Tables
We don't brag about Ninja Tables as we do for other products. The plugin is so popular that we don't put any effort into marketing it.
Whether we market it or not, Ninja Tables is still going strong. After providing the foundation to shape our whole company – both popularity-wise and financially, now, Ninja Tables is helping 70K+ businesses in designing those beautiful tables!
Ninja Tables is the reason we are here, developing world-class products for your businesses. So we are constantly trying to improve the plugin. I can't disclose it yet, but something big is coming for Ninja Tables. Stay tuned!
A hidden gem – WP Social Ninja
A few months ago we have released our first social media plugin – WP Social Ninja. It's a plugin that takes care of 3 important business tasks.
Showcasing social proofs on your website
Keeping your website updated with social posts
Give your audience multiple ways to communicate with your business
While social proofing and social communication are vital for almost all websites, social posts are great for some specific niches. However, having one tool for all three tasks – that too, at an affordable price is clearly an excellent advantage. As a result, WP Social Ninja was received well. We have a very long term with this plugin and we can't wait to see how far it goes!
The silent superhero – Fluent Support
What's one thing every customer should consider while buying a software product?
You guessed it right – support!
Without support, the kind of tools we develop is often hard to use. Not to mention, we are as customer-centric as a company can get. Thus, ensuring quality support is one of our first priorities.
To make sure we provide customers with efficient support whenever necessary, we have been using an external support system previously. However, the system was often limited to our needs. That's why we decided to make one of our own and ended up developing Fluent Support.
Needless to say, Fluent Support solved our problems like a charm. And like all good solutions, if something can solve our problems, it can solve yours.
So when we finally released Fluent Support, we were astonished by how fast you were adopting the product. And yes, we will keep improving Fluent Support. So keep the feature requests incoming!
Startups within a startup…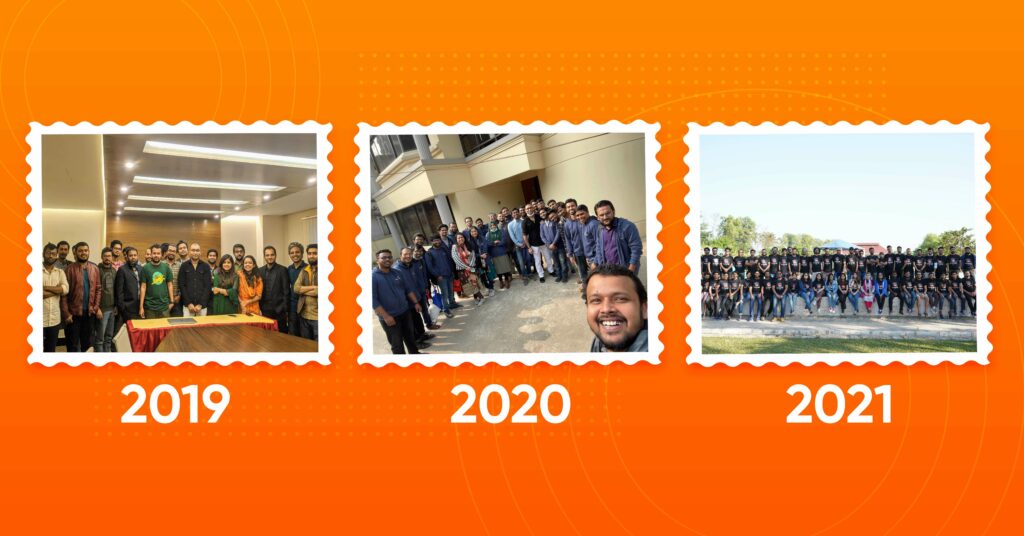 The header doesn't make sense, right? But here it does. Just like every other startup, we started this journey without any formal structures or anything. But as the products kept growing, we had to introduce a few organizational frameworks.
But, what we didn't do is to turn a thriving, living startup into a formal corporate cage.
We were a startup, and we always will be!
Because that's how we work best, and that's exactly what enabled us so far to build our products fast and to maneuver them with ease whenever needed.
That's why we have assigned separate "startups" to grow and manage each one of our products. Each one of these startups consists of its own fully-equipped development team, marketing team, and product support team. And this structure enables every product to be independent of its sister products and grow to its fullest potential!
To empower our thriving WordPress plugins, we are making sure that we leave no stones unturned. And as our products started gaining traction, so grew our team! Just to give you an idea:
The team grew by 150% the last year, and 200% the year before
We had to restructure our entire workplace and house and ensure a work-friendly environment for the entire team
But we are not stopping here. The vision we have for each one of our products will require growing the team at least for a few more years. And we are determined to do that. Especially to keep the promise we made to you, our users; and to give back to the love you have showered us with.
A big thanks to all of you!
So that wraps it up, 6 years of beautiful experiences – none of which would be possible without you. Your suggestions drive us to make great products and well wishes make us thrive. Without you, there's no WPManageNinja.
I hope you liked reading how we progressed over the years. A big thanks for being with us as we look forward to another solid year ahead.
Cheers!
Celebrate our 6th anniversary. Grab your favorite WPManageNinja plugins at up to 40% off!