With the massive number of online shoppers that keeps growing, it's getting more competitive in the eCommerce world for every online business! Sales are blowing up for some, and others are struggling to boost their traffic. If you are among the latter, then you must be wondering how to drive traffic to your online store and turn them into your regular customers.
Before that, you need to take some steps to get the targeted traffic, you have to focus on your quality of service to ultimately make them stay!
Let's put it this way. Suppose you're hosting a party. Surely you will need to entertain your guests with good food, music, and decorations so that they have a good time. Similarly, if you want to attract more website visitors, you'll need to put in some work.
So, what do we have here? A cheat sheet to get more online store traffic!
13 tricks on how to drive traffic to your online store
Finding the perfect strategy to get an enviable amount of website traffic, and keeping up with the competition is not something you come up with suddenly. There are many ideas and tactics to help you get the leads that you need.
Don't worry! We got you covered for now. Here's a list of 13 ideas about how to drive traffic to your online store.
We have even added some more in the "Bonus tips" section. So, buckle up for the ride!
1) Advertise
Now, this is where you make the first strike.
Obviously, advertising is not free if you use PPC (pay-per-click) ads. You can also get some influencers to promote for you.
Google Ads: It's a PPC advertising method, where you only have to pay when someone clicks on the ad and visits you.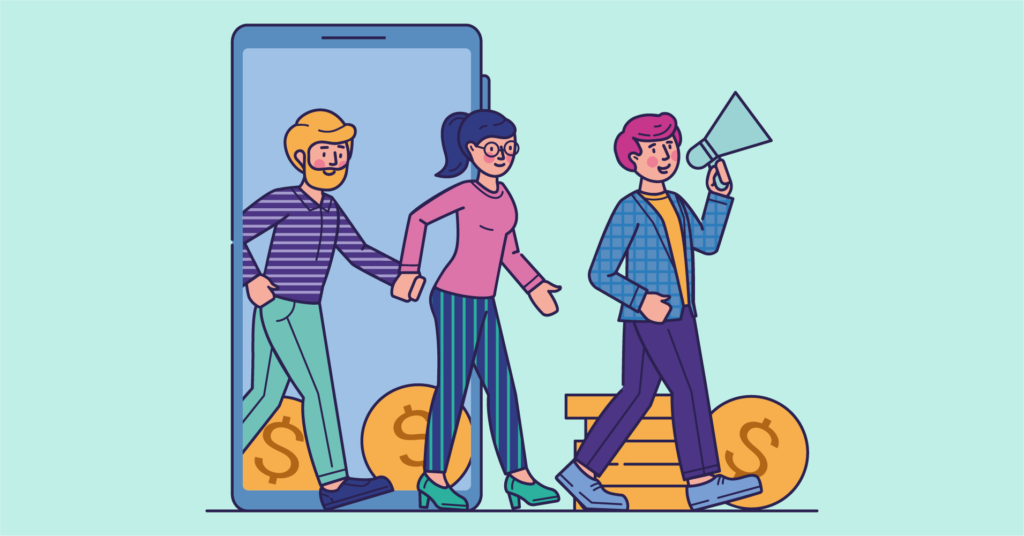 You should manage to show your ads on Google search results with this platform and display your banner. Also, put out video ads to lure audiences based on their preference.
Google Ads can help you reach nearly 90% internet users, depending on how specific you want to be. For instance, target by location, demographics, or keywords.
Influencers: Walk out of your domain and enter someone else's to reach out to more visitors! Get your website featured by influential celebrities, industries, or sites with high authority.

If you are selling a sports drink, try to reach an athlete with social impact and a good number of followers. A high-profile individual can bring you the desired traffic with a single social media post.
2) Quality content
Your business won't see the daylight if your content isn't engaging! Content marketing can get you more traffic and higher conversion rates quickly.
Connect to your visitors with informative, visually appealing, and easy-to-read content.
Write quality blog posts in the blog section on your eCommerce website to explain your products and business. Blogging is also better for SEO, according to Wix. Use some smart keywords and updated content to increase online store traffic. You can either write yourself or get some guest bloggers to do that job, whatever suits you.
The blogs can be about anything relevant. For example, if you're selling coffee beans, then write a blog on "Best coffee brands" or post a tutorial blog on "How to make espresso". With the right keywords and captivating content, you will get the traffic you want.
3) Social media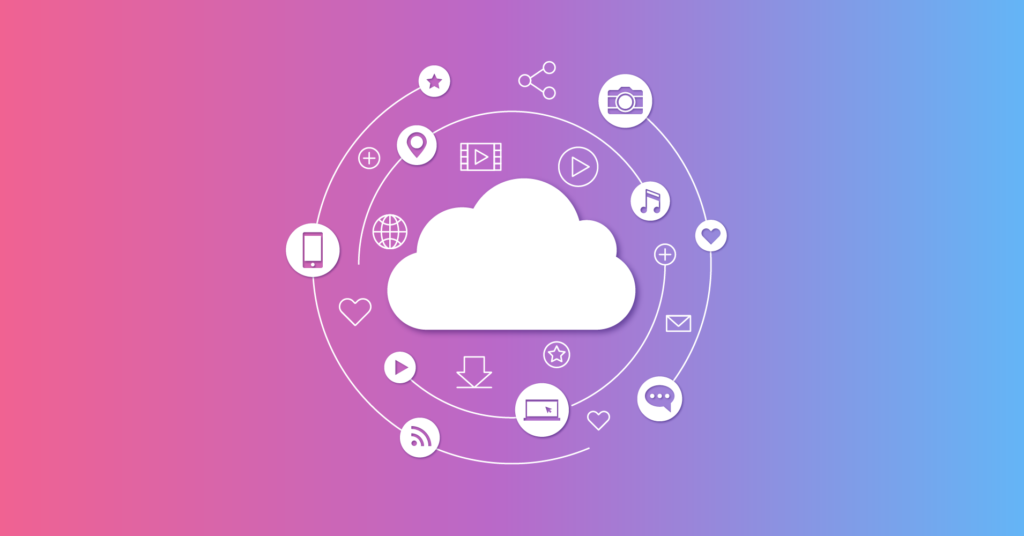 We really don't need to stress on social media marketing anymore as it's sort of a given in the current times. Oberlo says, 73% of digital marketers found it effective, and Shopify gets a 2.49% conversion rate from Facebook alone!
Facebook, Instagram, Twitter, Pinterest, etc. – all these social media mostly have a common set of users. You should be omnipresent on all platforms so that you don't miss anyone!
Facebook: This is where you get the largest audience! The number of Facebook users is expected to reach 1.69 billion in 2020. Internet users are most likely to look up your business on Facebook rather than search engines. So, have an updated profile and promote your new arrivals, offers, and discounts, etc.

High-resolution images and videos also attract viewers from Facebook! Plus, don't forget about the Facebook ads section. It's excellent for personalized ads based on user activity.
Instagram: Following the popularity of Facebook, Instagram comes second, and it's growing fast. Update the bio with your business information and link and post stories more often.

Call-to-actions (CTA) like "Shop now" or "Link in Bio" are easy ways to get attention. Boost your business in "Instagram shop" with appealing videos, pictures, and, of course, hashtags!
Pinterest and Twitter: Pinterest users love it when they can buy directly from the site. Buyable Pins cost you nothing! Users can just search and purchase right away.

Twitter users, on the other hand, spend 26% more of their time viewing ads than other social media users. It's an excellent platform to get your traffic.
Having social media profiles is not the only thing to do. Display the social buttons on your site so that visitors know that you're everywhere!
4) SEO
To be at the top of the business chain, SEO (Search Engine Optimization) is the first big step. We know that SEO brings 53% of organic traffic and, according to Shopify, 17.6% turn to the second page, and it's less than 5% on the sixth.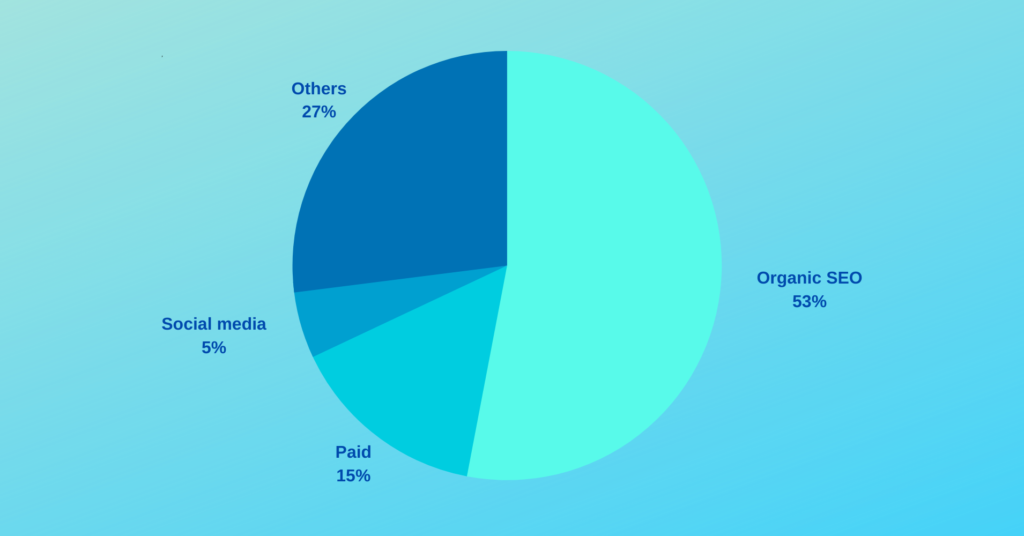 So, obviously you have to be on the first page to be even noticed!
Here's what you can do-
Learn about keywords.
Do keyword research of those possible words that are related to your business, and searchers are most likely to type.
Include links from experts and high-authority sites.
Use good quality images, content, and video.
Internal link web for Google to index.
An interesting meta description.
A potential customer might be searching for a product right now with some keywords in their search engine. Try to be among the first five suggestions to get the traffic.
We will discuss more about SEO in future.
5) Discounts and rewards
You're already on social media, blogging, and marketing, and have optimized your SEO. Now what?
This is where your sales advertisements come to action. We have described this strategy several times before, but it's still relevant! Sales, discounts, offers, and deals are some excellent incentives to increase website traffic fast.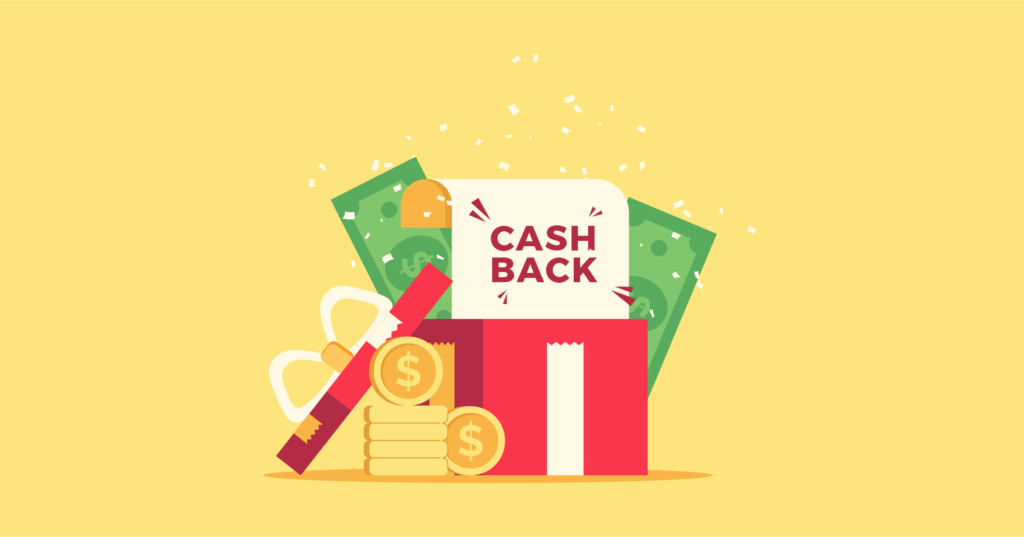 Let's see what might help.
Contest: Arrange a quiz contest with a public scoreboard and use something trendy as a prize. Try things like "Spin the wheel" or "Visitor's reward".
FOMO: Fear of missing out is not a new way for luring in window shoppers. Create a sense of urgency and make the visitors feel like they're going to miss out on an amazing deal. Add a countdown timer for your sale or the stock-count.
"Buy one, get one" and giveaways: We've all been there, so we know customers love free stuff! So, start a "Buy X get one free" campaign and start advertising. A visitor will probably not care the first time, but they will come back the second time to see what's new.
Giveaways during holiday seasons is another must-work strategy! For example, "12 days of a giveaway" for Christmas for promotional purposes.
Coupon: A discount coupon is what you need to keep the traffic coming in hot. Distribute a specific coupon code to visitors and offer them X% off on products. Make sure the coupons are accessible strictly on your website.
Referral discount and holidays: Say a visitor did not buy anything from you. Offer him a discount for his next visit or a discount if he shares your content with friends and family. This will definitely increase the traffic.

Also, don't miss the holiday discounts like Christmas, Thanksgiving, or even Black Friday.
6) Email
Marketing is not just about social media or blogging. You should also engage yourself in email marketing. Send out promotional emails to everyone on your subscriber list and keep in touch with them regularly.
Launch email campaigns to attract new visitors, connect with existing customers, and lost ones who have abandoned their carts.
Tools can help with personalized emails handling individual preferences. You can encourage the audience to sign-up, provide information on their favorite items, and ensure a pleasant UX.
Satisfy a viewer enough so that they turn into customers and spread kind words about you.
You can send emails on-
Post-purchase thank-you note and let them know about something new.
Customer-specific discount codes that only they can use with their subscriber id.
Information about upcoming sales and website updates.
What they're missing out.
Emails sent to a person who just clicked on your site and bounced away, might help you win them back.
7) Presentation
More often than not, a visitor will drop out unless you can compel them to stay longer on your site and explore! How do you do that? Well, it definitely depends on the presentation or the layout of your eCommerce website.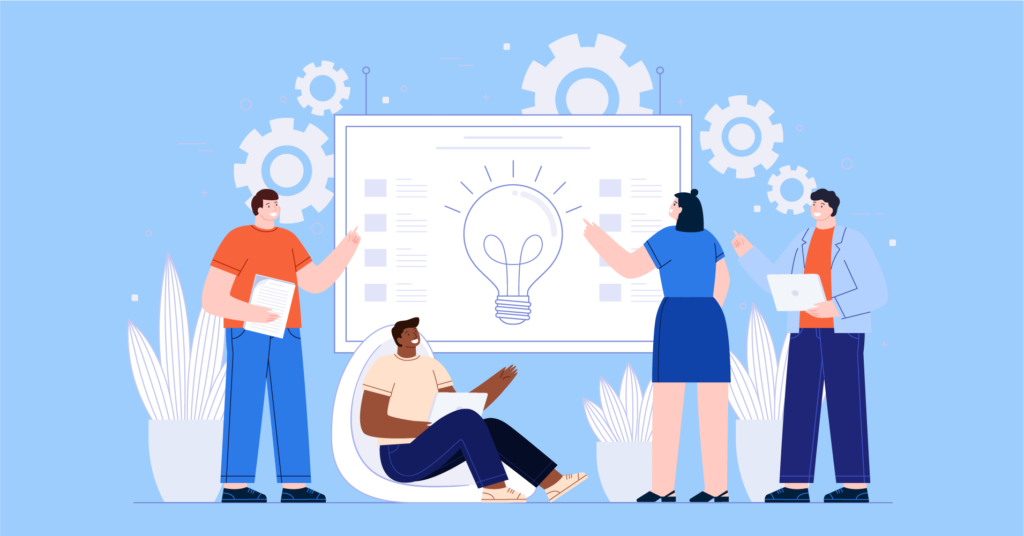 Use an attractive logo, either thought-provoking, witty, or punny. Colors also matter.
Focus on the products and whether you want them as grids or in tabular format.
The design of your website has to be something creative and attractive.
Texts should be easy on the eyes and with proper variations.
Images, videos, and data tables are a must-have! Product photography showing the actual product helps a visitor to expect high-quality.
49% of smartphone users shop from their mobiles (M-Commerce statistics 2020). So, it's better if your website is suitable for all devices.
The loading speed of your site is the first impression. Make it load faster so that the targeted traffic doesn't drop out.
Ensuring a good CX means keeping visitors happy and, eventually, getting more traffic!
8) Support
You can't manage your business and serve visitors/customers all on your own. That's why you should keep an always-on-toes customer support team that can respond to a visitor right away. The team should be active on all social media, email, and phones.
Customer support is a crucial fact for all eCommerce businesses. So, don't lose the online traffic just because you weren't hands-on! You can also try the "Live Chat" feature on your website and maintain a Q/A section.
Some examples of great customer service are Tesla, Adobe, Coca-Cola, etc.
9) Personalize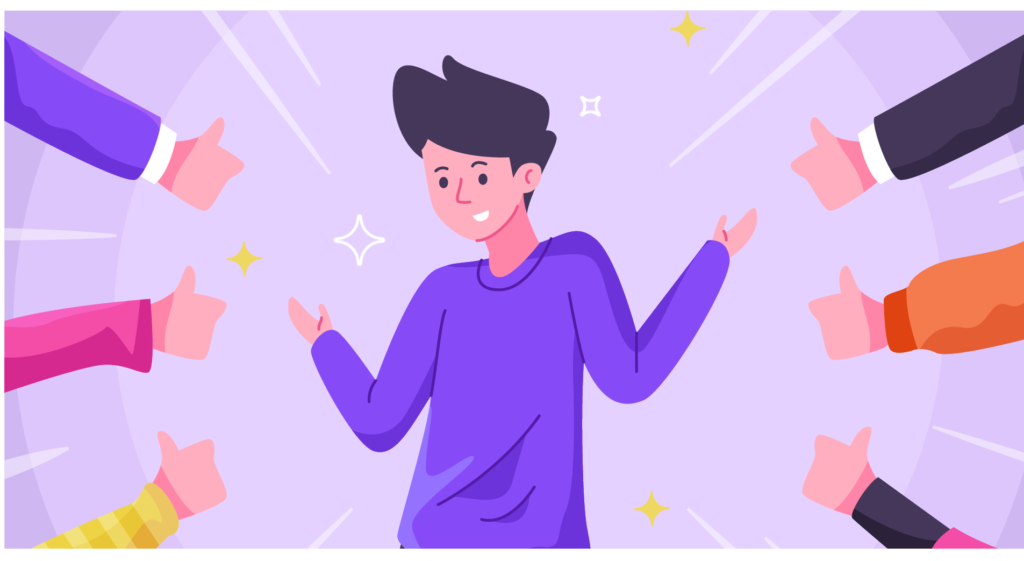 Knowing your audience is the first requirement in business. There's no point in selling bacon to a vegan!
Instapage says 74% customers don't feel comfortable without personalized content on a website. Personalized homepage, shopping carts, and suggestions are the places where you get the most attention from visitors.
If someone is looking for a garden trimmer, why not show him some of the best ones and add a couple of other garden tools or decoration items? Knowing your audience is the first requirement because unless you know what they want, you don't know what to sell!
Also, personalized emails and advertisements can bring you a higher volume of traffic for sure.
Track their social media activity, searches, wishlists, abandoned carts, and understand their culture, preferences, age, gender, and location. The more you learn about them, the better it is for everyone.
You can also start a pop-up quiz with questions like what they want or why they want it. JustFab uses this trick and personalizes its website successfully.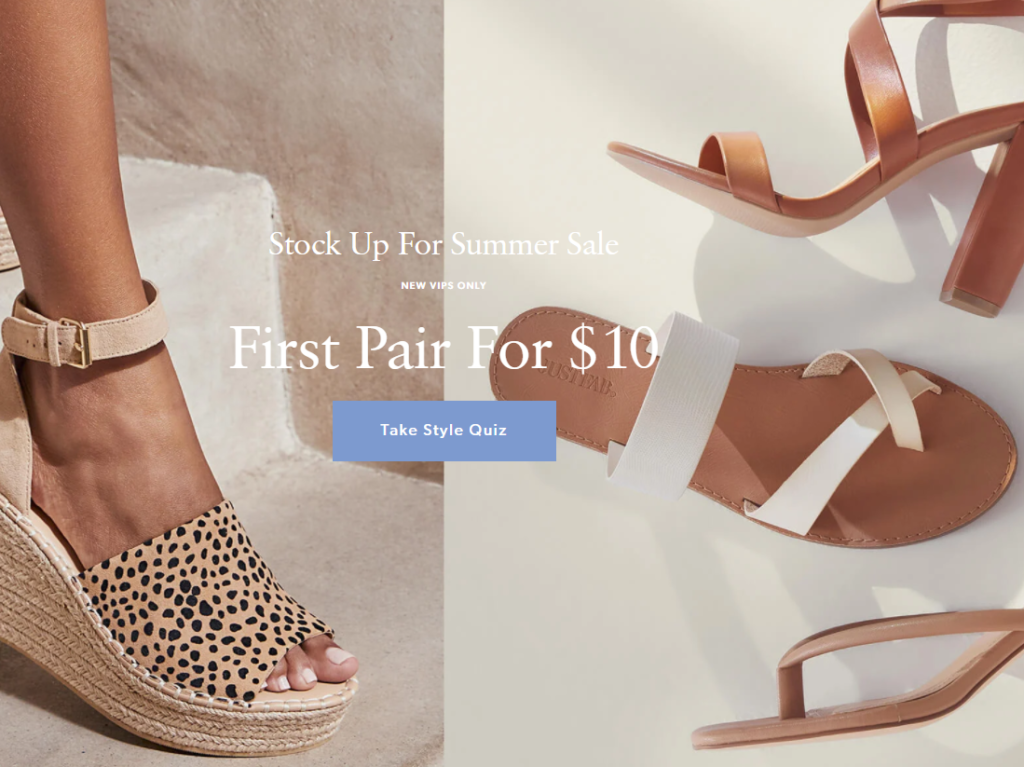 Visitors can take the quiz answering question about their style and "find their perfect shoes"!
10) Upsell
You think you have the best product in the market that the customers need? Then show it off when they add something to cart or in the checkout process.
Upselling means offering something better and upgraded to the buyer to make them feel valued. Think about it this way, if you spot a customer buying a candy bag, offer them an even bigger bag of candies for just a few dollars more.
Without any extra trouble, you can upsell the highest quality product and boost your traffic. Upselling increases 10-30% revenue, and it's 68% less expensive than obtaining new customers (Sumo).
11) Security
To avoid online retail fraud, people tend to avoid websites without security assurance. It's not just about growing the
businesses anymore. You need to make sure of customers' security for your own sake.
Besides, an unsafe website means your business information is vulnerable. Customers might also click away from your site if they don't feel secure.
Ensure the security and display the security badge for benefits on both ends.
Let the visitors know that they can trust you, and their passwords, email, or credit card details are safe with you.
12) Refund
Confirmation of 100% satisfaction and money-back guarantee can also help you achieve the targeted traffic faster.
You should be willing to bet on your best product and offer cash-back if it doesn't turn out the way they expected. This trick shows that you're confident about the quality and makes the buyers hit "Add to cart" right away.
13) Include reviews
You have loyal customers who love you? Display their reviews and comments about you to build a bridge of trust.
Most of the visitors come either from marketing or referral programs. But none of those can actually work unless you have good reviews. Reviews on your product from peer groups can drive online traffic to your web store and increase conversion rate.
Moreover, showing authentic reviews from real clients can be proof that your business is worth the time.
Here's what Oberlo has to say about social proof.
The refund policy should include free-return and free trial options as well.
Bonus tips
Now that you have made a note of the 13 traffic-driving strategies, jot down some more shortcuts.
A friendly shipping arrangement and easy checkout process.
Accepting multiple payment methods.
Tracking abandoned carts and preventing them.
Offering a demo.
CTA.
Re-targeting.
Updating website.
Maybe you can come up with some more ideas to increase the store traffic? We'd love to hear from you.
Finish line
As harsh as it may sound, your business won't stand a chance if you don't know how to drive traffic to your online store and how to retain them.
As an online store owner, you shouldn't only target grabbing the traffic. Take some steps to get the traffic to buy from you regularly.
Check out our article on "How to Increase Sales/Revenue in an eCommerce Marketplace".
There's only one thing to remember – Customer is the king!
We hope our short-list can help you achieve your goals. Let us know in the comment section if you have any ideas.
---