No matter what your website is about, collecting emails, doing email marketing, making email automation, sales automation, and CRM is the most needed part of your business. Especially occasions like Halloween are the most crucial time to gather emails and start campaigns to grow businesses. But most people still have trouble expanding their email list and designing their email campaigns. However, you don't need to worry at all!
This article will describe how to create a scary popup form with Fluent Forms in WordPress to collect emails and make a Halloween email campaign with FluentCRM to automate email marketing effortlessly. Let's move on!
Fluent Forms- a robust form builder in WordPress
Fluent Forms is one of the most powerful form builders with amazing features and functionality. Its drag and drops facility and sleek interface made it popular among the users. Fluent Forms comes with 70+ pre-built templates, more than 60 input fields, and 40+ third-party integrations, including payment options. You can design any type of form with the plugin.
Its noteworthy features are quiz module, range slider, net promoter score, conversational forms, multi-step field, GDPR field, reCaptcha, hCaptcha, email notifications, conditional logic, global styler, signature add-on, and more.
Now, let's make a spooky popup form with it.
Collect emails with a ghoulish popup form
Go to your WordPress dashboard. Install Fluent Forms or Fluent Forms pro, whatever you like, because Fluent Forms' free version is enough to make any type of form except the payments one.
We're using the pro version. Click on the All Forms button from Fluent Forms' pro dashboard.
Then you can choose from the 70+ templates or go for the blank one. We're selecting the Blank Form template.
Now, let's name our form as Subscription Form by ticking on the top left corner button that is named Blank Form.
After that, drag and drop the necessary fields from the Input Fields section on the right sidebar. We're only going for this form's Name Field and Email Field. Because we just want to collect some visitors' names and emails for the Halloween season.
Save the form by tapping on the top left corner blue button.
Let's see the form preview from the Preview & Design section.
Here is the preview.
You can make it more beautiful by customizing it with the global styler feature. Choose any template from the Form Style Template button. We're selecting the Modern (Light) option.
Then choose the Custom (Advanced Customization) button to design your form amazingly.
You can design the Label Styles, Input & Textarea, Placeholder, Radio and Checkbox Style, and Submit button style from the General section. We're changing the Label Styles color, Placeholder color, and the Submit Button color.
From the Misc section, change the Inline Error Message Styles, After Submit Success & Error Message Styles, Container Styles, and Asterisk Styles separately. We're customizing the background color only here.
Lastly, from the Import option, you can import previously designed any from's templates. Save the settings when done.
Now let's move on to the form editor again. Then if you want, you can convert your into a conversational form by clicking on the Convert to Conversational Forms button on the top right corner.
We don't want to add anything from the input fields of the conversational form. So, directly moving to the design section of the form. Here you can set the answer, button text, background, color of questions, etc.
Moreover, add a background image, set the mobile device layout, enable or disable branding, set key hints, and more.
Now let's add a background image that matches Halloween. Then adjust the text or button colors with the background image.
Here is the preview of the form.
Go to the Settings & Integrations section of the form. Here, you can set the form confirmation messages and enable double optin on the form settings from the left sidebar.
Schedule or restrict your form, set form layout, and more options are available here.
Set the email notifications on the Email Notifications option.
One more thing, you'll need the FluentSMTP plugin to send email notifications to your users.
In the Marketing & CRM Integrations button, you can connect the form with any available 40+ integrations of Fluent Forms. For example, if you want to automate your email campaign, you can use ConvertKit, MailChimp, Moosend, ActiveCampaign, or many other tools with the plugin. All you have to do is just create an account on the respective integration's website and copy and paste the API and secret key of the integration here.
Now, let's see how to make your form a pop-up form with Fluent Forms.
To show popup forms, you must modify the form's shortcode a bit.
[fluentform_modal form_id="184"]
Copy the shortcode and paste it into your post or page where you want to show the popup. Remember, you have to change the form id. Let's customize the popup shortcode to change the trigger button text, button design, background color, etc.
To change the button text, simply add this code (btn_text="Click Me") into your popup shortcode. So the ultimate popup shortcode will be
[fluentform_modalform_id="184" btn_text="click Me"]
You can also change the background color of the popup form by adding this piece of code (bg_color="red") inside the shortcode. Now the shortcode for the popup will be:
[fluentform_modalform_id="184" btn_text="Click Me" bg_color="red"]
Do you want to add a custom CSS class to the button so you can style it as you want? Add CSS classes (css_class="myClass myClassAgain") inside the button shortcode. You must use "css_class" as the key to assigning the classes to buttons.
So the shortcode after assigning custom CSS classes will be:
[fluentform_modalform_id="184" btn_text="Click Me" ss_class="myClass myClassAgain" bg_color="red"]
These will add the CSS class to the button, as shown in the screenshot below so that you can customize your button in your own style
At last, let's publish the form. If you want to publish your form on a page, go to the pages section from your WordPress dashboard, and click on the Add New button.
Then add the Fluent Forms block by clicking on the plus (+) icon.
Now select the form and publish it on your website.
Follow a similar process to publish the form in any blog post.
There is another way to publish the form. Copy the form's shortcode and paste it anywhere on your website. It can be a blog post or page.
That was amazing, right?! Keep up with Fluent Forms blog posts for more tutorials like this.
Now, Email marketing is necessary for building a sustainable business. Besides, by crafting an email list, you can launch personalized email marketing campaigns on special occasions, designing email sequences and marketing automation funnels to build strong customer relationships.
Now that we know the importance of email marketing let's make an email campaign with FluentCRM.
FluentCRM- best CRM & automation tool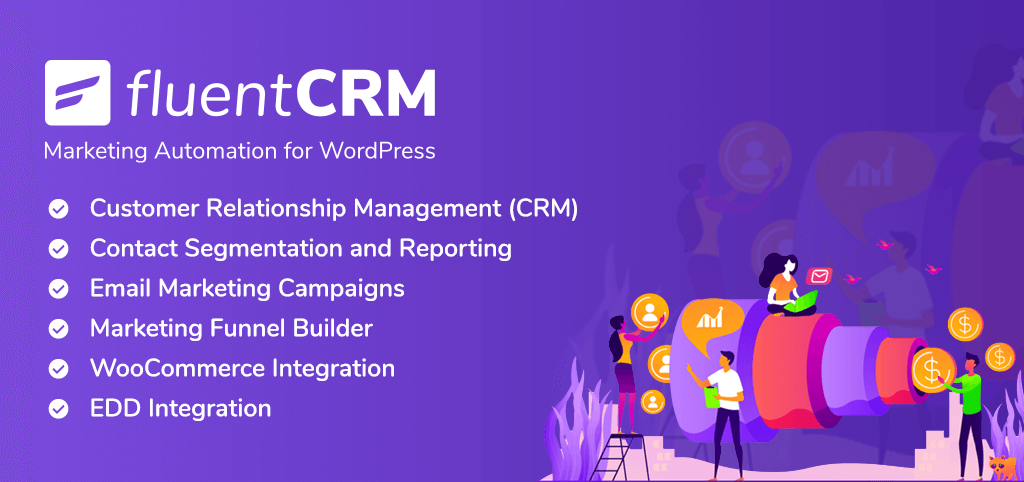 FluentCRM is a Self Hosted Email Marketing Automation Plugin for your WordPress website. You can manage your leads and customers, run your email campaigns, automate email sequencing, continue learner and affiliate management, and monitor user activities and many more in one place; without ever having to leave your WordPress dashboard!
Its notable features include scheduling email campaigns, automation, in-detail campaign reports, tracking performance, automatically importing contacts from WP/CSV, contact segmentation, email newsletter, and more.
Run a Halloween email marketing campaign
Now, head to your dashboard and go to Plugins>Add New.
Search for FluentCRM and click Install Now. Once installed, click the Activate button to activate the plugin from here.
So head to your dashboard and click on FluentCRM from the left sidebar. Click on the Campaigns to create an email campaign. After that, tap on the Create New Campaign button from the right sidebar.
Give a name to your campaign. We're naming ours as Halloween Campaign. Then click on the Create Campaign button.
Now, select any template to compose your email and start writing. We're choosing the classic editor.
Now start writing your email, and add the shortcodes wherever you need. We've selected the first name code, so it can drag users' first names from the contact list.
When done, click on the Save button, and then go to the Continue button to move on to the next step. Here, add the Email Subject, Email Pre-header, or enable A/B testing, and add UTM parameters. Then click on the Continue To Next Step button to move to the next stage.
In this step, include contacts to whom you want to send your emails, and exclude contacts you don't like to send emails to. Then again, continue to the next step.
In this stage, you can review your email and settings and finally send or schedule them for your users, subscribers, or clients. Besides, you can edit them by clicking on the Edit button for each section on the right side.
Easy peasy, isn't it? Furthermore, you can craft an automated process of your CRM from the Automation section and check your work-in-progress from the Dashboard of FluentCRM.
Done.
Conclusion
There are tons of options for Halloween marketing ideas. But going for some selective strategies can boost your business effortlessly. Among all of them, the email campaign part is the most crucial one.
We hope these tutorials will help you craft your Halloween campaigns this year.