Social media still has a powerful impact on increasing online sales and customer engagement. And it will be rising in the future. That's why people are more on to how they can leverage the industry and gain more traction.
Besides, WordPress is becoming more powerful every day for creating a website. Now, people are also in need of the right tool for their multiple purposes. And social media plugins are not an exception.
Today, I'm going to discuss the tools to use on your WordPress website and accomplish more in less time and effort.
How to choose the best social media tool for your business
As a lot of social media plugins are available, it's likely to be confused about which one is right for you. That's why I've collected a few points to help you understand your needs:
Find your goals. It's very important to identify your goals first. What do you want from your visitors? Decide whether you want them to share your content or allow them to interact with your social media from your website. If you can determine what you want from your plugin, then it'll be easier to choose the right plugin.
Look for the features. Because a social media plugin offers a big chunk of features doesn't mean that you need to haul this tool. It's always about what you need. If the plugin has everything you want, then it's the right one.
Tutorials and setup: Often it's a bit complex to set up a plugin where many third-party connections are needed. When you choose a social media plugin, take a look at whether it's easy to set up. Additionally, in-detail tutorials can help you configure social media connections.
Consider your budget. Money is an important factor, especially for beginners. In that case, you can try free WordPress social media plugins. You can always upgrade later when you think you're ready to spend for pro.
Number of networks and addons. Another significant part of a social media plugin is the number of networks it provides. The more the better. But if it holds the most popular ones, then it'll be perfect for you. Make sure all the networks you want are available with the plugin you choose. The next thing is addons. You can have a look at what addons the plugin offers and how far you can extend the functionality.
Top WordPress social media plugins
Now, I'll discuss all the social media tools I've chosen for your website. You don't need all of them. Read inside to check out which one is best for what.
WP Social Ninja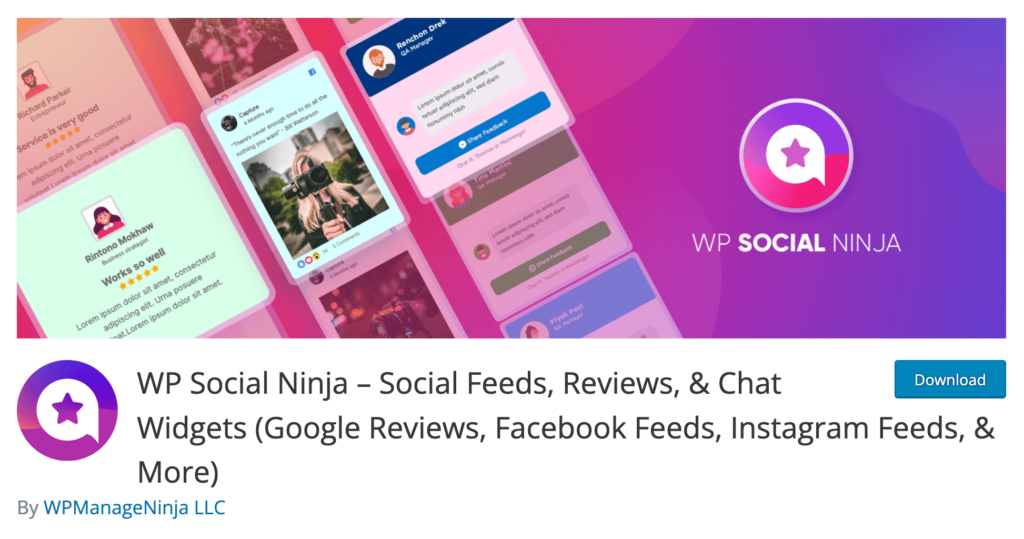 Let's start with the most powerful social media plugin – WP Social Ninja. This tool can multiply your social presence by allowing your social channels to be displayed on your websites. This way people can get a sneak peek of socials from your website.
If we look deeper into what amazing features WP Social Ninja offers, then we'll find many awesome possibilities for our business. For instance, we can show our feeds to our website visitors with Social Feeds. You can easily integrate Facebook, Instagram, Twitter, and YouTube, and show image or video feeds.
We often get reviews on our social pages. How about showing them to our website visitors to build trust signals? With WP Social Ninja, you can bring your social reviews to your website.
Live chat improves customer experience. The good news is you don't have to pay extra for live chat. With WP Social Ninja installed, you can allow live chat through Messenger, Whatsapp, or Telegram.
Notification popups, testimonials, and many more interesting features are available to boost your social presence. Shoppable Instagram Feed
AddToAny Share Buttons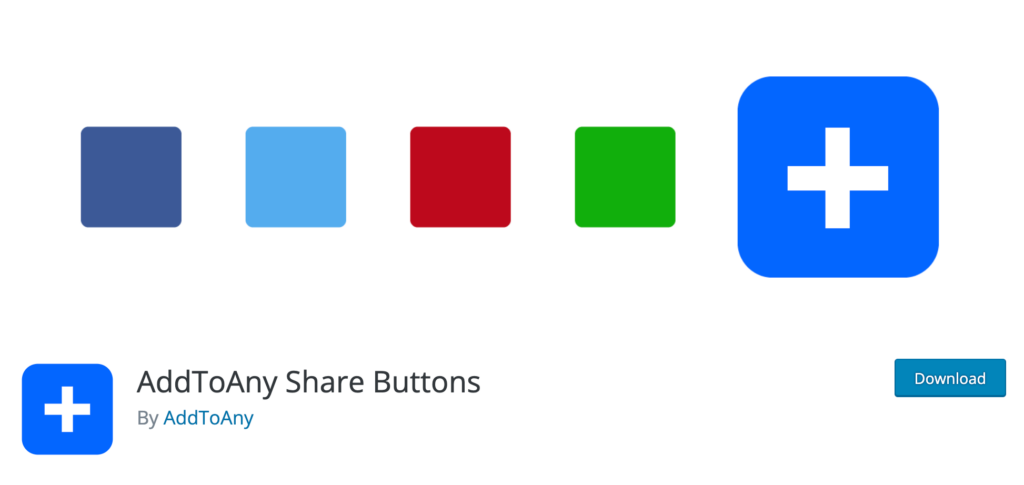 AddToAny is a free WordPress social media plugin that has a bundle of features to connect your social platforms with your website. This plugin allows your users to share posts from your website. There are no complicated settings as well.
The share buttons are responsive so you don't have to worry about how they look on different devices. Also, these buttons load faster due to the optimized structures. Share counts encourage people to share more. You can utilize this feature to display share counts and new visitors will decide based on the social engagement.
There's more. You can personalize share buttons with changing colors and styles so they match your theme. By integrating Google Analytics, you can monitor your audience and receive powerful insights.
Lastly, I will mention two other significant features that will help make your social visibility more engaging. It has multi-lingual opportunities by offering Japanese, Spanish, Chinese, and Italian. And, it offers options for placing social icons in various locations to grab the viewer's best attention possible.
Social Media Share Buttons & Social Sharing Icons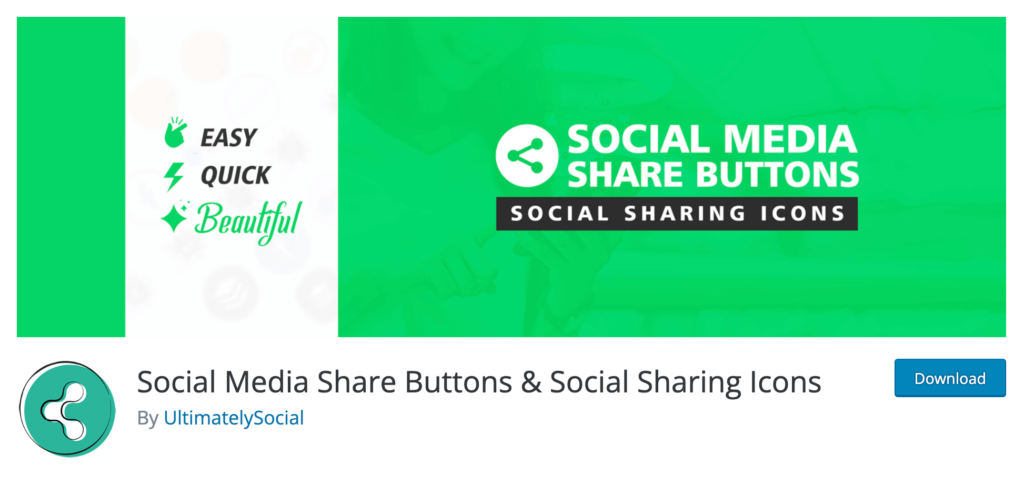 Here's another WordPress social media plugin for non-techie users. With easy set-up and responsive functionality, this plugin will help you connect more people with your social channels. Let's start with pre-made templates from where you can pick the right one for your website.
They offer 16 social button designs to choose from and set up for a time-saving effort. What makes this plugin stand out from others is it offers call-to-action options so users can visit your social pages and engage there. This is more than just sharing a post.
As I've already mentioned about the importance of social proof, this plugin also has the option to show the number of shared counts. If you want to spice up the social icon designs, you can use the animation effect and make the buttons look more appealing.
Button placement is another important feature and you can decide where to put your social buttons from settings. Displaying social media icons as pop-ups could be more result-bearer options. This plugin has both free and premium options so use whichever is great for you. The pro package has more social networks, additional features, and customization options.
Social Icons Widget & Block by WPZOOM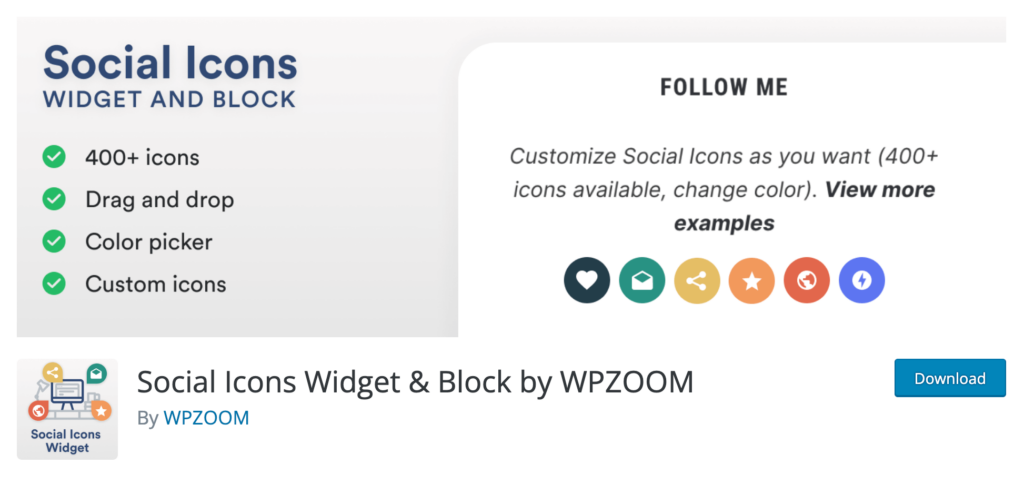 Social Icons Widget has many intuitive features to aid in your social media marketing management. It's easy to install and maintain. The customizable icon design makes it so fantastic that you can manage consistency with your presentation of social icons across the whole website.
The editing and customization are very easy with the drag-and-drop editor, making it user-friendly for no-coding persons. On top of major social platforms, this WordPress social media plugin also supports many other networks, like Reddit and Snapchat.
I particularly like their unique sharing options where you can allow your visitors to share via platforms like WhatsApp, Skype, etc. This personalized experience isn't common with WordPress social media plugins.
MashShare Social Media Share Buttons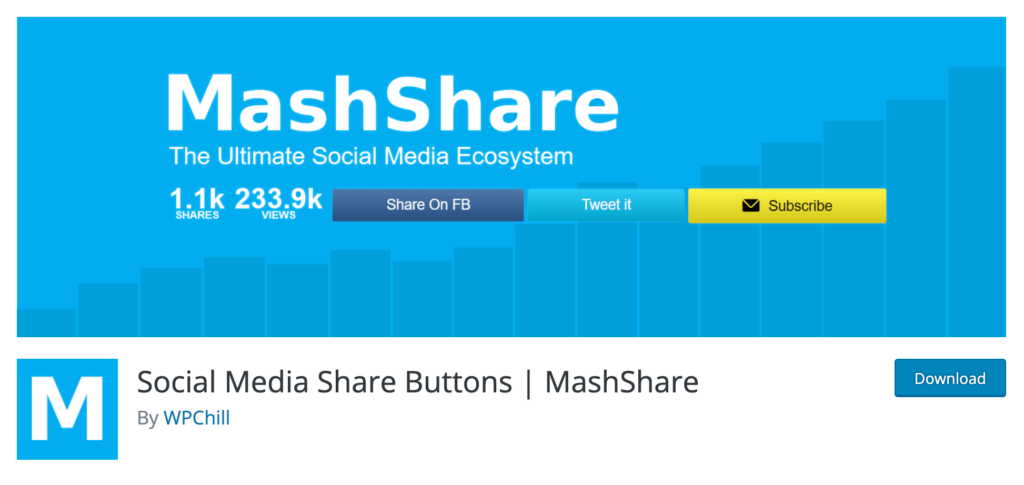 MashShare brings a great tool for social share buttons which is easy and efficient with a heap of essential features. It has many notable features, and GDPR compliance and AMP-readiness are two mentionable ones. While GDPR compliance ensures data protection and increases trust, the AMP or Accelerated Mobile Pages makes sure your web pages load faster.
Like many other plugins, this tool also has a share count option to display the number of shares. No matter how many social platforms you use, you can choose your desired ones from a long list of social networks, including Facebook, Buffer, X (formerly Twitter), and many more.
Social Media Share Buttons also have some addons to extend your website functionality. Seeing insights by connecting Google Analytics or enabling click-to-tweet can give you more benefits. It also supports multiple languages including German, Spanish, and a few more.
It's a freemium plugin, meaning it provides both free and premium options. By the way, this plugin is also SEO-friendly with its compatibility with Yoast and All in One SEO.
Sassy Social Share
When it comes to a popular WordPress social sharing plugin, Sassy Social Share is a strong contender with many fantastic features that include its user-friendly interface and customizing possibilities.
There are many good features that are common in other plugins I've enlisted in this article. That holds share counts and mobile responsiveness. Sassy has brilliant customization options where you can change the layout, color, and many things of your social share buttons.
All media icons included in the Sassy Social Share are well-optimized with scalable vectors. Therefore, those icons fit any screen without breaking their size. Another great feature that helps you decide where to place the social icons is also available with this plugin.
They have both free and premium options. Further, they also sell addons for many purposes, like Google Analytics and newsletter subscriptions. You can buy those addons if you decide not to upgrade the license.
Nextend Social Login and Register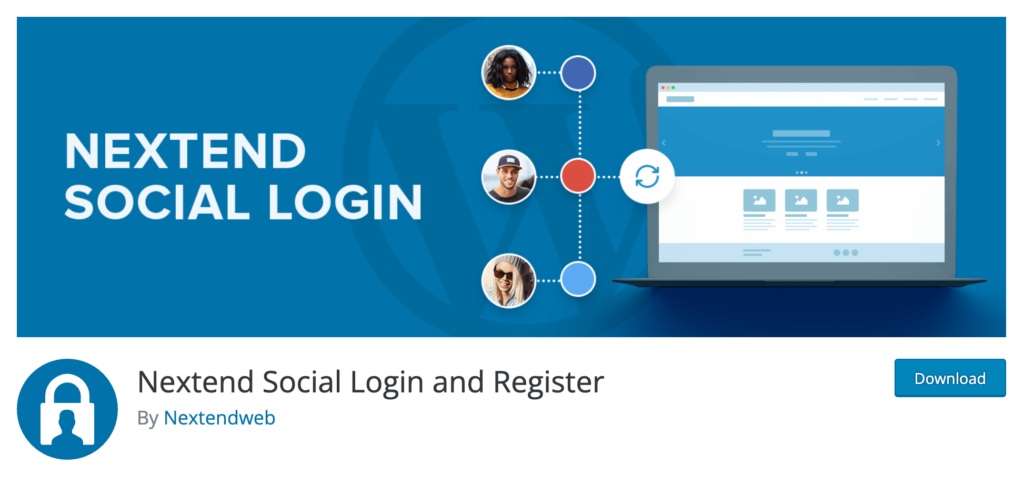 Adding social logins can boost conversion when you're selling through your online stores or course-selling websites. Because it reduces the multiple steps of creating a profile and people gain access with their familiar platforms, social login can make the whole experience better.
Here comes the Nextend Social Login which is an exceptionally brilliant tool with its power of social login and register. People can access a website easily with social profiles, such as Facebook, Google, LinkedIn, and other platforms they use. The list is really big.
Well, the plugin doesn't stop at creating profiles using social channels, but it also helps users add WordPress profiles. Therefore, users get custom username requests, comment on WordPress posts, and do many other things they would do with their user profile.
Compatibility is another positive trait of Nextend Social Login since it works fine with all popular registration and eCommerce tools. When you want to integrate this tool with WooCommerce or default WordPress user registration, you'll face no issues.
Conclusion
Social media plugins are inevitable options since it's hard to survive an online business without being present on social. That's why a social media plugin must be your companion to thrive in the digital sphere.
However, if you ask me what one plugin to choose for more social media engagement, I'd go for WP Social Ninja. Why? It's versatile, first of all. It has so many tools and integrations that you won't find in any other plugins.
Even the free Social Ninja is capable of completing tasks that are hard to grab with many premium tools. Want to bring your Facebook Feeds to your website? A dedicated page where you want to display all your YouTube videos? You can do all. Without any hassle.
If you want a plugin for social sharing, then you need to choose one from other plugins, because WP Social Ninja has a different approach and doesn't offer sharing features. I hope now you have a clear understanding of social media plugins and which one does what.