ScienceX – Multipurpose Education, Researcher & Professor WordPress Theme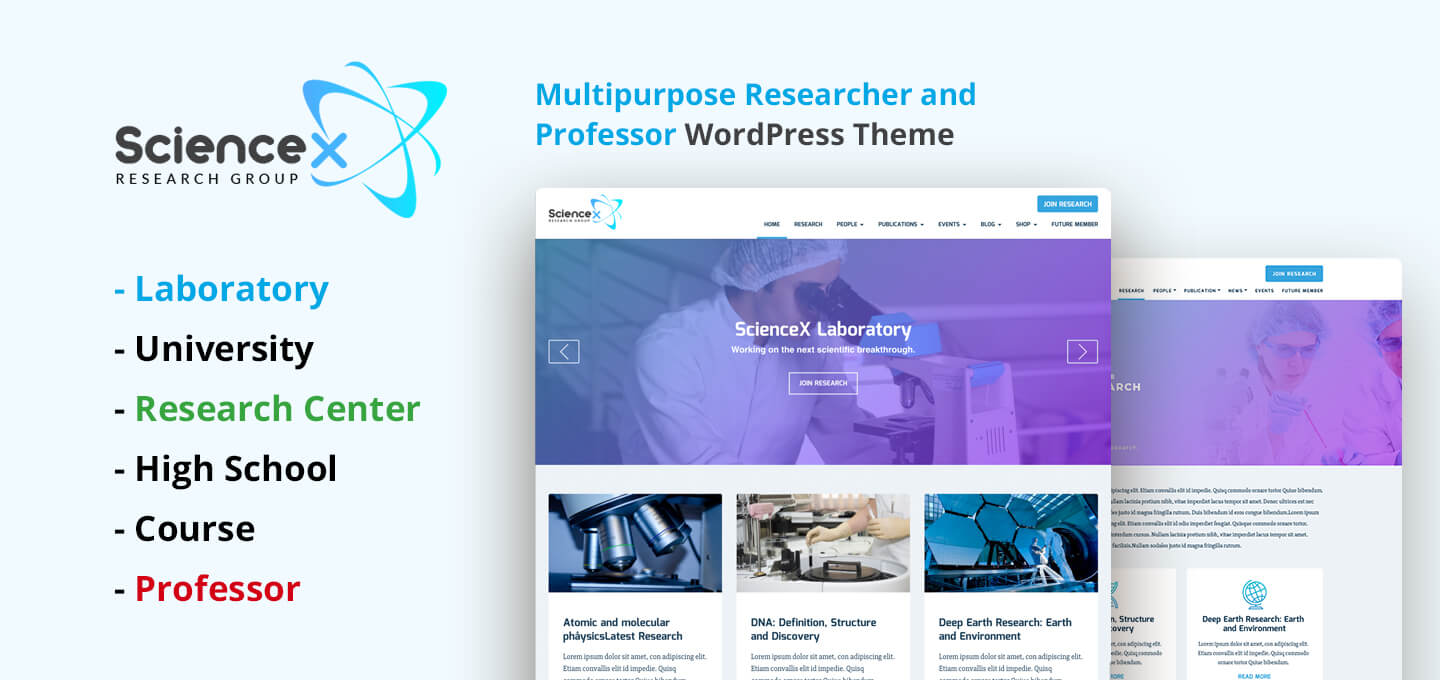 Live Preview
ScienceX- Pro WordPress Theme
The first and foremost question you SHOULD ask yourself is "Why should I use this Education WordPress Theme when there are hundreds of other WordPress themes available in the market?" The answer is simple. The other WordPress themes designed for this purpose might not fulfill your requirements, like ScienceX will do.
If you are looking forward to develop a website for a research group or a college professor, ScienceX is the exact education WordPress theme you should be looking for. There is a large number of Education WordPress themes available on other established marketplaces. But not one of those themes can be used to develop a website for a research group. Most of those themes are built for College-University-School websites, but not for research groups, researchers, or professors. To fill up the void, we have developed ScienceX – the most user-friendly education WordPress theme for Researchers and Research groups that are working hard to make our world a better place.
ScienceX is a carefully designed education WordPress theme dedicated to all the Professors and Research groups academic websites. Data-driven content research by web-development experts on hundreds of actual websites presented with state-of-the-art web design makes it a MUST if you are developing a research group or Professor's website.
Only a handful of the Educational WordPress Themes you will see on the marketplaces are suitable and usable for Researchers, Research Groups or Professors. Most of them are way too generic and designed for educational institutes, that hardly fulfil the purpose of research groups and professors. But ScienceX is a well-curated education WordPress theme specifically designed for researchers and research groups.
Designed based on Real Life Experiences
Most of the theme developers usually go through the existing themes available on the market while designing a WordPress theme. But that wasn't the case for ScienceX. Before developing ScienceX, we were busy developing several researcher and research groups websites. Not only that, we had to browse and analyze hundreds of other research websites to better understand our clients' requirements and how to present them on internet in the best possible way. These experiences helped us understand exactly what one might need while developing his/her research website. That's why, while working on a research groups or professor's website, no other Education WordPress theme can be more useful to you than ScienceX. Our years of experience of working on real-life websites gave us the exact idea of what is needed to satisfy this specific niche, and what isn't. This enabled us to get rid of generic components that usual WordPress themes offer, but of no use; and add those customized pages, components, sections and functionalities that are useful. This intensely designed WordPress theme for Research groups, Researchers, and Professors is comes with the following Pages/Components-
Highlighted Projects
Researcher/ Group Introduction
Researcher Citing Highlight
Dedicated Publications, Journal Paper and Books Index
Timeline Option
Research Details
Fun Facts
Quick Summary
Video Summary Section
Events page
Join Research Group/ Apply for Research Contact Form
To be honest, ScienceX is like a complete website already designed and developed for you. All you have to do is put your information and contents relevant to you (Logo, Texts, Images and other media) and host it on a server!
Needs no Coding Expertise, Yet Easy to Customize
This WordPress theme designed for all the number-crunching genius brains all over the globe is developed in a way so that anyone can customize it any time, without having any kinds of web development experiences. We know that researchers and research groups have many important things to do and think of rather than wasting time managing a website. This is why, once set up, a researcher group or professor's developed with ScienceX can be updated and managed by anyone. In fact, an undergrad student who has just joined a PhD research group and have no idea of the website can get himself or herself acquainted with the system in mere 5-10 minutes!
ScienceX, the most user-friendly Education WordPress theme uses King Composer Page Builder. This enables users to-
Save Time & Money. Get the job done faster. No need to purchase extra extensions to customize. Just download and use!
Customize frontend and Backend with ease
Build beautiful pages by dragging and dropping elements to create your ideas.
Redux Framework is used in ScienceX so that in the User-end you can easily fine tune your website.
One Click Demo Import is also used in ScienceX.
All the right things in the right place
As said earlier, working on several Professor and Research Group websites, and thus communicating intensely with numerous Academicians, WE KNOW how they want to see their website to look like and what purpose they want to be fulfilled with it.
Utilizing this first-hand experience, we curated a schema of what module performs best in which position in these kinds of websites and how to present them in a researcher or professor website WordPress theme.
Beautifully Designed Responsive Education WordPress Theme for Professors and Research Groups
ScienceX is a well structured WordPress theme for Professors and Research groups with a clean user interface, which ensures the best user experiences. The codes and the front-end design are well structured placed where they should exactly be. All the sections and pages are sorted accordingly and well documented. The easy navigation of this responsive Educational WordPress theme enables you to find your desired sections easily. Every section can be identified easily by their starting and ending tags. A well-organized and clean UI makes ScienceX a beautiful and effective responsive theme for Education-focused websites specified for research purposes.
Responsive Research Group WordPress theme with SEO-friendly structure
The single motto of recent web design trend is- "If your website is not mobile-ready, it better die!" That's why, we kept in mind the research group WordPress theme's adaptive capability in any kinds of devices. You can browse this Educational WordPress theme from any handheld devices by clicking the "Live Preview" button above and see that it works very well on any of the handheld devices. You can check it from Google Mobile Friendly Test. And why wouldn't this be user-friendly? We have used the latest version of world famous CSS framework Bootstrap to make this Professor, Research Group Website WordPress theme responsive. 
The coding of Educaional WordPress Theme ScienceX has maintained the W3C standard and ensured W3C validation. This theme is SEO (Search Engine Optimization) friendly. To make it work, you need to just give meta informations to it. Google will index your data as well as website fast and rank it upper in the GOOGLE search results. So, download this responsive theme for your Professor or Research group website project.
In a nutshell, if you are looking for a hassle free top-class responsive theme for your next Professor/ Research Group/ Academician website project, you simply won't find a better deal than this. Also check out: Simpli Pro – WooCommerce & Blogging WordPress Theme for Women
Also check out: Simpli Pro – WooCommerce & Blogging WordPress Theme for Women