Medica – Healthcare and Medical Responsive WordPress Theme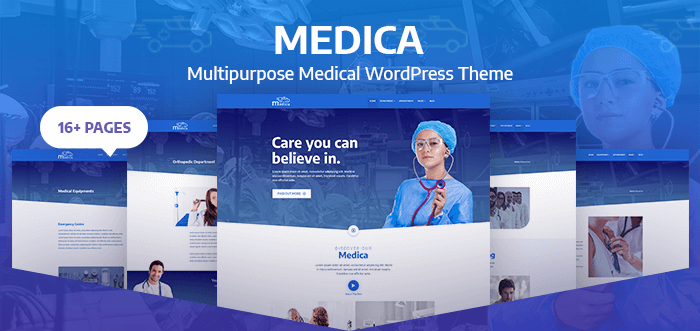 View Demos
Medica is a Responsive Medical WordPress theme designed and build for Medical services such as Hospitals, Clinics, and other Medical and Healthcare Institutes. The clean and modern User Interface that comes with this medical website WordPress theme is what your upcoming project is craving for! Although there are numerous WordPress themes currently available in marketplaces that are designed for Medical and Healthcare services, only a handful of them offers a clean, modern and responsive User Interface that goes with the recent web trend. Failing to keep up with this trend is hurting a lot of end users.
This is where Medica comes in. The minimal user interface this Medical WordPress theme offers is literally one of a kind. Cutting edge design trends were amalgamated with users' requirements to come up with a smart solution that looks great from an aesthetic sense, as well as fulfilling all the requirements a developer might look for in a Medical WordPress theme. And as a modern design, it is compulsory to ensure a theme's responsiveness in different display sizes. That's why, each and every page and component of this healthcare and medical WordPress theme were tested manually in different browsers and devices with different display sizes to make sure your website doesn't break down awkwardly.
Unique features and functionalities are introduced in Medica- a responsive Healthcare and Medical WordPress theme. Dynamic Doctors and Staff profile functionalities is one of the unique features you will get in this modern healthcare WordPress theme. Along with that, a smart scheduling and appointment system is integrated with this theme, so that you don't have to sweat over adding a crucial functionality from the scratch!
Features:
Here goes a list of some essential functionalities of Medica that you might not find in any other Healthcare WordPress themes:
All Doctors Listing & Information
Staff Information
Schedule and Appointment Page
Total Medical Services
50+ UI Kits
Ultra Responsive
Drag and Drop Page Builder
Support & Updates


 
Find a Doctor
The useful searching option of Medica allows you to find out the right doctor for serving your purpose. Our smart filtering ecosystem helps you in selecting suitable doctors from the various puddle of health care specialist. Medica lets you search doctors by departments, specialists or names. For having an extended search result, you can use different criterions ranges from zero to as many you want. With Medica Theme, you can narrow down the search results form the total view. You can view the department wise specific search result. Head over to the checkboxes and experience the result.
Schedule Page
Special scheduling feature of Medica allows you to find all the doctors to a single page with their details. You can quickly sort out the doctors who are currently available on which days.Using the schedule page, you can make sure when the doctors are available with a detailed view. Hence, it becomes so easy for you to decide who and when to book an appointment. You also can learn about the doctor's specialized area right after their name.
Medical Department
You can show all the available department in one place to make things easy for visitors. It will help the visitors find out the available departments very comfortably. Moreover, visitors will get the specific doctors selecting the respective department.
Appointment
Medica allows you to connect the patients with the right doctors as a bridge. This helps the patients to get proper treatment and consultation from the right doctors. Anyone can either the patient or on behalf of the patient can easily book an appointment using the name of the respective doctors.
You can use the appointment page to take some relevant information on the respective patient for appointment purposes. Moreover, this appointment form allows you to let the patient address their specific problems to ensure the right treatment.
Medical Consulting
Medica offers you set the opportunity for the visitors to have a proper medical consultation. In the consultation page also allows the patients to set the right appointment of their right consultants. Using this page you also can easily sort out the right consultant who is currently available on which days according to their fixed schedule.
Medical Staff
With Medica Theme, you can let the visitors informed about the staff of the respective hospital. Visitors can learn about all the medical staffs of the hospital. They can learn specifically about the office admin department, hospital nurse, medical laboratorian, intern of the hospital. There is a special section for displaying the emergency cell number of the hospital.
Medical Equipment
Medica Theme allows you to show the visitors all the equipment of the respective hospital. This will enable the users to understand the standard of your medical center or hospital. People can learn about the emergency center, critical care units, intensive care units, different technical equipment that hopital offer to their patients. This will make the visitors understand the quality services you provide.